Used Ford Galaxy buying guide: 2006-2014 (Mk2)
Need to move seven people in space and comfort? The good-value Galaxy is a fine used choice
Ford was a little late to join the people-carrier party, with its Ford Galaxy MPV first arriving in 1995. But ever since then, it's been one of the best-selling vehicles of its type and one of the few that have always appealed to drivers as well as passengers.
Surprisingly good fun to drive, the Ford Galaxy won custom from those who didn't want to surrender pleasure behind the wheel for practicality, going on to become a bit of a family favourite. The Mk2 version grew larger inside and out, while standard equipment reached lavish heights on top-spec models. Far from a mere van-with-windows, the Galaxy offered VIP levels of comfort and space.
It's now into its third generation, so the previous 2006-2014 car makes an attractive used buy, as age hasn't withered the Galaxy's capabilities. It's extremely popular with private-hire companies for long-distance, high-capacity journeys, and if it makes sense for them, it should shrug off anything your family can throw at it.
Follow our guide to find the right Mk2 Ford Galaxy for you.
Mk2 Ford Galaxy history
All new for June 2006, the Mk2 Ford Galaxy went on sale with a 2.0-litre petrol engine or diesels of 1.8 litres and 123bhp or 2.0 litres and 141bhp. A 2.3-litre petrol was added to the line-up in September 2007, in automatic form only. In March 2008, two more engine choices became available: a 2.2-litre diesel and a 'Flexifuel' version of the 2.0-litre petrol which allowed E85 bioethanol fuel to be used. This was a rarely-chosen option.
A substantial update was performed in April 2010, bringing a restructured range with Zetec, Titanium and Titanium X models. The engine choice was expanded to include 200bhp EcoBoost 2.0-litre petrol engines, as well as 113bhp 1.6-litre and 161bhp 2.0-litre Duratorq diesel options. The Mk3 Galaxy then took over for the 2015 model year.
Which is the best Mk2 Ford Galaxy for me?
With the Galaxy carrying a lot of weight around, the engines that make the most sense are the diesels. The powerful petrols are unlikely to often be used in anger – the few times their added performance will be enjoyed is unlikely to balance out their higher running costs.
The 1.8-litre TDCi is a decent choice, offering more power than the rather sluggish 1.6-litre diesel that replaced it, although the 2.0-litre diesels all offer a great blend of power and economy. If you chose a 1.8-litre diesel, make sure it has the six-speed manual gearbox rather than the earlier five-speed – the extra gear is well worth having.
Every Galaxy is well-equipped, but there's so much choice out there you may as well aim for one of the higher models in the range. Initially, there was an LX model, which later became the Edge, but Zetec is the most commonplace specification and the Ghia and Titanium offer greater luxury.
LX and Edge models have air-conditioning and a heated front windscreen, with electric windows in the front only. The Zetec has alloy wheels and climate-control air-conditioning along with electric rear windows, while Ghia adds cruise control and automatic lights and wipers. Post-2010 facelift models were optionally available with a blind-spot warning system, which is worth having on a bulky car like the Galaxy.
High-mileage cars from taxi and private-hire fleets abound and can be picked up very cheap, but should only be considered if the maintenance history is spot-on and condition is good. Petrol Galaxys are not so sought-after and their price ought to reflect this – around 95% of all Galaxys are diesels.
Galaxy values for well-specced diesel models are reasonably linear from the oldest, highest-mileage examples to the newest cars with low mileage. Put simply, you should buy the best-equipped, best-looked-after example that your budget allows.
Running costs, maintenance and parts
One reason petrol Galaxys are unpopular is their fuel consumption. The 2.3-litre (automatic only) will return fuel consumption in the order of 28mpg, while the 2.0-litre models hover around 34mpg – better, but not in the same league as the diesels.
Up to 54mpg is possible from the 1.6-litre TDCi diesel, while the 2.0-litre diesels can return up to 50mpg and have a lot more power when you need it.Expect to pay a minimum of £130 a year in CO2 emissions-linked road tax – the 1.6-litre diesel is the cheapest, while other diesels range from £145 to £230 a year. The 2.3-litre petrol brings a hefty £500 annual tax bill.
Servicing is required every 12 months or 12,500 miles for all Galaxy models. Services are minor or major, with every third service being the latter. Ford offers a reduced-cost service tariff for cars more than four years old.
Additional service items include brake fluid (which needs changing every two years) and engine coolant (required after 10 years). The 2.0 and 2.3-litre petrols are the only Galaxys to use a cam chain – all other models have a timing belt that needs replacing every 10 years or 125,000 miles.
What to look out for
Every Galaxy has power-steering and the system is known to develop faults on occasion, many of which are expensive to fix. Avoid any car that makes excessive noise when the steering is worked at low speeds.
Electrical faults are also common, with frequent failure of the electric windows and sidelights. The alarm can play up, too, sometimes showing an error message on the dashboard. Check that every electrical feature is working on any car you consider.Air-conditioning systems can fail – the drier unit on post-2012 Galaxies should be replaced every two years, but often isn't.
Front windscreen wiper spindles can corrode, leading to the wipers seizing into place and no longer functioning. The spindles should be kept lubricated, as repairing this costs £300.Water leaks aren't unknown, so check the footwells for signs of dampness. If water penetrates the passenger compartment, it can put electrical systems at risk of failure.
Recalls
So far, there have been nine recalls on the Mk2 Ford Galaxy, with the first released just a month after the car went on sale. In July 2006, a recall was issued due to the possibility of a fuel pipe coming adrift, leading to the engine cutting out.
Since then, two recalls have concerned the glass panoramic sunroof becoming detached, and two more to address an issue with the brake servo. Some cars have also been affected by further recalls for fuel leaks and faults with the heated front windscreen.
Alternatives
Another great-value MPV is the Kia Sedona. It's extremely spacious and cheap to buy, but it's not as sophisticated as the Ford, nor as good to drive. It's not quite as versatile as the Galaxy, either – the Ford makes better use of its interior space.
The Chrysler Grand Voyager has no shortage of interior room, either, and is as practical as they come. The materials used aren't the nicest, though, and the big Chrysler never sheds its feeling of bulk and isn't much fun to drive.
The latest SEAT Alhambra and VW Sharan have the advantage of sliding rear doors and are both capable, high-quality alternatives with excellent engines.
Ford's own S-MAX is also, ironically, a major rival for the Galaxy. It's a little smaller, although the interior is still very spacious and versatile, while its more compact shape makes it more nimble around town and increases its driver appeal.
Verdict
Ford can be relied upon to build cars that the public quickly warm to, and every generation of Galaxy has become much loved by family and corporate users alike. It offers similarly easy-to-use and spacious interiors to the competition, while still providing a taste of Ford's long-celebrated driver appeal.
During its near-decade on the market, the Mk2 received its fair share of awards, with security and safety both strongly commended. Not for nothing was it voted as Best MPV in the 2006 Auto Express awards.
Now there's a plentiful choice on the used-car market, the second-generation Ford Galaxy offers an immense amount of metal for your money.
Cupra Formentor SUV review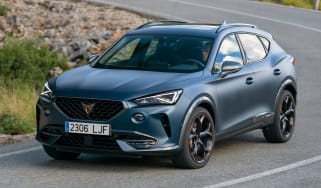 Cupra Formentor SUV review
2020 Volkswagen ID.3 hatchback: base model starts at under £30k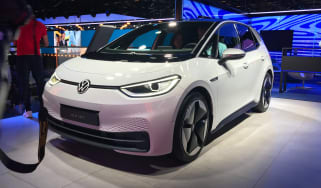 2020 Volkswagen ID.3 hatchback: base model starts at under £30k
Audi Q8 gains plug-in hybrid versions with 28-mile electric range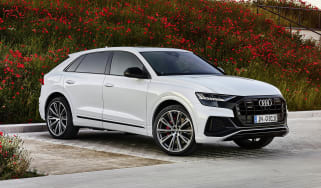 Audi Q8 gains plug-in hybrid versions with 28-mile electric range