Ford Fiesta – the story so far
The Ford Fiesta has become a household name. Here's a potted history of Ford's famous supermini
Believe it or not, the Ford Fiesta is now well into its forties and it's very tricky to imagine how Britain's roads would look without its ubiquitous presence. Since the day it hit showrooms, it has been one of Ford's greatest success stories and frequently occupies top slot in best-sellers lists.
Amazingly, this year's latest version is the Fiesta's seventh generation, so it seems timely to look back over the Fiesta's long career to find out how it has evolved through the years.
A remarkable point is that prior to the Fiesta's arrival, Ford had been without a truly small car in its range for more than a decade since production of the Ford Popular ended in 1962. That famous car would later inspire the 'Popular' name for entry-level Fiestas and Escorts. The first Fiestas emerged from production lines in Valencia, Spain, in 1976, with the first right-hand-drive cars for British customers arriving in 1977.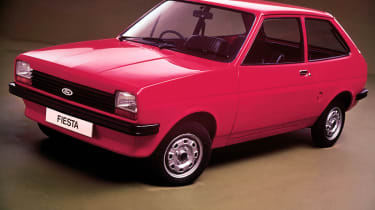 The task of creating a new small Ford had begun years before, though. Codenamed 'Project Bobcat', the Fiesta's lengthy design process started in 1972, with inspiration from the compact Fiat 127 and Renault 5 hatchbacks that had been launched recently. Ford's design team put pencil to paper and, in doing so, gave Ford a presence in what would soon become known as the 'supermini' class.
Ford is a global corporation and it was always intended that its smallest car would be sold in many markets worldwide, including North America. The first Fiestas to be sold there were built in Cologne, Germany and followed a different specification, including a 1.6-litre engine, long before the sporty Fiesta XR2 appeared on European roads. US-spec cars had the option of air-conditioning, too, but the Fiesta's popularity there was limited – buyers saw it as too small and expensive and it didn't truly gain a US foothold until over 30 years later.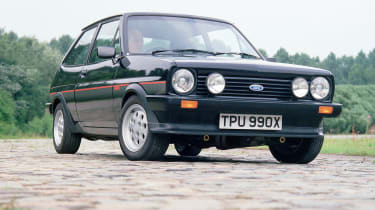 In contrast, Europe could hardly get enough of the Fiesta. The range grew over time, with a long list of trim levels that ran from the spartan, price-leading Popular to the relatively lavish Ghia, with many optional extras to bolster customer choice. Although these were the Fiesta's bread-and-butter models, it was the faster variants that really got the ball rolling. The Supersport was first, in 1980, but a new set of initials would soon do even more to capture the public's imagination when the XR2 came next.
It soon became clear that Ford had a smash hit on its hands and the humble Fiesta has since become a valued part of Britain's motoring scene. Everybody seems to have either owned, or learned to drive in, a Fiesta, or at least driven one at some point, and the latest version looks set to keep the Fiesta name on our roads for years to come. Why not join us in celebrating the evolutionary steps of the Ford Fiesta?.
Engine management light: top 5 causes of amber engine warning light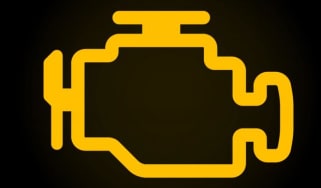 Engine management light: top 5 causes of amber engine warning light
Best new car deals 2023: this week's top car offers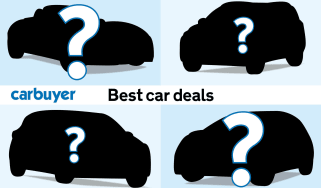 Best new car deals 2023: this week's top car offers
Top 10 best cars under £200 per month 2023/2024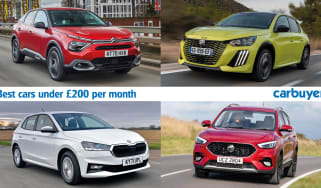 Top 10 best cars under £200 per month 2023/2024