Best car covers to buy 2020
A high-quality outdoor car cover provides garage-free protection for your pride and joy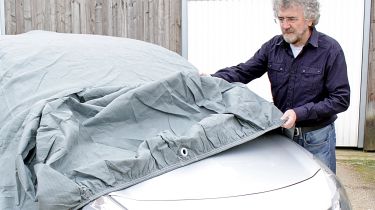 A lack of covered storage puts many drivers off who would otherwise love to own a second car, perhaps a classic or a sports car for high days and holidays. Fortunately, there's a wide variety of cleverly designed outdoor car covers – they're the next best thing to keeping your classic garaged.
There's a list of reasons why open-air storage isn't the best if you want your car to stay in the best possible condition. Aside from the obvious consequences of rain, dirt, bird lime and tree sap, being uncovered means you car is vulnerable to attack from the sun's ultraviolet rays, which can fade paintwork and cause interior trim to discolour or turn brittle.
We've tested a variety of the best car covers on the market, to determine the five best you can buy in 2020.
How we tested them
All the covers we tested were chosen to suit our 2006 Renault Clio, which we chose to represent the compact size of many of the UK's most popular second cars. Our first test was for breathability – an essential feature to reduce moisture becoming trapped under the cover and potentially damaging the car's paint. We assessed this by laying the product over a steam filled box with a moisture trap above, recording the amount of moisture that passed through the cover after five minutes.
Once it was fitted, we dropped items onto the cover to see how it protected the car from accidental bumps. We also marked each cover for its ease of use, the quality of the tether straps and how accurately it fitted our Clio test car. Extra points were given for security cable mountings, pockets to slip over the door mirrors, and zipped panels to allow the doors to open. Finally, our results were weighted by the retail price of each cover.
Best car covers
1. Halfords Advanced All Seasons Car Cover Medium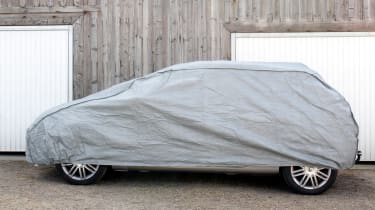 It'll be great news for many that our winning car cover is available from Britain's largest chain of car accessory shops. It's simply a great value product, with a strong three-ply construction that proved very breathable. It was only average in our knock test, but we reckon it performed well considering its light 2.5kg overall weight. It was listed as suiting cars up to 4.1 metres and our 4-metre Clio fitted perfectly, with the cover's elasticated sections tucking neatly beneath the car's valances. Although there are no mirror pockets and there isn't a security eyelet, its three tether straps and flying buckles mean it's unlikely to break loose in bad weather.
2. Sealey All Seasons Car Cover 3-Layer SCCM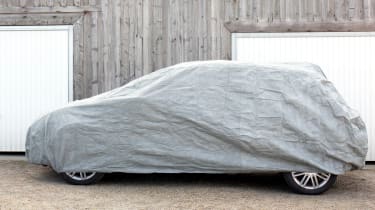 The Hamilton Classic cover, further down our list, strongly resembles this Sealey product, but has two extra layers and is rather heavier than this cover's 2.6kg. The Sealey proved entirely waterproof and finished mid-table for breathability. It was easy to fit – the length was perfect for our Clio – and it covered the wheels generously. It's kept in place by three fixed tether straps, and offers reasonable protection against bumps. It's a very good cover, and a strong challenger to our Halford's winner.
3. Concours Eclipse 4-layer Car Cover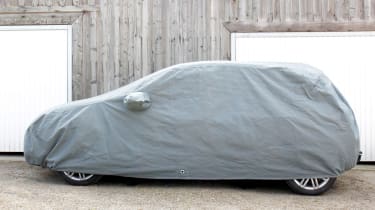 This cover is rather more expensive than our winner, but it's extra fourth layer adds a little extra protection against light knocks. It's the cheapest of the 'premium' covers we tested, but fitted perfectly thanks to its large mirror pockets. Weighing 3.2Kg, it isn't so heavy that it's difficult to handle, and the buckles that secure the tethers in place have silicone covers to prevent scratches. There's also a central plastic eyelet so you can use a security cable to prevent anybody making off with it.
4. Hamilton Classic Luxury Exterior Car Cover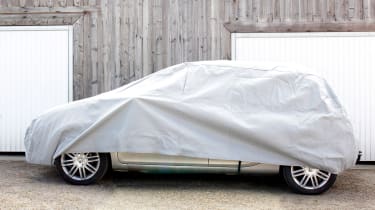 Another 'premium' product, the Hamilton Classic offers excellent performance – though its tough five-layer construction leads to a substantial 4kg weight, so it's a little heavy to handle. It has a soft, fluffy lining to protect your paintwork, and is held snugly in place by a combination of elastic straps and two fitted tethers. However, for its high price, we'd have liked to see mirror pockets and a security cable eyelet, as well as rather more material along the sides.
5. Classic Additions Ultimate Semi-fit Car Cover Medium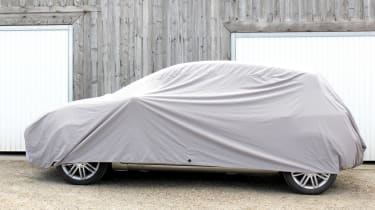 By far the heaviest in our test, the 5kg Ultimate lived up to its name for breathability and knock protection, but we found it very awkward to fit. Plus points are its three strong tethers, and we very much liked the idea neatly-sewn flaps that prevent the buckles making contact with the car's paint. Disappointingly, though, their position is such that we could only use the one in the middle. A higher price than the Hamilton Classic means it brings up the rear in our top five.
Buy now from Classic Additions
6. Cosmos Mirage Car Cover Medium 01022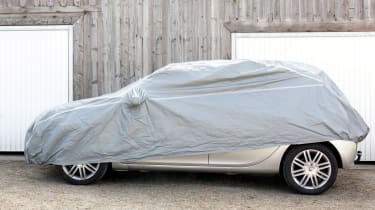 The Cosmos cover appeared well priced at first glance, particularly as it has a zipped section that allows the driver's door to open without removing the cover from the car. The mirror pockets weren't the biggest, but it was impressive that they were there at all. Unfortunately, the cover proved rather tight on our test car and we couldn't pull it over the rear valance. There's only one tether, too. It finished mid-table in our knock test, but breathability was poor.
7. Maypole MP9332 Premium Waterproof Cover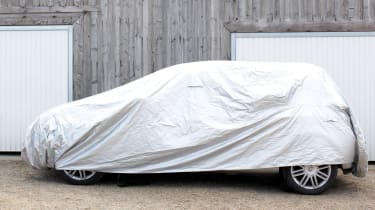 The shiny silver cover from Maypole was the lightest in our test, which made it easy to fit, although a stiff breeze could prove troublesome. Its lightness proved its undoing overall, though, and its thin material offered little protection in our knock test. The cover doesn't claim to be breathable, but does have side vents. There remains a risk of moisture being trapped between the cover and roof, bonnet and boot, though. The two tethers made security impressive, but it bunched up at the rear due to being too long for our test car.
8. Clarke Medium Lightweight Weatherproof Car Cover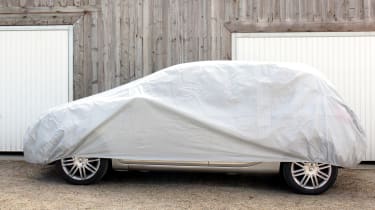 The Clarke cover feels impressive, and has a soft inner lining that should protect a car's painted surfaces. It's surprisingly light in its construction, though, and didn't perform well in our knock test. There are no tethers, either, and the Clarke relies on elastic at the front and rear to stay secure. Considering we couldn't stretch the cover over the rear valance, it left our test car partially unprotected. It's not breathable, either, but its low price means it could still be worth using if you intend to leave your car indoors for a long period of time.
New 2020 Kia Stonic SUV: prices and specs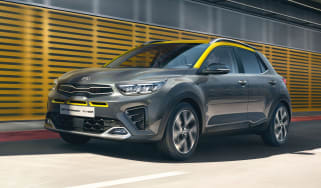 New 2020 Kia Stonic SUV: prices and specs
Updated Peugeot 5008 starts at £29,585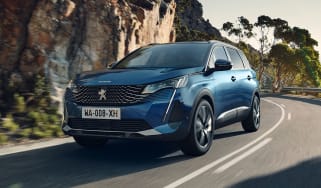 Updated Peugeot 5008 starts at £29,585
Cupra Formentor SUV review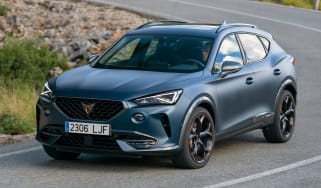 Cupra Formentor SUV review