Best classic cars to buy in 2022
We take a look at some of the best classic cars to buy in 2022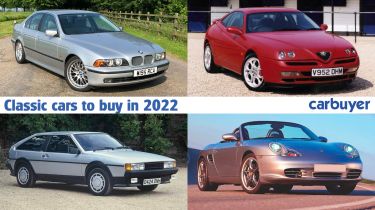 The classic car segment is the beating heart of the enthusiast car market, where brand loyalty is swept away by appreciation for older vehicles that have stood the test of time. New car buyers may focus on facts and figures for their next purchase, however, classic cars transcend their specifications. The experience alone is a much greater reason for many to put their money into a classic car.
Prices within the classic car market are controlled by a number of factors, including rarity; something that becomes more acute as older cars struggle to survive through successive owners, and whisper it, corrosion. However newer classics, sometimes dubbed 'modern classics' are not only easier to keep road worthy, but offer driving thrills with space for future appreciation in value. In this round-up we've compiled a list of interesting classics that all offer a unique experience.
For those that hope to enjoy a car for a few years, or restore it to good order in the hope of making a profit, a deep understanding of the classic car market and when it's time to sell is important. The used and classic car market fluctuates, so we suggest car buyers get themselves a classic that they will enjoy foremost, rather than expecting a car to gain value.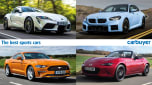 Top 10 best sports cars 2023
To avoid these price hikes, this list focuses on cars from the late 90s and 2000s. These cars haven't yet seen their prices inflate too much. While we can't guarantee that any of these cars will be worth a mint in a few years time, we can see that prices are slowly beginning to rise and now is the time to buy before they become unattainable.
We'll admit that we're following our hearts as much as our heads with some of these suggestions but we don't think you can blame us. After all, you'd buy a newer, cheaper-to-run car if you were buying solely with your head! Read on to see our top picks.
Porsche Boxster 986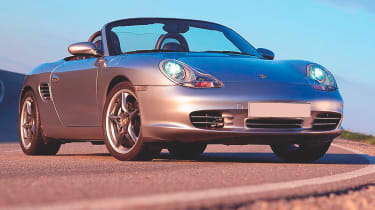 Once dismissed as the 'poor man's Porsche', the 986 Boxster has long outgrown that unfair stereotype. The original Boxster is a part of Porsche history and any enthusiast of the brand knows that the 986 has a special place in the brand's legacy. This is the car that saved Porsche before the Cayenne SUV arrived in the early 2000s. Today, the car is widely recognised as the balanced top down sports car that offers enough power to make it enjoyable, without running into licence-losing territory easily.
The market is fairly scattered for the Porsche Boxster, with just a few thousand pounds needed for accident repaired examples or rolling projects, stretching all the way up to five-figure sums for a well-kept example with a good maintenance record and a soft-top roof that's in good shape. Porsche sold plenty of examples of the 986 Boxster, so shop around for the best example you can afford and remember that even parts for a 20-year old Porsche 986 still cost Porsche prices.
Volkswagen Scirocco (Mk2)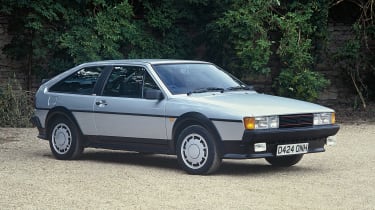 The Mk2 Volkswagen Scirocco is something of a hidden gem. As the price of old Golf GTIs continue to skyrocket, the Scirocco offers much of the same performance and quality but in a sleeker and arguably more eye-catching package. The rarest and best-kept special editions might now command more than £10k but it's still possible to find examples in good condition for under £7,000. Early cars were offered with 1.5 and 1.6-litre engines but most remaining models use 1.8-litre four-cylinders much like the GTI of the time – particularly those using fuel injection.
Partnership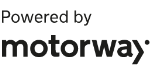 Need to sell your car?
Find your best offer from over 5,000+ dealers. It's that easy.
The wedge-like styling is pure 1980s, as is the rubbery plastic spoiler fitted to the back of most cars, but despite the age and the usual maladies that come along with that – usually corrosion and worn components – they're stout little cars, fun to drive (albeit with poor brakes!) and, thanks to a pair of rear seats and a decent boot, practical too.
Honda Insight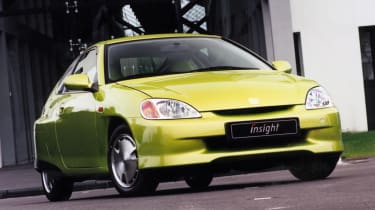 A hybrid in a classic cars buying guide? Absolutely – not only is Honda's first hybrid now comfortably over 20 years old, having been launched in 1999, but given the way the industry has moved since its introduction, it's as important to automotive culture as any hot hatch or sports car. The space-age styling is an acquired taste but despite its age, the Insight's tech still works brilliantly, allowing you to achieve more than 70mpg with little effort – modern classics don't get much cheaper to run.
The car's reliable too and early battery fears are mostly unfounded; many are still running happily around with their original packs. Budget around £7,000 for a good one and you're unlikely to lose much when you come to sell it.
Alfa Romeo GTV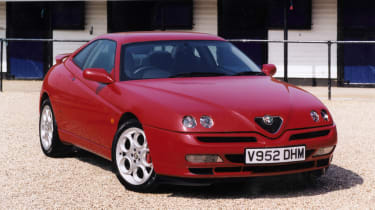 1995's Alfa Romeo GTV offers a compelling combination of attributes. It's one of the most distinctive shapes of the 1990s for a start, a Pininfarina-penned wedge packed with exquisite details. It was also highly rated when new, often emerging victorious from group tests, and while the model isn't without a few unique issues, it's also relatively easy to keep running and doesn't suffer from rust as much as some of its forebears - or indeed many of its contemporary rivals.
Best of all, it's affordable, with a couple of grand still enough to secure one and £6,000-plus will buy you a seriously nice car, potentially one with Alfa's sonorous V6 engine under the bonnet. The rear seats and boot are largely useless, so treat it as a 2+2, but quick steering makes it fun to drive and while the V6 sounds great, serious drivers often prefer the lighter (and still fun) 2.0-litre four-cylinder engine.
MINI (R50/R53)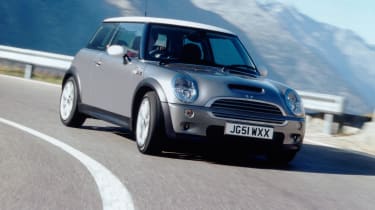 Mini was born partially out of necessity and partially out of British ingenuity, during an era when the world was changing fast. Launching in 1959 the originals have long been classics, but after BMW bought the brand at the turn of the new millennium no one quite knew what would come next. The R50 MINI was bigger and heavier, but also far safer and still full of character, attributes that brought in flocks of customers. The R53 MINI Cooper S was an instant hit and its supercharged motor still offers a good turn of performance even today.
The ones to look out for are John Cooper Works models, often wrongly thought to only be offered to increase power in the R53 MINI Cooper S. However, the regular R50 Cooper model could also have a mild performance upgrade from the tuning firm, although without the same horsepower increase.
For those that just want something more fun than your average runaround, a MINI 'One' or 'Cooper' can be had for little money, but beware of expensive repairs quickly turning a cheap example into a money pit.
BMW 5-Series (E39)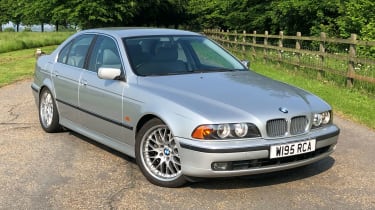 If refinement is what you seek from a classic car, then a BMW 5-Series should tick all the right boxes. We've opted for the E39 generation on this list as prices are generally low due to the number of examples still on the road. Naturally, the powerful M5 version commands a vast premium over the rest. 
As many of these cars served as fleet vehicles when new, there are a lot of high-mileage examples on the market that are a bit worse for wear but as the heavily used examples succumb to wear and tear, the lesser-used ones will very soon start to gain a lot more attention from enthusiasts and collectors.
E39s are still rather easy to find at the moment and the options are plentiful - a choice of straight-six or V8 petrol engines are available or, alternatively, four or six-cylinder diesels. The 525i is a particularly good option, as it offers plenty of equipment and a smooth six-cylinder petrol engine that is less thirsty than the V8 but still offers plenty of enjoyment. Clean, low-mileage examples of the E39 525i can be found for around £9,000, with other E39s with over 100,000 miles costing even less.
Lexus LS400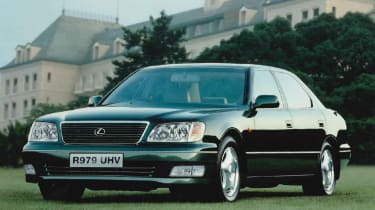 The title of "best car in the world" is somewhat subjective, but in the early 1990s you could have made a pretty strong case for the Lexus LS400 deserving it. Impeccably built, astonishingly quiet, supremely comfortable and surprisingly good to drive, all some reviewers could really find to criticise was the car's play-it-safe styling and an interior that didn't quite feel special enough compared to the Mercedes and Jaguar it was competing against. Three decades on you can bet a lot more of it works than those Mercs and Jags though, giving the LS400 enduring appeal.
Even the styling doesn't seem so bad now; what was once bland now looks pleasingly understated. Running a 4.0-litre petrol V8 has never been cheap though, so high fuel prices go some way to explaining why you can now pay as little as £3,000 for an LS400, with excellent examples for little more than £7,000 in most cases.
Mazda RX-8
As future classics go, the Mazda RX-8 remains a contentious choice, with some believing the rotary engine was never quite as special as others believe. There is no doubting its success in motorsport, but for a road car it requires a maintenance schedule that many owners didn't understand or could keep up with, resulting in premature failures and many tales of woe. 
However, it should be stressed, a well-kept rotary engine is nothing to fear and its high-revving nature offers a real alternative to modern cars that deliver immediate power and require little effort to get up to speed. This can prove addictive, and is often why the RX-8 really wins people over.
The advantage for car buyers today is that prices have remained depressed as the stories of expensive engine rebuilds circulate. Ownership is something that should be entered with both eyes open, and it's worth having an RX-8 specialist check the car over thoroughly before purchasing.
The RX-8 is only likely to get rarer, and having a unique motor – not to mention its rear-opening 'freestyle doors' – it will continue to be unique. A compression test is vital before purchase, and if you buy one registered after March 18 2006 you'll be facing a £600 a year tax bill.
Citroen XM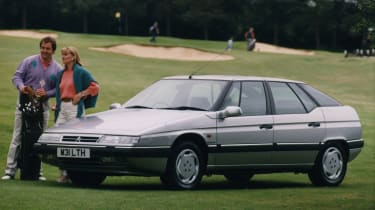 You have to admire Citroen's persistence. By the 1980s it was already becoming clear that buyers of executive cars were being lured in towards German offerings, but as CX sales dwindled in the face of the E-Class and 5 Series, the French brand still pressed ahead with the CX's replacement, the XM. We're glad they did, because the large Bertone-penned Citroen is looking rather handsome these days and offers a driving experience you'll not really find outside of other Citroens themselves.
A computer-controlled version of the brand's famous hydropneumatic suspension helped the XM stay flat in corners yet deal admirably with bumps, and engine choice was wide. We'd opt for the V6 if you want the full luxury experience but the diesels are usable and surprisingly reliable everyday classics. Prices still begin under £2,000 too.
Land Rover Freelander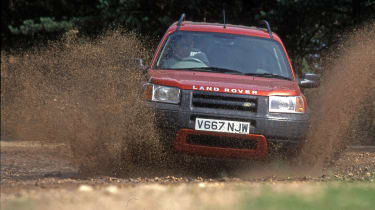 Toyota's RAV4 might have kicked off the "soft-roader" boom in the 1990s but perhaps the best proponent was Land Rover's first Freelander, which sold over half a million units by the time it was replaced in 2006. Launched in 1997, it took the RAV4's road-going ability but also mixed in proper off-road ability – it was a Land Rover, after all.
That's still true today, thanks to a wide range of engines initially on offer (a 1.8 petrol, 2-litre diesel and a 2.5 V6 petrol), plus three- and five-door body styles, so you can choose a Freelander to meet your needs. The chunky styling has aged well too – we can actually see a hint of Freelander in the all-new Defender. Pricing starts very low at around £1,000 but triple that and you can find a very tidy one, which may also sidestep some common Freelander maladies, such as 4x4 system issues and tired engines.
Fiat Panda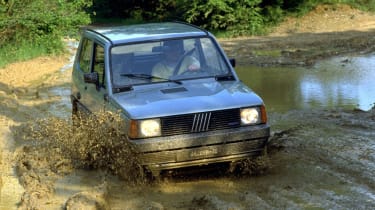 Plenty of brands make small cars but Fiat has long had the knack of making truly iconic small cars. It was the case for the Nuova 500 of the 1950s, the 126 of the 1970s, and it can equally be applied to the Panda that arrived in 1980. Unlike the 500 and 126, the Panda was front-engined and front-wheel drive but its Giorgetto Giugiaro design, while resolutely utilitarian inside and out, is still more stylish than virtually any small car before or since. Fiat toned it down with a 1986 facelift and these models are most common and also most affordable, with prices starting at only a few grand.
The 4x4 version is special in its own right too - budget for around £5,000 and up for the true mountain goat of classics, usable all year round provided you ensure it's suitably rustproofed. Maintenance is a doddle on these Fiats too.
Audi TT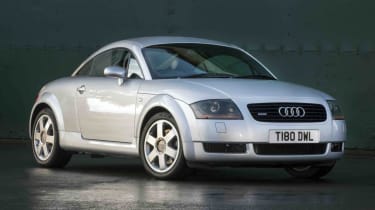 The Audi TT was a glimpse into the future when it first debuted as a concept car in 1995, and then stunned many when it went on sale in 1999. This has helped keep it looking modern today, but it also means that the bodylines have grown unique to the TT making it easily identifiable on the road.
For a slice of history you'll want a 3.2 V6 model with a DSG gearbox, the TT and the Golf R32 being the first production cars from the Volkswagen group to offer the dual clutch transmission that has become so popular across the motor industry since. Those that want a manual have a pick of four power options, with a 150, 180, 210, and 225hp variant of the 1.8 turbocharged engine available. However, Audi also made a special edition lightweight model at the end of the TT's life that boosted the engine to 240bhp, named Audi TT quattro sport, although these are likely to be quite expensive as collectors have already started holding on to them.
We'd suggest finding one in the best condition you can afford and enjoying it. The TT was a popular car and so there are plenty to choose from but that may mean future values don't appreciate like some other cars on our list.
Saab 9-3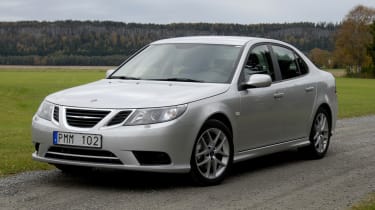 Could any list of modern classics be complete without Saab? The Swedish manufacturer brought so many automotive firsts to the industry that its collapse in 2011 has left a hole in the motoring landscape ever since.
The 9-3 can be had as a convertible, an estate, or a saloon, and has everything from a humble 1.8-litre petrol, to a turbo diesel, to a turbocharged 2.6-litre V6 petrol, and can be had in front wheel drive or all-wheel drive. Many incorrectly class the 9-3 as a Vauxhall Vectra in disguise, and although they share a platform, Saab did its usual thorough rework of everything that they deemed was insufficient to meet its standards, which was quite a list.
Fortunately, Saab support is still strong with specialists setting up shop in the wake of the company's demise. Many can be had for a bargain price too, and although they aren't known for faults some of the cheapest might be worth avoiding as even Saab couldn't build them strong enough to survive neglect and shoestring maintenance.
Ford Focus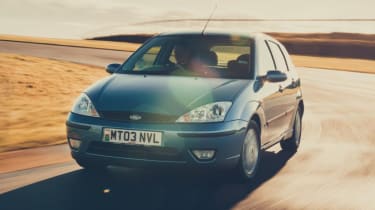 There are few cars on the road as instantly recognisable as a Ford Focus. The Mk1 was introduced in 1998 as a replacement for the ageing Ford Escort and quickly became the UK's best-selling car the year after. Built for the 'everyman', the Focus is and was a car that is practical, safe, good to drive and, most importantly, affordable.
Although the Focus was a huge sales success, today there is a falling number of good ones left. Due to low values many reach a point of uneconomical repair and so head off to the scrapyard. This leaves a wide and cheap array of spare parts for those looking to keep their ones going, but if you are buying with one eye on resale you'll need a rare special edition, or the sporty ST170 model. There is also the MK1 Focus RS, however these have been collector cars for some time now and so although finding one in good working order shouldn't be a problem, it will be an expensive purchase.
Looking to get just as much fun out of a modern car? Check out our list of the best hot hatchbacks.