Winter car emergency kit
Winter driving can be challenge, but problems can be avoided or fixed with these 15 pieces of kit
Winter brings shorter days and lower temperatures, which can make routine journeys more hazardous. Cold wintry weather can leave roads covered in ice or snow, and fog can reduce visibility.
As the weather becomes miserable and more journeys are made in the dark, it becomes harder to check your car for issues. Single-digit temperatures have the potential to sap your car's battery too. But when winter does set in, there are precautionary measures you can take to stay safe and ensure that you and your car are equipped to deal with the worst of the weather.
Driving in snow and ice: top tips
In this round-up, we've collated a list of 15 essential products that will help keep you moving throughout winter, with some that will help you get going quickly. We've tested them all, too, so we know they won't let you down when you need them most.
12v Jump Start Pack: Sealey Jump Start Power Pack SL65S
Price: £95
Even fairly new batteries can struggle in freezing temperatures, leaving you stranded when you go to start your car. This is especially the case if you go away on holiday for a while, or your vehicle is only used for short trips – preventing the battery from getting a good top-up. Far from being huge, heavy devices, the latest jump-start packs like this one from Sealey are light and easily stored in the car. In our testing, it started a car five times and its USB sockets can even be used for charging portable devices like smartphones and tablets.
Michelin CrossClimate +
Price: around £90
While popular in many countries, all-season tyres are only now starting to gain traction here. This is partly thanks to the increase in SUV sales, where tyres designed to perform equally well in summer and winter make a great deal of sense. For our unique British weather, a test of various brands found Michelin CrossClimate + tyres to be the best suited. While they proved themselves able to tackle snow, they were also the best in the on-and-off wet and dry weather that's the norm for Britain in the winter months.
Bahco Antifreeze Liquid Tester BE401
Price: around £11
It might seem odd to need to check your engine's coolant in winter, but actually it's just as important as in summer – if not more so. That's because the correct amount of antifreeze needs to be present to prevent the coolant from freezing at night and to raise the boiling point of the water.
Checking the mixture is correct is also good for maintenance, as the right coolant helps protect the internal workings of the car from corrosion. This liquid test kit from Bahco works by sucking up a small amount of coolant from the header tank and we found it easy to use and accurate. It'll also work with both ethylene and methanol-based types of antifreeze.
CTEK CT5 Time to Go battery charger
Price: around £75
We've already discussed the difficult job a car battery has in winter, not only because of the cold, but coping with the heater, lights and wipers all working at full tilt. A top-up from a battery charger will help keep it in good condition while you're at home, and if your car's battery is flat, it'll tell you how long it'll be until it can be used to start the car again. If you have a car you don't always use, the CTEK is fully automatic, so can be left plugged in to its battery and keep it ready for you to drive.
AlcoSense Excel breathalyser kit
Price: around £100
Our recommendation is always to leave the car behind if you plan on heading to an event where you'll be drinking, but if that's not possible, the AlcoSense Excel can be helpful. Not only will it tell you if you're below the legal limit, but also if you're safe to drive. It's well made and easy to use and if you often head to different countries, you can set its limits to accommodate their specific drink-driving laws.
Clarke Propane Turbo Space Heaters
Price: around £96
Unfortunately, vehicles are more likely to develop faults during winter than summer. If you plan on working on them yourself, cold hands can mean you'll drop things, or rush and make mistakes. Best keep warm instead: one of Clarke's propane fan heaters can quickly heat up even a large garage. The Little Devil 2 has an impressive 10.3kW output and comes with a heavy-duty hose and regulator to attach the gas supply to.
LED Lenser SE03 head torch
Price: around £35
Repairing a car, or even walking around it to maintain it, is a lot trickier if you need to carry a torch in one hand. A head torch frees you up to work freely and instantly shines light on the area where you're looking. The SE03 came top in our tests thanks to its sturdy build quality and range of features. An IPX6 rating means its protected against water and dust getting inside; settings include a high and low beam with focus control, along with a strobe and red light. A padded bag also comes in the pack, with a belt loop if you want to keep it handy.
GE Megalight Ultra +130
Price: £37 (twin pack)
While you might hardly use your headlights at all in summer, in winter they're almost permanently on for the majority of commuters. This adds to their wear, and because halogen light bulbs deteriorate over their life, it's a good idea to replace them before they fail. Recent test winners GE's Megalight Ultra bulbs project up to 130% more light onto the road ahead.
CoPilot sat-nav app
Price: around £20
In the dark and drizzle, it's all the more crucial that sat-nav instructions are clear to help you find the way. Co-Pilot is our favourite sat-nav smartphone app thanks to its fast route planning, ease of use and the useful alternatives it suggests to avoid bad traffic. While it's possible to spend less – or even nothing at all – the accuracy and reliable performance of Co-Pilot can make it a worthy investment if you spend a lot of time behind the wheel.
TomTom GO 6200 portable sat-nav
Price: £340
If you'd rather have a dedicated sat-nav device rather than a smartphone app, the TomTom GO 6200 is one of the very best. Its traffic alerts are second-to-none and you also get a clear six-inch screen, speed trap warnings, wi-fi for wireless updates and global map updates for the device's lifetime.
Prestone Extreme Performance screenwash
Price: around £4
Winter driving usually entails a stubborn film of road grime covering your car, and particularly its windscreen, especially if you head onto the motorway. Prestone's screenwash came out top in recent tests, thanks to its good all-weather ability. It even managed to resist turning solid for an impressive 150 minutes when put in our freezer, so it should be ready to squirt onto your front or rear windows even in icy conditions, and help prevent pipes freezing and potentially cracking.
Ring RAC 635 tyre compressor
Price: around £26
Having all four tyres at the correct air pressure is vital for safe handling and braking at any time, but when the roads can have reduced grip, it's even more important. The RAC 635 combines both a tyre pressure gauge and compressor, with a digital display for greater accuracy. An LED light also makes it easier to see what you're doing, and can improve safety if you need to inflate a tyre at the roadside.
Autoglym De-icer
Price: around £4
Not only is it crucial to clear ice from a frozen windscreen for your own safety, it's also illegal to drive without properly de-iced and demisted windows. Autoglym De-icer is highly concentrated and free from water, working quickly to clear your windows. It can also be used on headlights, mirrors and even locks, and won't freeze again a few seconds later. It's effective to minus 50 degrees Celsius, so should be more than stern enough for British winters.
Continental WinterContact TS 860
Price: around £60
Winter tyres are designed to remain pliant when the temperature drops below freezing, allowing them to maintain grip. From behind the wheel, you should feel much more confident that you can steer and stop, even in poor weather. The WinterContact TS 860 has won multiple tests thanks to its excellent grip, not just in snow, but whenever the mercury plummets.
Bosch Aerotwin wiper blades
Price: around £24
You may notice wiper blades tend to fail at the start of winter, because not only are you using them much more, but the cold weather, dirt and salt takes its toll on the rubber. This can cause it to go brittle or perish, and the most obvious signs of this are streaks left behind or an unpleasant screeching sound. Replacing wipers annually is a good bet, and the Bosch Aerotwin are test winners, impressing with their ability to shift rain and grime without leaving a smear.
Are you ready for winter driving? Read our in-depth guide for everything you need to know.
New 2020 Kia Stonic SUV: prices and specs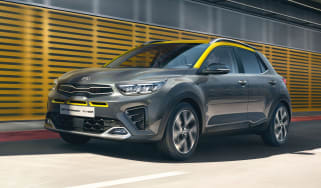 New 2020 Kia Stonic SUV: prices and specs
Updated Peugeot 5008 starts at £29,585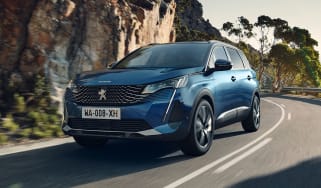 Updated Peugeot 5008 starts at £29,585
Cupra Formentor SUV review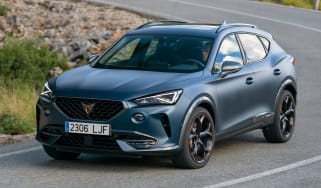 Cupra Formentor SUV review