Best cool boxes to buy 2020
Pack a picnic or keep your shopping fresh with these powered cool boxes
The perfect companion for a long road trip or family holiday, a coolbox can help keep your snacks fresh and your drinks cool. Choose one that plugs into your car's 12-volt power socket and you can enjoy cooled food for longer, or if it connects to the mains in your house, you could even use one as an overflow fridge or pre-cool items ahead of your journey.
The main role of a cool box is to keep food and drinks cold, so we tested each of our assembled eight boxes for efficiency by running each at their coolest setting for two hours. Before and after temperatures were taken and there were compared to ambient temperature to asses cooling power.
We also made sure to see how well everyday items fitted, as well as checking for extra features like mains power connectivity and heated settings. Price was also a consideration in our final results.
1. Halfords 24L Electric Coolbox
Price: around £50
This cool box was joint best-in-test, boasting a temperature drop of 15.3 degrees. We were impressed by its build quality and good-sized compartment too; four 1.5-litre bottles were easily stored.
There was no temperature control or mains power option, and we weren't as impressed by its carry handle as on its larger cousin below, but the Halfords box seemed to offer great value for money and strong cooling performance.
2. Halfords 40L Electric Coolbox
Price: around £85
If you like the idea of having the best cooling power possible but need to carry even more food, Halfords' 40-litre option is the obvious choice. Two dividers in the compartment helped maximise the wealth of space on offer and there were even dedicated compartments for the box's cables and plugs.
Cooling performance was only slightly less impressive than the smaller Halfords box, with a drop of 14.6 degrees measured during testing. Unlike the smaller box, there's a rotary temperature control. Small wheels and a large handle make moving the box easy.
3. Campingaz Powerbox Plus 28L
Price: around £90
Campingaz' effort boasted an A++ power efficiency rating and a clever temperature control that could be switched between 'Max', 'Eco' or 'Night' modes. The box felt solid and happily stored seven 1.5-litre bottles.
A temperature drop of 11.6 degrees was measured, a figure that didn't quite measure up to the best performers on test, but this was attributed to the box's 'FreezeGuard' feature that cuts power at 0 degrees. A mains power adaptor was included, but overall the box fell behind on price and cable storage.
4. Kampa 25L Thermo Electric Cooler
Price: around £50
Unlike the 30-litre Kampa box also on test, this 25-litre version was powered exclusively by a 12-volt cable, which itself was separate and had no dedicated storage on the box when not in use. There were are few other issues too; the handle did not quite feel strong enough for the box's size and weight, while the lid had a tendency to drop if not held.
The Kampa was one of three cool boxes on test to offer a temperature drop of more than 11 degrees though and it was effective at cooling items, but it was still 4 degrees off the best in test. Price was third-best, making the box decent value.
5. Dometic CoolFun SCT-26
Price: around £85
This box looked similar to the smaller Halfords unit also on test, albeit with the addition of a USB socket in the lid for charging your phone or similar device. Other welcome design touches included a strong handle that doubled as a lock for the lid, which itself featured a compartment for cable storage.
Four 1.5-litre bottles could be fitted inside; a temperature drop of 11.7 degrees was measured, which is good but not as impressive as we'd hope for the price. Other boxes on test offer better value in this regard.
6. Dometic BordBar AS-25
Price: around £120
This was the only box to come with handy external zipped pocket storage, perfect for storing cutlery and other picnic equipment; there are even 'baguette tethers', plus bottle cut-outs under the lid.
A rotary temperature control was a welcome addition and performance was joint top-of-the-tree, with a temperature drop of 15.3 degrees. However, it was very hard to ignore the unit's three-figure price tag.
7. Kampa 30L Thermo Electric Cooler
Price: around £75
This box's 30-litre capacity meant six 1.5-litre bottles could be stored. Only three other boxes on test could better the Kampa on the price-per-litre front. Clever touches included cupholders and cable storage on the lid, though the cables only just squeezed in. The lid itself only opened at 90 degrees and so had to be held to avoid it dropping back down again.
Other poor points included a flimsy-feeling handle that seemed to get in the way of the lid lock.
8. Atlantic 18L 12v Electric Coolbox
Price: around £30
This cool box was the cheapest on test; build quality, capacity and performance all seemed to suffer accordingly. The box felt cheaply made, wasn't tall enough to fit 1.5-litre bottles and only managed a 7.1 degree drop.
It was the only box on test to have an entirely detachable lid. The lid did benefit from cable storage, but it was a struggle to fit the wire and plug into the space provided. Needless to day, opting for the cheapest option in this case represents something of a false economy – the extra £20 or so required to buy our winner secures a much better all-round product.
Car dashboard warning lights: the complete guide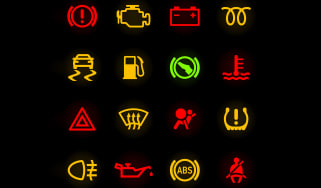 Car dashboard warning lights: the complete guide
New Volkswagen Golf GTI Clubsport gets 296bhp and racetrack mode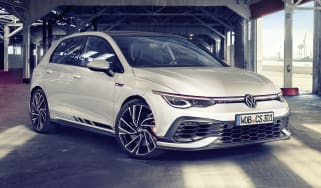 New Volkswagen Golf GTI Clubsport gets 296bhp and racetrack mode
2020 scrappage schemes: the complete guide
2020 scrappage schemes: the complete guide