Best 12v USB car charger 2018
As we use more power-hungry portable devices, keeping them charged with USB car adapters becomes more important
We all rely more on our smartphones, tablets and in-car accessories than ever before, and as they become more powerful, they also need more 'juice' to keep going. Carmakers have responded by fitting more USB ports, but often there aren't enough, and some can struggle to charge large smartphones.
An aftermarket USB charger can provide more outlets to charge several devices at once, from your sat nav to a rechargeable LED torch and even a power bank to keep your devices charged away from the car.
Read on for our list of the best 12v USB car chargers…
How we tested them
To ensure we covered all the bases, we tested our adapters by plugging in devices including Apple iPhones and iPads, an Acer Android tablet, a Kindle Paperwhite e-reader, a TomTom Go portable sat-nav and a Jabra Freeway hands-free Bluetooth kit. Importantly, we also measured the increase in charge for several of these devices after 20 minutes on charge.
Take a look at the best sat navs to buy now
We also judged the chargers on their design and how neatly they fitted into 12v car sockets. Points were awarded if there was a handy LED status indicator and we judged every adapter against its online prices.
Anker 12V PowerDrive 5 review
Price: Around £15Battery increase (tablet/iPhone): 8%/21%Rating: 5/5
The PowerDrive 5 has a unique design, with a standard 12v plug that connects a bank of five USB sockets via a long red cable. With a maximum output of 10A, this is a great choice for families with a car full of kids using tablets. There's an adhesive pad to secure the USB ports in place and the increase in charge of our iPhone was amongst the best we tried. Quality felt good and it shouldn't break the bank.
Ring 4-Way Smart USB RMS21 review
Price: Around £20Battery increase (tablet/iPhone): 8%/22%Rating: 4/5
The Ring RMS21 is closely matched to its smaller brother and Halfords adapter below, but having an extra USB port gives it the nod. Maximum power is the same at 6.8A, however, split between two 2.4A and two 1A ports. Using one of each saw our top charging result (matching the Ring RMS20), but the tablet charge was still only 8%. It's impressive Ring has managed to fit four ports in such a small package, making this a practical solution.
Ring 3-Way Smart USB RMS20 review
Price: Around £15Battery inc (tablet/iPhone): 10%/20%Rating: 4/5
If you're unlikely to use all four USB sockets, you can save yourself around £5 by opting for Ring's triple adapter instead. When averaged out, its ability to charge tablets and smartphones was joint top and its 6.8A of power is split between two 2.4A and one 2A ports. Clever technology inside includes protection against short circuits and overheating and it's a neatly designed, affordable product.
Halfords Premium Triple USB Charger review
Price: Around £15Battery increase (tablet/iPhone): 7%/21%Rating: 4/5
The Halfords Triple USB Charger is another affordable and practical solution, with three USB ports directly attached to a 12v plug. A blue LED indicator sits just above the 2A socket, making it easy to find in dim light and charging was speedy enough for our iPhone, but a touch off the pace for a tablet. Looking almost identical to the Ring RMS20, your choice between the two may well come down to which is offering the best deal or convenience.
Buy the Halfords Premium Triple USB Charger from Halfords for £12
Nonda ZUS review
Price: Around £30Rating: 4/5
The Nonda ZUS might look pricey for a two-port USB charger, but it has some tricks up its sleeve. This is a smart device, so connect your phone to it using the ZUS app and it can guide you to your car when it's parked in an unfamiliar street or big car park. This feature relies on GPS, though, so might not work in multi-storey or underground car parks. The Nonda's construction appears sturdy and the USB ports are reversible to help keep wires neat. Its pricing might be too steep for most buyers, but unique features like a car battery health monitor will persuade some to invest.
IFROGZ UniqueSync Premium Car Charger review
Price: Around £18Rating: 3.5/5
With a brushed-alloy construction, this charger has an impressive feel of solidity that the plastic adapters can't match. A blue ring of light helps you see its sockets in low light and the 3 and 2.4A plugs are different colours so you can spot them at a glance. It was slim, too, fitting neatly in all the sockets we tried. Its 3A port could add 12% of charge to our iPad in 20 minutes, which is impressive, but its price and the fact you only get two sockets held it back.
Sakura 12V Dual USB Car Charger review
Price: Around £6Battery increase (tablet/iPhone): 6%/17%Rating: 3/5
Costing around £6, the Sakura was our cheapest two-socket adapter, but it also lacked punch, adding just 6% to our tablet during the test. It's better suited to smartphones and less power-hungry devices and has a discreet design that won't spoil the aesthetic of your dashboard. Both ports provide 2.1A and the Sakura is a good entry-level device for users who need an occasional top-up.
Energizer Twin USB adapter/charger 50507 review
Price: Around £10Battery inc (tablet/iPhone): 9%/18%Rating: 3/5
In a segment ruled by compact chargers, the Energizer is rather brash and bulky in appearance. Its 90mm length makes it the biggest here, but it only offers two sockets – a 1A and 2.1A – with the latter marked out by a white motif. Its 3A fuse was a throwback, too, with most rivals including protective circuitry inside. It put in a decent performance, though, charging the tablet by 9% in the 2.1A socket – not far behind the Anker Speed 2.
Anker PowerDrive Speed 2 review
Price: Around £15Battery increase (tablet/iPhone): 7%/20%Rating: 3/5
The Anker has snazzy looks thanks to its blue USB ports and carbon-fibre-style trim, giving it a modern appearance and adding some grip. It's also unique here thanks to Qualcomm Quick Charge 3.0 technology, but this will only appeal to owners of compatible smartphones. Both ports can charge a tablet, but the 7% increase we saw in 20 minutes was lower than we expected considering its name tag. The Speed 2 also looks a bit pricey, even considering its decent build quality and 18-month warranty.
Sakura 12V Mono USB Charger
Price: Around £5Battery increase (tablet/iPhone): 3%/15%Rating: 2/5
The only charger we tried with just one USB socket, the Mono's biggest advantage is its small size. Measuring just 40mm long, it's one of the smallest USB adapters you can buy, making it ideal for awkward sockets. The downside is that its 1A port is limiting, only charging a tablet by 3% in 20 minutes and increasing our iPhone by 15%. Its metal tip also didn't connect properly in one car socket we tried. The Sakura could be handy to keep in your pocket, but only as a backup.
Updated Peugeot 5008 starts at £29,585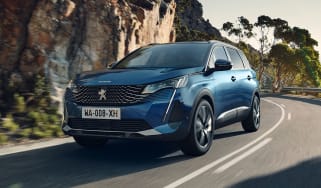 Updated Peugeot 5008 starts at £29,585
Cupra Formentor SUV review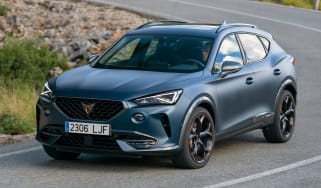 Cupra Formentor SUV review
2020 Volkswagen ID.3 hatchback: base model starts at under £30k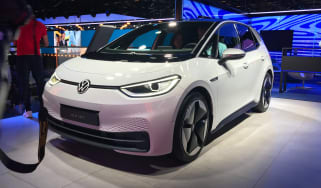 2020 Volkswagen ID.3 hatchback: base model starts at under £30k