Top tips for driving in the USA
An American road trip is a fantastic experience - read our guide to find out all you need to know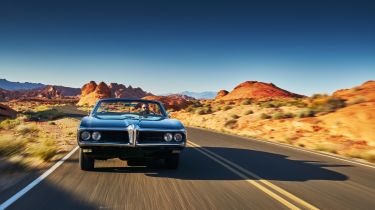 Exploring the USA by road is a wonderful experience. While it's true that the Americans drive on the 'other' side of the road, there's no excuse for this putting you off. After the first couple of miles, driving on the right really does become second nature.
Driving in the US is different to driving on the other side of the road in Europe, mainly due to the size of the roads – the majority of them are vast – but it's easy to get used to, and exploring the country this way will allow you to get a real feel for the USA.
Unless you're on some sort of organised tour, driving might be a necessity; the public transport infrastructure in the USA is far less comprehensive compared to the UK, with far fewer buses and local train services. And with roads like California's Pacific Coast Highway and film favourites such as Route 66 to explore, you really should jump at the chance of an American driving trip.
Another good reason for driving in the USA is the sheer variety of vehicles that you can hire from the majority of the car rental companies. The default choice might be an American muscle car with a brooding V8 under its bonnet but don't forget you could be behind the wheel of a huge SUV such as a Cadillac Escalade, or live out your modern-day cowboy fantasies in a monster pickup truck. You could even go for a an 'RV' (Recreational Vehicle), which are larger than life camper vans that allow you to stop and camp along your route.
If talk of these larger cars is a cause for concern, you shouldn't worry, as, for the majority of the time, American roads are built with wide lanes to accommodate these large vehicles. Exceptions to this rule might be found in some urban areas such as downtown San Francisco, which does have some smaller roads. It's best to do your car hire research before you go so you don't get a surprise when you arrive to collect your hire car – some cars classed as 'Compact' in the US will actually be quite large by European standards.
Crazy driving laws from around the world
Most American cities are set out on a grid system with endless 'blocks'. While this does mean you can be stopped at traffic lights some of the time it also makes negotiating city streets quite easy, as roundabouts are very few and far between. One thing you will need to get used to is that in America you can turn right at a red traffic light, providing you have come to a full stop and checked the way is clear before proceeding. Occasionally this is prohibited but it will be clearly signed by a 'No right turn on red' sign.
Motorway driving can be a little different to what you're used to in the UK. While you might see signs that ask drivers to keep right unless overtaking, many drivers ignore this and in the majority of states it's not against the law to undertake, so it's important to keep your eyes on your mirrors closely when changing lanes. American HGVs don't tend to be speed-governed as they are in the UK, so you'll need to get used to fast-moving trucks. On the whole, the freeways flow well and are easy to drive on, with exits clearly signed.
Partnership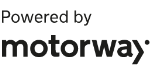 Need to sell your car?
Find your best offer from over 5,000+ dealers. It's that easy.
It's worth remembering that although distances can be huge in the US, fuel is very cheap compared to UK prices. Prices do vary – currently from almost $4 a gallon in California to $2.50 a gallon in Texas - but on average this means petrol in the States costs from around 50-70p per litre, making that V8 muscle car less expensive to run than you might initially think, despite its thirst.
If you decide to take the plunge and hire a car in the USA then read our top tips for a hassle-free trip.
What documents do I need?
The good news is that you can hire a car in the US with your normal UK pink photocard licence. While the vast majority of rental firms don't seem to ask for one, it would be advisable to get a licence check code from the www.gov.uk website just in case the rental firm needs to see if you have any driving endorsements. You can do this before you go, and each licence check code lasts for 21 days.
Most car hire companies have a minimum age of 21, but for some cars this could be 25, so check before you travel. As well as your driving licence, you will need another form of identification - a passport is best - and a credit card. Car hire companies don't accept debit cards for charges or deposits.
Tips for renting a car in the US
As mentioned, it's far better to book your hire car before you go, as this will give you the opportunity to fix the price and pick the type of car you want to hire. Have a close look at what is included in the price, especially in terms of any collision damage waiver (CDW) you may have to pay if the car is damaged. While all hire cars will come with the legal minimum insurance cover, it's worth bearing in mind that the US is a very litigious country, so you may want to upgrade your insurance cover.
If you want to book any extra items – child seats or sat nav systems – you should also arrange these in advance. If you have a smartphone with a data package that includes use in the US, it may be cheaper and simpler to use this as a sat nav, rather than paying to hire one from the rental firm.
Before you drive away in the car, take photos of it with your phone or camera, especially any light scuffs or dings on the bodywork. Take a picture of all the wheels and tyres as these are a favourite for car hire firms to check when the car is returned.
What do you need to carry in the car?
You need to take your driving licence with you if you're driving the car and you should also ensure that you have the documentation provided by the hire car company as this acts as your proof of (temporary) ownership and that you have insurance cover for the vehicle.
All cars must carry a warning triangle (this will be provided by the car hire company, but it's worth checking it's in the car before you depart) but there's no requirement for a reflective jacket as there is in Europe.
Rules of the road
Most states in the US set their own particular laws - as an example you may find that speeds on freeways (motorways) can vary from anything from 60mph to 80mph. The majority of them are 70mph, but make sure you keep an eye out for what the correct speed limit is. If in doubt, ask at the car hire desk what the speed limit in that state is.
Reduced speed limits for where road construction is taking place can be rigidly enforced, so make sure you slow down when in a road works zone.
Mobile phone use at the wheel is banned in most states so if you have to take a call while driving, make sure you have a hands-free Bluetooth kit or pull over where it's safe to stop.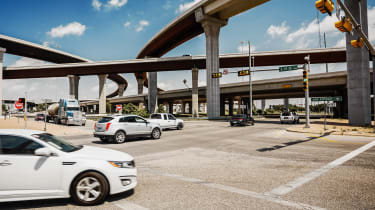 The drink-drive limit in most US states is the same as it is in the UK, but the safest policy is not to do it at all. In most states it is illegal to have an open container of alcohol in the car so if you have a wine box or any opened bottles of alcohol, these need to be put in the boot or thrown away.
While wearing seat belts used to be an option in the USA, virtually all states now require them to be worn at all times.
Some states have their own particular rules when it comes to driving; Florida, for example, requires all cars to drive with their headlights on when it's raining. In California you must park in the direction of traffic, so if you see a parking space on the other side of the road you have to turn around or make a U-turn or else you could get a parking ticket.
You must stop for school buses on single lane carriageways (ie. roads with a lane of traffic in either direction) when its lights are flashing and its stop sign is extended from the side of the bus.
At four-way intersections not governed by traffic lights, the car that arrived first at the junction has priority.
And don't forget that a stop sign in America means stop. Even if you can see the way is clear, don't treat American stop signs as a give way sign - you must stop. If you're seen by the police ignoring a stop sign you will get a ticket!
Be prepared and enjoy your trip
Driving in America might seem daunting and there are a few odd laws to get your head around. The best policy is that if you're unsure about anything, ask. Arrange your hire car in good time for your trip and if you know exactly where you're going, do some research on speed limits and any odd traffic laws before you travel.
Overall the roads in America are far less crowded than the majority of those in the UK and driving is definitely not something to be worried about.
Tesla Cybertruck finally delivered: specs, prices and UK availability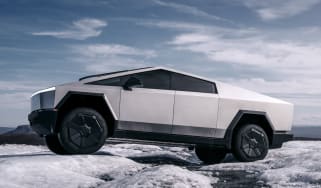 Tesla Cybertruck finally delivered: specs, prices and UK availability
Engine management light: top 5 causes of amber engine warning light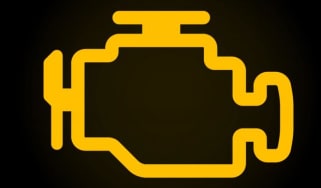 Engine management light: top 5 causes of amber engine warning light
Best new car deals 2023: this week's top car offers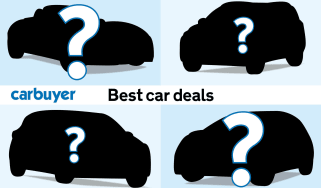 Best new car deals 2023: this week's top car offers