Best car wash brushes to buy
We list the best wash brushes to buy if you can't justify a pressure washer
Pressure washers are often hailed as the easiest way to keep your car clean, but they're also expensive to buy and inconvenient to store. They don't suit everyone's needs, so you might be better off getting a brush attachment for your garden hose. Car wash brushes tend to be much more affordable than pressure washers, but don't involve the manual effort of cleaning a car with a sponge. You won't need two buckets with a brush hose attachment either.
There are a number of choices on the market but they usually fall into two categories; with an extending handle and without. If you have a van or a tall SUV, you'll probably prefer a brush with an extending handle, whereas a standard non-extending hand brush will be fine for saloons, hatchbacks and sports cars.
How we tested these brushes
We tested the car washing brushes thoroughly and ranked them on a number of different factors. To get top honours, the brushes needed to be easy to use yet well-made, the bristles needed to get dirt off without scratching the paintwork, and, importantly, they needed to work without leaking water everywhere.
To truly put these products through their paces, we used them to clean large panels and smaller, more intricate areas. After all, there's no point having a clean bootlid with dirt still ingrained in the car's badge. All products tested were designed to fit a standard tap connector and had a way to regulate the amount of water used.
Verdict
If you're after a hand brush, we found the Filmer to the best all-rounder, with the Kent and Proplus brushes scooping silver and bronze. Of the larger, extendable brushes, Draper's telescopic product was our best buy, with Kent again coming second and the Sakura coming in third.
Hand brushes
Filmer Car Brush 18797
Price: around £5Rating: 5/5
Filmer's car brush might be a reminder not to judge a book by its cover, as its light weight and low price might make you think it's a budget option. Far from it, in fact, as you can easily control the water flow despite the lack of a proper on/off switch. At 162g, it's nearly half the weight of the heaviest in this test, but doesn't feel flimsy or cheap. Its design allowed for easy access into crevices and alloy wheels, and another bonus is that it's so affordable.
Kent Super Car Wash Brush
Price: around £6Verdict: 4.5/5
Kent are considered car-care specialists, and their handheld brush is affordable and great for washing a car at home. We found the bristles to be superb at scrubbing off dirt without harming the bodywork of our test car, and it effectively removed dirt from lots of difficult areas like headlamp surrounds, alloy wheels and door mirrors. It does weigh about 50g more than the Filmer but it's still light and easy to use, although the water control wasn't quite as good as the top-scoring brush. We liked the removable on/off tap, as it allows you to easily replace a broken part.
Proplus Wash Brush Super 150641
Price: around £10Rating: 4/5
At first glance, the Proplus is almost identical to the Kent above; it even has similar dimensions and almost the exact same weight. Being just as narrow, it was nice and easy to use and managed to get into the tighter spots on our alloy wheels. Unlike the Kent, the on/off tap is on the brush rather than a separate unit. It's beaten by rivals due to its higher price and its bristles, which seemed slightly too soft to lift off more stubborn dirt patches. Bizarrely, it worked with a Hozelock hose connector but not a Halfords one - clearly, not all hose connectors are identical.
Halfords Flow Through Wash Brush
Price: around £11Rating: 3/5
The Halfords Flow Through Wash Brush is the heaviest brush in our test - at 287g, it's nearly double the weight of the Filmer. That extra weight does give it a solid, well-made feel, and its different design actually makes it slightly easier to use. There's a soft rubber grip with finger cutouts exactly where you want them, and there's an on/off switch within easy reach. But the downside of this product is that it doesn't attach to hose connectors very easily - not even Halfords' own connector. It's also the costliest hand brush we tested, which put it at an immediate disadvantage.
Extendable Brushes
Draper 3M Telescopic Washing Brush 85068
Price: around £18Rating: 5/5
We were very impressed with Draper's 3M Telescopic Washing Brush, for a number of reasons. It's the only brush on test that can extend to a maximum length of three metres, making it perfect for cleaning garage roofs or the top of a caravan. There are three tubular sections, and the middle setting of 2.1m is enough for almost any car. Weighing 1.4kg and measuring 1.3m when in its most compact setting, it's easy to use and wieldy enough, plus it's well built. To top it off, it's also one of the cheapest brushes on test.
Kent Professional Telescopic Flow Thru Brush
Price: around £20Rating: 4.5/5
The Kent Professional Telescopic Flow Thru Brush has two sections, compared to the Draper's three, but it doesn't lose much in terms of extendable length. This brush can extend to up to 2.5 metres, and measures 1.5 metres when compressed. Its bristles extended around the ends of the head, so it didn't matter that the head itself is smaller than rivals. We found it very good at getting into small or difficult areas, and the price is reasonable too. The Draper is only very slightly better.
Sakura Telescopic Washbrush
Price: around £21Rating: 4.5/5
If you've no need for a three-metre-long extending brush, the Sakura Telescopic Washbrush may be suitable. It extends to two metres, which is plenty to wash a large car, and is slightly more compact in its standard form. Partly due to having two sections, it's quite a bit lighter than the Draper, which you might find makes it easier to use. We were pleased with its brushing performance, but it is slightly too expensive considering the limited extension.
Halfords Long Reach Extending Car Brush
Price: around £30Rating: 3/5
The Halfords own-brand extending car brush gets off to a good start, as it measures under a metre when compressed and weighs just 916g. This ease of use continues with the brush's rubber blade, soap sticks and and extra adaptor, so you can use the variable water control function if you wish. However, it's rather expensive, especially considering it only extends to 1.6 metres, and the extra connector leaked a little when we used it.
Cupra Formentor SUV review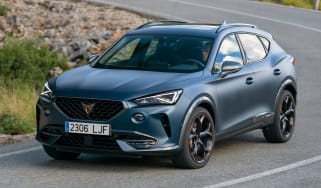 Cupra Formentor SUV review
2020 Volkswagen ID.3 hatchback: base model starts at under £30k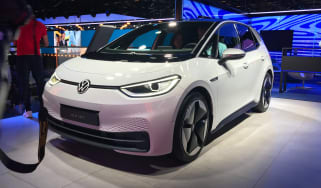 2020 Volkswagen ID.3 hatchback: base model starts at under £30k
Audi Q8 gains plug-in hybrid versions with 28-mile electric range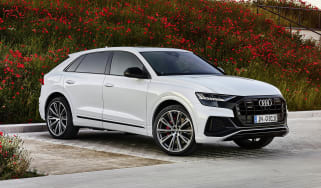 Audi Q8 gains plug-in hybrid versions with 28-mile electric range