Best windscreen rain repellent to buy
Windscreen rain repellents keep your windows clear - here are the best available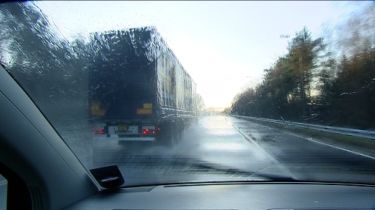 In a country where rain is a common occurrence, it's no surprise that car rain repellents are becoming more popular. They don't guarantee that your car will stay dry in a downpour, but the good ones will quickly shift water from your windscreen and windows. As a result, your windows will stay cleaner for longer, and you won't need to use your wipers quite so often.
Rain repellents tend to work for much longer than bodywork waxes, and many in this test were still performing well after nine weeks of testing. They're also handy for cars without a rear windscreen wiper, as rain and some dirt is automatically cleared off.
However, it seems that windscreen rain repellents divide opinion. Many swear by their favourite products, while others say these products leave a misty effect after every wiper movement and slightly reduce nighttime visibility. If you're a fan, or want to test a product to see if it's a useful purchase, we've rounded up the best ones currently available.
How we tested windscreen rain repellents
Despite all doing the same job, many rain repellents are applied in different ways. We applied each to a selection of windscreens, with special attention paid to the section covered by the wiper sweep. This part of the windscreen is the most important, but is likely to be the area where the rain repellents wear out quickest.
We had cleaned the windscreens before application to ensure a level playing field, and monitored the speed and effectiveness of the water beading over a nine week period. We also ranked the products on price, ease of use and if there are any extras included.
Verdict
Longevity and effectiveness are the two main factors for choosing one of these windscreen rain repellents, and we think you get what you put in with Dodo Juice's Supernatural Glass Sealant Kit. It takes the most effort to apply but produced the best results in our test. Second place goes to EnduroShield, while Meguiar's finished third.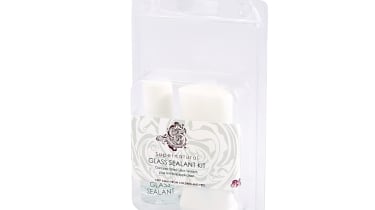 Dodo Juice Supernatural Glass Sealant Kit
Rating: 5/5Price: £20Size: 50ml
If you're absolutely fanatical about keeping your windscreen clear, Dodo Juice will be worth the time and care needed to apply it. First you'll need to prepare the glass with a special shampoo, then it needs to be clayed, polished and cleaned with an IPA glass cleaner. Then, it's two coats of the solution, applied with a cloth, and a buff down. You'll need to leave it to cure for around three hours, but you'll need to undertake this process far less often than most other products. Dodo Juice claims six months of protection, and it was still working very well at the end of our test. It's expensive, but it certainly delivers results.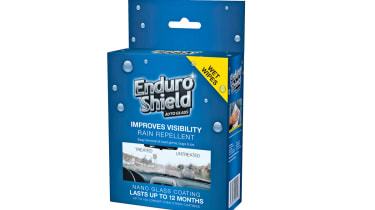 EnduroShield Auto Glass Wipe
Rating: 4/5Price: £8Size: Two Wipes
For a much easier application process, the EnduroShield Auto Glass Wipe is highly recommended. There's none of the laborious process of the Dodo Juice product, as all you'll need to do is wipe the glass and leave to cure. That being said, you'll need to leave it to cure for eight hours, but it does bead very well for at least nine weeks. The cost is quite high considering you get two applications, but it performed well enough to feel good value for money. It also comes with a polishing cloth to make sure you're applying the product with a clean cloth.
Meguiar's Perfect Clarity Glass Sealant
Rating: 4/5Price: £12Size: 118ml
Meguiar's recommends using their Perfect Clarity Glass Polishing Compound to prepare the glass, but that adds £12 and a lot of time to the process. We tested this sealant without it, mainly to give a proper comparison, and it still worked quite well. It was still working at the end of our test, albeit not quite as well as the front-runners, but it's reasonable value - not to mention easier to apply than the Dodo Juice. The box includes a sponge to apply the solution, which should go onto the glass in the same way that you'd apply polish. Wipe the surface with a slightly damp microfibre cloth, then repeat the process to make sure the whole windscreen is evenly covered.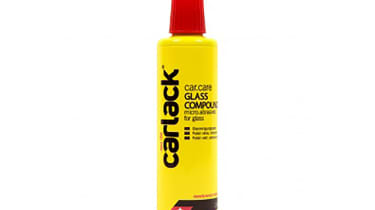 Carlack Glass Finish
Rating: 4/5Price: £13Size: 250ml
There are a number of windscreen rain repellents that perform similarly well, and Carlack Glass Finish seems to be the best conventional repellent available. It's not quite up to the same standard as the top choices, but ahead of many of its main rivals. Likewise with the ease of application, as it's far easier to apply than the Dodo Juice but pipped by the EnduroShield. Simply apply the product to clean glass with a paper towel. Once it's dry, spray a little bit of water and then buff the windscreen dry. It seems good value compared to the Meguiar's product, as it offers more than double for not much more money.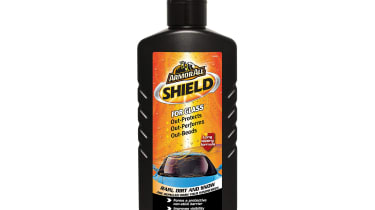 Armor All Shield for Glass
Rating: 4/5Price: £5Size: 200ml
Armor All tends to be a strong-performing brand in our tests, but its Shield For Glass isn't one of the best products on the market. It does have a couple of plus points - namely its keen price and ease of application - but alternatives cleared the water off the screen much quicker, and it needed reapplying by the end of our test. It only needs to be wiped on and buffed off, however, so it's still a good option for those on a shoestring.
Nissan Ariya vs Volvo XC40 vs Volkswagen ID.4 - which is best?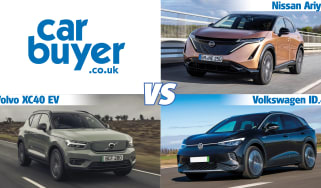 Nissan Ariya vs Volvo XC40 vs Volkswagen ID.4 - which is best?
2023 Hyundai Ioniq 5 N spotted testing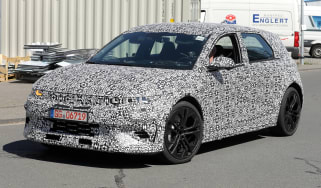 2023 Hyundai Ioniq 5 N spotted testing
Best new car deals 2022: this week's top car offers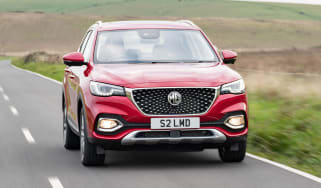 Best new car deals 2022: this week's top car offers