Best car dehumidifiers
If your car steams up easily, get rid of the condensation with a car dehumidifier
It's frustrating when your car's windscreen is steamed up. Unless you have a heated windscreen, cold or wet mornings can cause delays as you wait for the blowers to shift the condensation.
The problem is made worse if you don't have air conditioning, or if it's not directed where it should be. You'll notice your windows steaming up if it's raining, and it'll happen much more quickly with a car full of people.
• Car air conditioning - how to keep it working
This is where a car dehumidifier can come in handy, as they can get rid of the moisture easily and independently. Most use absorbent crystals, but they're not very expensive. With most versions costing between £7 and £20 and being able to be used multiple times, they could prove to be a worthwhile investment - and they look better than a pair of old socks on the dashboard.
You can choose from two main types: electric and non-electric dehumidifiers. While electric ones remove moisture much quicker, they can be noisier and need recharging every so often, and this can take up to nine hours. The non-electric products reduce condensation over a slightly longer period of time and, once they're saturated, most just need a quick zap in the microwave.
Most of the non-electric dehumidifiers you can buy look like small, shallow pillows. They're designed to be placed at the back of your dashboard, under the windscreen. Electric ones often need to be put here too, but some can be stashed away discreetly.
You'll need to remember that some dehumidifiers aren't reusable, and we don't really recommend these unless you'll only need it once - like in a rental car, for example. These tend to be similarly priced to the reusable ones, so it makes much more financial (and ecological) sense to go for one that you can use multiple times.
These dehumidifiers are among the best you can buy right now:
Pingi Dehumidifier review
Price: £7.39
The cheapest dehumidifier on our test also performed the best out of all the electric and non-electric products we tested. Of course, it's not quite as quick as the electric dehumidifiers, but redeems itself in other areas. You'll know when it can't absorb any more moisture, as the dot on the top turns pink. When this happens, don't worry about emptying it - simply pop it in the microwave for a few minutes and it's back to being usable. The water is absorbed by crystals contained in the pouch, so it can just sit on top of the dashboard and you don't need to give it a second thought. With its black and grey design with a red stripe, it looks great and may blend in quite well. Should you need two pouches, a twin-pack is available, offering better value than two singles.
Dry & Purify review
Price: £18.99
As well as removing moisture, this car dehumidifier promises to deal with unpleasant smells, which may come in handy for dog owners or people that work in smelly environments. It comes in a hessian sack - taste is subjective, but we think it's quite nice - and features eco-friendly bamboo charcoal to absorb the moisture. You'll need to recharge it twice a month (or more) using either the microwave or leaving it in direct sunlight for a few hours, but it does only last for about a year. At almost £20 it's expensive, too, but could be a price worth paying for its eco credentials and odour-reducing ability.
Lakeland Dashboard Dehumidifier review
Price: £10.99
You might be more familiar with Lakeland's range of kitchen and homeware products, but the company also sells a dashboard dehumidifier to take the moisture out of your car. It's easy to use - recharge it in the microwave when the crystals turn clear - and can sit on top of your dashboard or hang from a headrest, thanks to a supplied fabric hook. Recharging it only takes five minutes, and it can draw 125ml of water from the air inside your car. We also liked the way the Lakeland item looked - its grey case is minimalist and should look okay in any car.
Thomar airDry review
Price: ~ £11
The Thomar airDry is unique in our test, as it's the only one that isn't reusable. We can see this being useful in a rental car, or if you only need it once, but otherwise it's not as good value as the other products on test. Unusually, it's a pot that sits in a cup holder, and looks like it should have yoghurt or instant noodles in it. It's easy to use, though - simply peel back the lid and the foil and let it do its thing. Different designs are available if you're not too keen on the grey and yellow one pictured here.
Streetwize Rechargeable Dehumidifier review
Price: £18.99 (twin-pack)
If you're set on an electric dehumidifier, the Streetwize Rechargeable Dehumidifier is our top pick. As it doesn't require batteries or cables to work, it's ideal for a car. Just like the non-electric dehumidifiers, it uses crystals and has an indicator to show when it's fully saturated. You'll need to recharge it for between six and nine hours, but you don't need to remove the liquid - it'll evaporate away whilst it's charging. The Streetwize looks expensive but comes in a twin pack, so it's good value if you need two dehumidifiers.
If your car needs a service, check out our guides to main dealer servicing or see whether you can do it yourself at home.
Updated Peugeot 5008 starts at £29,585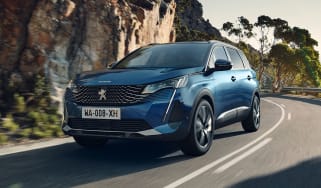 Updated Peugeot 5008 starts at £29,585
Cupra Formentor SUV review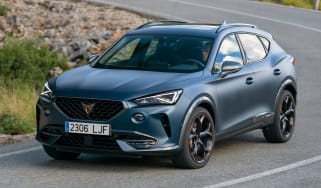 Cupra Formentor SUV review
2020 Volkswagen ID.3 hatchback: base model starts at under £30k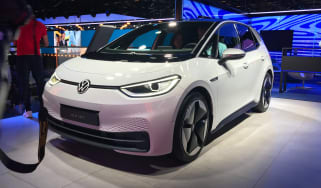 2020 Volkswagen ID.3 hatchback: base model starts at under £30k