Main dealer car servicing – a complete guide
Have questions about main dealer car servicing? We explain what it is and why it's important for your car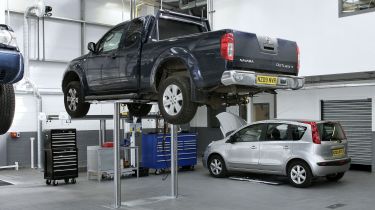 Owners of new or nearly new cars tend to return to their main dealer when their vehicle is due a service. It's a sensible approach because you can be sure it'll be serviced correctly, receive the latest software updates or minor recall rectification work and - as a result - will gain that all-important main dealer service stamp in the service book.
Ensuring your car is serviced at the appropriate intervals is extremely important and something you don't want to neglect. What's more, if your car is still nearly new, it needs to be serviced regularly in order to keep the warranty valid. Missing services or having it serviced incorrectly could void its warranty entirely, potentially resulting in hassle and costly repairs in the future. Skipping services for older cars is likely to eventually lead to loss of performance, suspicious noises, leaks and/or multiple warning lights pinging up on your dashboard.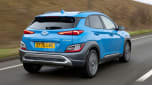 Top 10 best reliable small cars 2022
While it's important to note that EU laws mean you can't be forced to use a main dealership for servicing, doing so ensures official parts are used and the recommended servicing regime is followed at the right times. Often, main dealer technicians are also trained by the manufacturer and are experts in servicing and repairing your car specifically.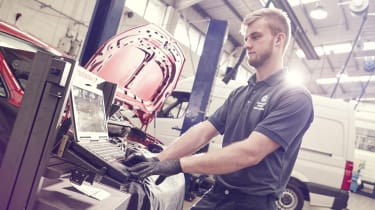 What does a car service include?
The exact work carried out will vary depending on the age of the vehicle, but a service will more often than not include changing the engine oil and air filter. You will usually be able to choose from three service levels, which are normally an interval (or minor) service, a full service and a major service. You can find out which one is needed by checking your car's handbook or contacting the service department with your car's registration, age and mileage.
An interval service covers the basics such as checking whether it's roadworthy. It should be enough to get your car through an MOT test. Most services include replacing the spark plugs (petrol cars only), antifreeze engine coolant, brake fluid or power-steering fluid. If your car is a diesel that requires top-ups of AdBlue to reduce its emissions, this may also be done for you.
Checks will also be conducted to find any other issues and bring them to your attention. These usually apply to safety-critical items like your tyres and brakes. If the tread on one or more of your tyres is nearing the legal limit, then you'll be made aware of this and when they'll likely need replacing, if not immediately. This will be the same scenario for the level of wear on your brake pads.
As the name suggests, a full service is much more comprehensive, and far more elements of your car will be checked. A major service, meanwhile, may include necessary repair work or replacement parts. Luckily these don't tend to be required often, as they tend to be more expensive.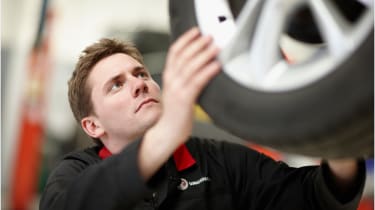 Benefits of main-dealer servicing
There are around 5,000 main dealerships dotted across the UK, with some brands having several hundred each. There's no obligation to take your car back to the dealership where you bought it for servicing; you can book it into any dealership that sells cars of the same brand as the model you own.
Partnership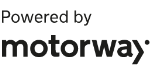 Need to sell your car?
Find your best offer from over 5,000+ dealers. It's that easy.
Manufacturers invest millions (or even billions) of pounds developing a new model with the best possible durability and reliability, but a single poor experience can make you want to swap brands. For this reason, carmakers invest heavily in their dealerships, with comprehensive staff training and the latest equipment.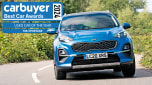 Best used cars: our 2024 Best Used Car Award winners
Even if a servicing experience isn't perfect, you should be able to bring issues to the attention of a large customer-service team and even the brand's headquarters. Because of their direct link with the manufacturer, dealers can also provide extra benefits like software updates or non-essential recall work while servicing your car, usually at no additional cost.
If an unforeseen issue should arise after the warranty period, it's also possible that the manufacturer will be more likely to make a goodwill gesture to assist with the cost of a resolution if the car has a full service history from a main dealer. Of course, this is a grey area and will depend on the fault, how far out of warranty the car is and the relationship you have with your local dealer, so it isn't something you can take for granted.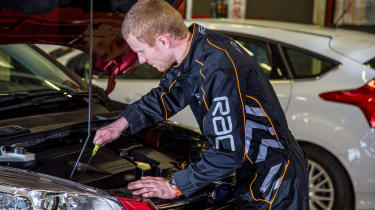 Another well-known perk of a main-dealer service history is that it can make your car easier to sell. Some buyers will be reassured that the car has been maintained with official replacement parts and take it as an indication that you're a careful owner who hasn't cut corners. For this reason alone, ensure you keep all the servicing invoices safe, along with the stamped service history booklet. Having all of this to hand when you sell the car means you should be able to get more money for it, too.
Disadvantages of main-dealer servicing
Once a car is out of warranty, some owners question the value in paying extra for a main dealer service, leading many to have work carried out by their local independent garage. Independant garages don't usually have huge cost overheads, as their premises will usually lack the expensive sheen of a main dealer. This means the independent garage can offer a service for a lot less.
New and used car warranties: what you need to know
Some garages also specialise in particular makes and models, and are a popular route for enthusiastic owners of these cars. A quick internet search, or an owners' club can help you uncover these.
Car servicing costs
Servicing varies from one manufacturer to another, between dealerships and independents and can depend on the mileage of your car. Some manufacturers have introduced fixed-price 'menu' servicing to simplify things, so it's worth checking on their website to see if this is available for your car.
Some models will also require a cambelt change, which might only be necessary every eight years or 100,000 miles as an example, but involves a lot of work and costs significantly more than a typical service.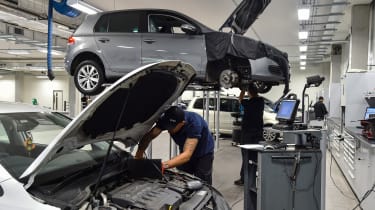 In any case, the information about exactly what's required will be provided when you purchase the car, limiting the chance of unexpected bills.
You can also choose to get your service and MOT test out of the way at the same time, provided your mileage roughly matches your service intervals. While having both done costs a bit extra at the time, you'll save money as it's usually cheaper than having them done separately. It also saves the hassle and time of going to the garage twice and having to make suitable courtesy car arrangements, which main dealers will often provide.
Fixed-price car servicing
Fixed-price service plans are becoming increasingly popular and make a lot of sense for new car buyers, especially when bought on PCP or HP finance. For either a single payment when you buy the car, or regular monthly direct debits, you can pay for your car's servicing for between three and five years.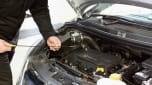 Car maintenance: top tips
The peace of mind that maintenance for the first portion of the car's life is all taken care of can be very reassuring and it can work out cheaper than paying for each service individually. The fixed price means rising charges won't affect you and, in some cases, it can be included in the overall finance package.
Car servicing deals
It's worth looking out for promotions on car servicing. Often main dealers will boost their popularity by offering incentives like a free courtesy car, valet or even a year's breakdown cover if you service your car with them.
Free (or low-cost) health checks have become popular, too, with dealerships and car shops offering to test the safety of your car, along with ensuring things like the air-conditioning is tip-top in summer and your tyres, battery and antifreeze are ready for winter.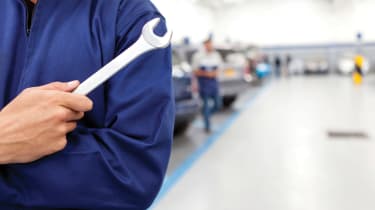 How long does a car service take?
The amount of time a service will take depends on the type of service your car is booked in for. Usually, as highlighted above, a car will have three levels of routine service, often referred to as minor (or interim) service, full service and major service. Because a minor service involves the least work, you can often book a time slot and simply get the car serviced while you do some shopping or read a magazine.
A full service is likely to take a few hours, so it might be more convenient to drop the car off and return later. Several times during a car's life, it may also require a major service to replace parts like the cambelt, which is a much more complex (and expensive) task and will usually require you to leave your car at the garage all day or overnight. Not all garages provide a courtesy car, so you may need to ask before booking, or make alternative transport arrangements.
It's possible that additional issues can also be discovered during a routine service, so it's important to ask the garage to contact you before going ahead with extra repairs. Not only will this make you aware there could be a delay, you will also be notified of extra costs.
How often should you service your car?
When you buy a new car, you should also check what type of servicing schedule it has. There are two main types: fixed-schedule servicing and variable servicing, sometimes also referred to as a long-life service plan. Depending on the type of car you buy, it could require one or the other type of servicing, or you could be asked to choose between them depending on your driving habits.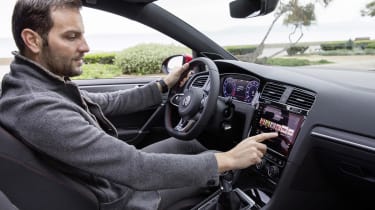 Fixed-schedule servicing requires your car to visit the garage when a set mileage or time limit is reached, with whichever happens first triggering the service. A common interval period is 12,000 miles or 12 months, but you'll need to check in your car's servicing handbook to verify when it needs attention. This type of servicing is best suited to low to medium-mileage drivers who often take short trips.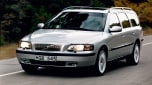 'No service history? A full service record could be just £10 away'
Variable servicing depends on sensors fitted around the car and its on-board computer telling you when it needs attention via the dashboard. Typically, this approach can allow more miles between services, especially if you often sit on the motorway, placing less stress on components. Drive with more frequent bursts of acceleration and braking and the service will arrive sooner. As a result, this type of servicing can suit drivers with high annual mileages of 12,000 miles or more, who often undertake longer trips. Make sure your garage resets the service interval warning, otherwise it'll ping up when a service isn't necessary.
Car servicing under warranty
You'll need to keep an eye on when your car requires servicing and ensure you adhere to the correct intervals without leaving it too long or driving too many miles. Not only could this lead to premature wear and tear or reduced performance, your warranty may be invalid if you don't stick within the manufacturer's guidelines.
To keep your warranty valid, you'll also need to ensure approved parts are used and the correct jobs are undertaken. While you can get your car serviced anywhere, going to a main dealer will ensure this is the case.
For more tips on how car servicing can save you money, click here.
Car care made simple