What is a cambelt change and does your car need one?
Why it's so important to change a cambelt, how to know if you need a new one and how much it costs.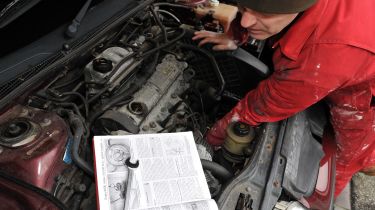 When speaking to a mechanic or reading the classifieds to look for a used car, you may have heard mention of a cambelt or timing belt change and wondered what it means or why it matters. Your cambelt is a very important car part that is crucial to making sure the engine operates correctly.
The reason a cambelt is sometimes referred to as a timing belt is because it keeps crucial components (known as the camshaft and the crankshaft at the top and bottom of the engine) operating in sync, allowing air and fuel to enter and exit at precise intervals. These engine timings are so precise that any slight deviation can be catastrophic.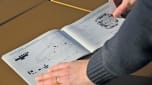 Car service history: why it's important and how to check for one
It's vitally important to change a cambelt when it's due because the wear caused after extended use can cause it to break, with potentially severe damage to the engine as a result. The average cost for a cambelt change can be from £300 to £800, so you might be tempted to take your chances, but leaving it too long will cost far more in repair bills, and it's not worth the risk.
Cambelts are usually replaced from between every 40,000 to 100,000 miles, or four to five years, depending on the manufacturer. In most cases, getting the cambelt replaced is a fairly common procedure for a mechanic to carry out, and is usually accompanied by a waterpump and thermostat change as these components are often found in the same area. 
Some cars have a 'timing chain' which is similar to a cambelt in function but differs slightly - while cambelts are usually made of durable, flexible materials such as Kevlar or polyurethane, timing chains are made up of metal links not unlike a bicycle chain. Some engines use both of these types of timing systems. A benefit to timing chains is that they are often intended to last the lifetime of the vehicle, although they can still fail and you should check the manufacturer's advice for your vehicle. To prevent failure, it's particularly important to ensure your oil is changed at regular intervals – which will help maintain the lifespan of the timing chain.
What is a cambelt and what is it for?
A cambelt is a part of the engine that moves cams inside to open and close important valves that allow air into and out of the engine at very precise times. It's a simple, but crucial job which allows your engine to work correctly and as efficiently as possible. 
If a cambelt isn't aligned correctly, the timing will be out, meaning the pistons inside the engine will be firing at the wrong time, resulting in loss of power, excess fuel usage and, most alarmingly, potential engine damage.
How do I know if my cambelt is worn or not fitted correctly?
A timing belt that's worn or incorrectly fitted or off-centre by even just a few degrees can cause the following symptoms:
Rough running
A noticeable lack of power
Overheating
Miss-firing 
Difficulty starting
Stalling 
When do I need to change my cambelt?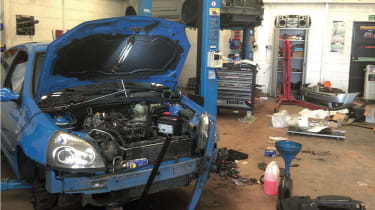 The time between cambelt changes varies from car to car. Usually you can find the service intervals detailed in the car's manual, or you can contact the manufacturer to confirm this for you. 
Partnership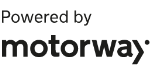 Need to sell your car?
Find your best offer from over 5,000+ dealers. It's that easy.
The recommended time before changing your belt will usually be up to a certain mileage and age range, you should then replace the belt before the mileage over the recommended number or gets too old, whichever comes first. This is because a belt can become worn even if it's not used much, as the rubbers can get brittle and start to crack.
As a general rule, cambelts and timing belts will need replacing sooner than a timing chain, but in every case you must check the manufacturer's recommendations.
What will happen if my cambelt fails?
The severity of a snapped cambelt can vary from car to car. The main reason that it can be so catastrophic is that the valves and pistons inside your engine are precisely timed to move in such a way that they never come into contact with each other. When the timing is off or the cambelt snaps, these components can come into contact with each other and become damaged.
Your mechanic may refer to two types of engines; interference and non-interference engines. An interference engine is one where there is a possibility of the valves and pistons hitting into each other in the event of cambelt failure.
A non-interference engine is one in which the valves and pistons shouldn't collide even if the cambelt snaps, so they are less likely to become severely damaged in this instance. That's not to say that the cambelt in a non-interference engine shouldn't be replaced on-time, however.
Need advice on if you should buy a petrol or diesel car? Read our in-depth guide. 
Car care made simple