Car service history: why it's important and how to check for one
A car's service history is evidence of how well it has been maintained. Here's everything you need to know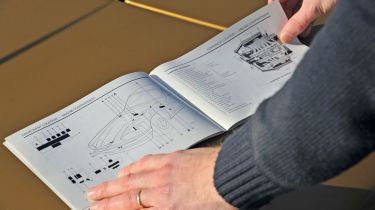 Buying an older, cheaper used car can be stressful. Not only is it likely to have suffered plenty of natural wear and tear but it's harder to establish how well it's been looked after, especially if the owner has lost the service history. That's why a used car with a full service history usually commands a higher price than one without. Thankfully, there are other ways to check for a car's service history online, via a main dealer or a garage. 
Without a service history record, you don't know if the car has been serviced regularly and an owner has simply misplaced the paperwork, or whether it's been consistently neglected, with little or no servicing carried out. Sure, you can check a car thoroughly yourself, or even pay a mechanic to check the basics, but that doesn't tell you what hidden issues there may be.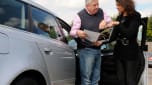 Questions to ask when buying a used car
Can you be sure that previous owners have changed the oil and cambelt on time? If not, there are potentially some big bills to come. This is why a service history is so valuable; if you have a paper trail that shows the car has been lovingly cared for, serviced on time and had money spent on it every year, you can be confident that there should be fewer issues in store. That's a different proposition to buying a car that has only been looked at if and when something went wrong with it.
In this guide, we cover the importance of a car's service history when buying or selling a used car, and how you can obtain missing service history records for a car. 
Why is car service history important?
The most obvious reason a car service history is important is that it lets you know when the last service was carried out. For example, if you buy a car with a full service history, you'll know when the oil was last changed, so you'll know when it's next due to be changed again. If you buy a car with no recent history, you'll probably need to change the oil immediately to be on the safe side.
As well as an oil change, service history should let you know when some of the most important parts of your car, such as the brakes, battery, tyres or cambelt were last changed. This not only lets you know if the car is healthy, but also means you'll be safer behind the wheel, too.
Another reason to look out for a more detailed service history is that it shows the owner took more diligent care of their car, so it's likely they invested in it in other ways. It's not unreasonable to assume that someone who kept up with their car's service schedule was also more likely to regularly wash and wax it to prevent rust or carry out repairs before they caused more damage, for instance.
Lastly, for newer used cars that come with manufacturer warranties, it's important to check service history because it shows whether the car is still in warranty. Although some manufacturer car warranties are valid for years, even once sold to a new owner, they will no longer be valid if the service intervals have been missed.
Main dealer service history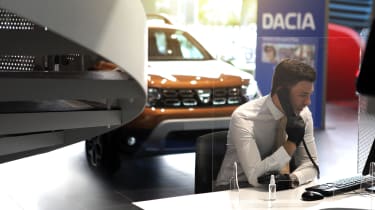 Just because the owner may have lost the service history, it doesn't mean that the garage that did the work has, and for most manufacturer main dealers the records can be recovered. 
Partnership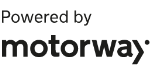 Need to sell your car?
Find your best offer from over 5,000+ dealers. It's that easy.
Dealerships that are part of the same manufacturer network should all have access to the same service record database, meaning you can recover its history from your local branch. Call up a main dealer and ask if they have any recorded history for the car in question. This could potentially add value to your car by providing more information about its history, or help clear up any doubts you have about one you want to buy.   If the car has been taken to a main dealer – even if that was 15 years ago – the dealer should be able to tell you so. More than this, most can confirm the exact date any work was done, the car's mileage and the type of service; even which optional extras were fitted to the car from the factory.
Check your car service history online
Some car manufacturers even offer access to car service records on their website. In most cases you'll need to input the car's Vehicle Identification Number (VIN) to access the service history information, but this varies from manufacturer to manufacturer.
How do I prove my car's service history?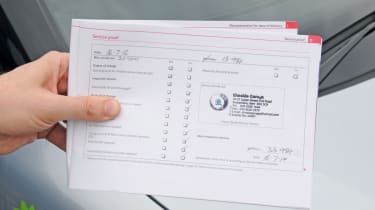 If you want proof that this service work has been carried out – either to give you confidence that the work has been done or because you're looking to sell the car for a better price – many main dealers will sell you a new service book and stamp it up with all the confirmed services they find on their system. 
It needn't be expensive; some manufacturers will sell and stamp a service book for as little as £10 posted to your door, but could add a lot of value to your car, even if the main dealer can only account for some of your car's service history.   This doesn't help if the car has never been to a main dealer for a service but it gives you an indication of how well the car has been maintained. It's unusual for a brand new car to have never been serviced by a main dealer, so if that's the case it raises immediate questions. 
Car service history from an independent garage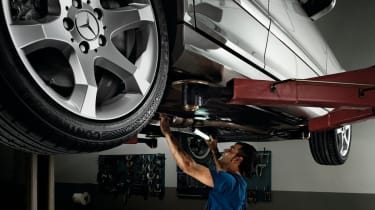 It's similarly common for servicing at main dealers to stop as a car gets older and is worth less, with those running older cars often saving money by taking them to an independent garage. 
If an owner doesn't have proof of a service, forgot to keep the receipts or to stamp the service book, you can still try reaching out to the garage they claim to have had the work done to see if they hold any records for your car.
This depends on the garage, of course, but some may be able to confirm if what the owner is saying is true. Others may not keep hold of this information for a long enough time, if at all, but it's worth the phone call to check.
If you want to know how to keep your car in good health and keep its service history up to date, read our guide to main dealer servicing...