Questions to ask when buying a used car
Make sure you ask the right questions when you're buying a used car with our comprehensive guide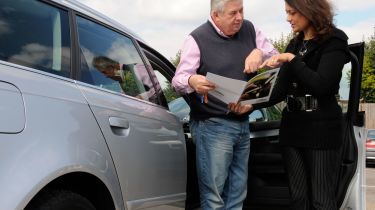 Buying a used car can be an enjoyable experience for some, especially if you have been waiting for just the right vehicle to come along; for others it is a stressful necessity. Either way, it's important to perform your due diligence and our helpful guide is filled with the best pointers to remember. Performing a mechanical check-up may not be for everybody, but that doesn't mean you have to take everything at face value and if something doesn't look right then don't hesitate to walk away.
Before approaching a car make sure that it remains in your budget, whether that be through financed monthly payments or a lump sum. It can be tempting to spend a little extra for a nicer model, but make sure you remain within what you can afford. Remember: there are more cars out there, so try to avoid getting tunnel vision because your perfect car may be just another five minutes of searching away.
Buying a used car privately carries a little more risk than buying through a dealer, as there aren't as many legal protections for the buyer. For this reason, it's particularly important to be sure about the car before handing over money to a private seller.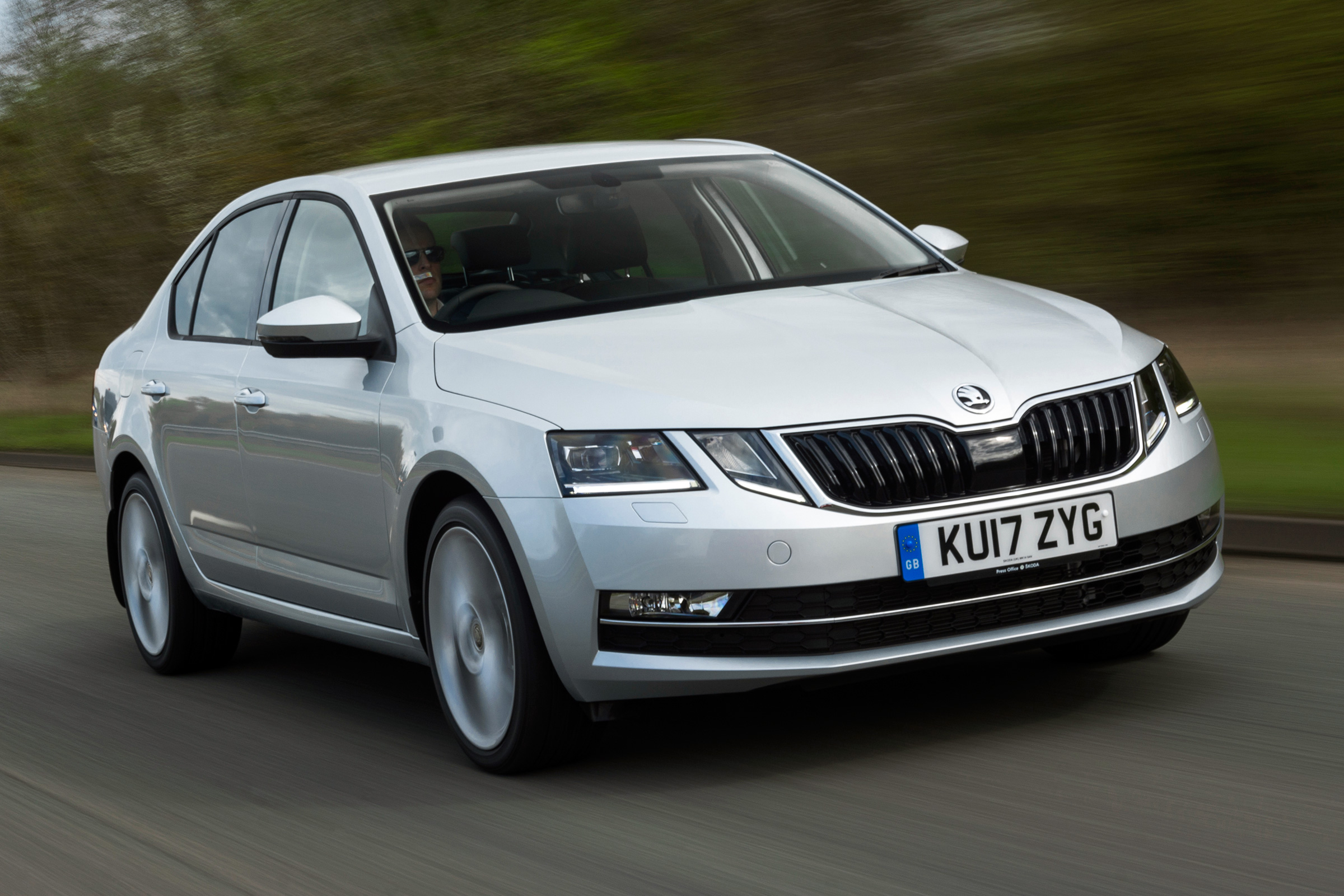 Best way to finance a used car
There are some laws in place to protect you even if you buy a car privately, however. If you ask a question and the seller lies, they've broken the law, so it's important to ask as many questions as you can to get a full picture of the car and its history.
Before you buy any car, it's also a good idea to give it a thorough inspection and ensure you're satisfied with its condition. You can pay a professional to do this or do it yourself if you know what you're looking for, but walk away if the seller is reluctant to allow you to inspect the car. We have a handy guide to checking a used car to make sure it's as advertised.
Read on to find out all the questions you need to ask when buying a used car; it's something of a checklist, so you could try writing them all down in a notebook or on your phone so when you go to see the car you don't forget anything.
Can the car be legally sold?
A car cannot be legally sold if it's subject to outstanding finance, so this should be one of your first questions. If you're buying from a dealer, it must also adhere to the Consumer Rights Act, which states that any product sold must be 'of satisfactory quality', 'fit for purpose' and 'as described'.
A seller must also tell you if the car has been recorded as an insurance write-off. If a car has previously been written off, it should be categorised. Cat N, Cat S, Cat D and Cat C cars can be resold legally but carry their own risks.
If a car is unroadworthy, it must be described as such and be sold on the understanding that it's to be repaired or used for spare parts – hence the commonly used phrase 'spares or repair' in adverts.
Finally, the seller must have legal title to sell the car. That means you must ensure you're dealing with the person named in the logbook as the registered keeper. Car dealers are the exception here, as they're simply moving the car on, rather than keeping it. If you're not viewing the car at the address on the logbook, ask to see some ID with the correct address on it.
Is the logbook present?
Be extremely wary if the seller cannot promptly produce the car's current registration certificate (V5C) in complete, unaltered condition.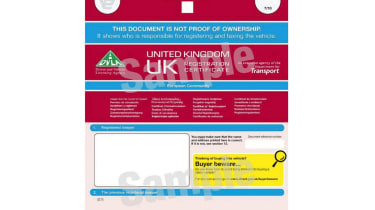 Registration certificates get lost all the time but the seller should have contacted the DVLA and requested a replacement before attempting to sell the car.
If the seller only has the 'green slip' for the car, it could indicate that they've only recently taken possession of it and a new registration document hasn't yet been issued in their name. This could also hint that the seller is a dealer masquerading as a private seller in order to circumvent the Consumer Rights Act.
If the registration document is present but the yellow section is missing, this may indicate the car has been passed to a dealer by its previous keeper. If this is the case, then you're buying from a dealer – not privately.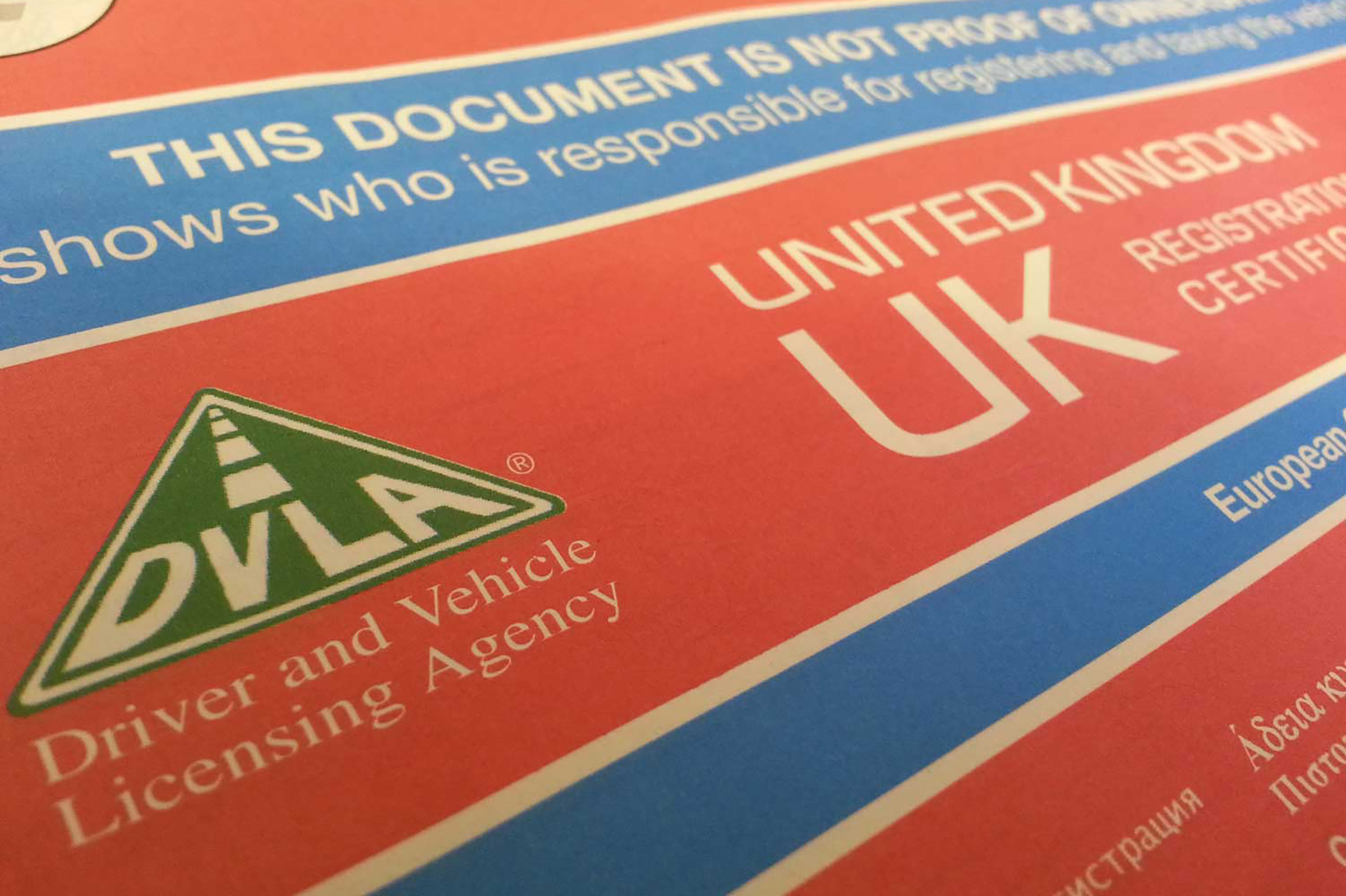 How to change ownership of a vehicle
If the green 'new keeper supplement' is missing from the registration document, the seller will need to order a replacement V5C registration document.
Without the new keeper supplement, you'll have little proof of ownership of the car, as this constitutes your temporary registration certificate until the DVLA issues you a new one.
Is the seller the registered keeper?
Sometimes a car will be offered for sale privately on behalf of the registered keeper. Occasionally family members that know more about cars and the process of selling will be the ones that show you the vehicle; this is generally innocent. However, you should still check that the person on the logbook is around to talk to, even if it is just to confirm they know the car is being sold.
Exercise extreme caution when the person on the logbook is not present, as there may be questions that the seller cannot answer or an attempt to hide any hidden issues. There may also be legal implications if it later becomes apparent that the seller didn't have proper authorisation to sell the car.
You can visit the DVLA website to see if you can get information about a car's registered keeper.
Dealer or private?
A car dealership is generally the safest place to buy a used car, as there's a degree of legal protection implied by its status as a business. A car dealer has an obligation to properly prepare a car before sale, including verifying that its recorded mileage is correct.
Since 1 October 2015, car buyers have been protected by the Consumer Rights Act. This legislation replaced the Sale of Goods Act and the Supply of Goods and Services Act. It states that products must be:
Of satisfactory quality
Fit for purpose
As described
Sold with the legal right to do so
The dealer is liable for faults with the vehicle that would make it 'not of satisfactory quality'. This includes faults that only become apparent later but were present at the time of sale.
If you buy from a dealer, you're entitled to reject the car within the first 30 days of ownership if it's found not to be of satisfactory quality, fit for purpose or as described.
See gov.uk for more details of the protection afforded by the Consumer Rights Act.
When buying a car privately, you have very little legal protection. A contract for a private vehicle sale is covered by only the following terms:
The seller must have the right to sell the car
The car should match the description given by the seller
The car must be roadworthy. Selling an unroadworthy vehicle without making the buyer aware is an offence. Remember that just because a car has a valid MOT, it could still be unroadworthy, having developed faults since passing the test.
It's down to you, the buyer, to ask questions of the seller, as they're under no obligation to answer questions other than those above. Of course, if they're unwilling or unable to co-operate, then it's probably time to look at some other cars.
Will I be able to drive the used car home?
By saying yes to this question and selling the car 'as described', the seller is implying that the car is roadworthy. For this to be true, it must have a valid MOT certificate and must be free of any known issues that could cause it to break down on the trip.
If the car is found to be unroadworthy, the seller has breached the 'sold as described' part of the sales contract.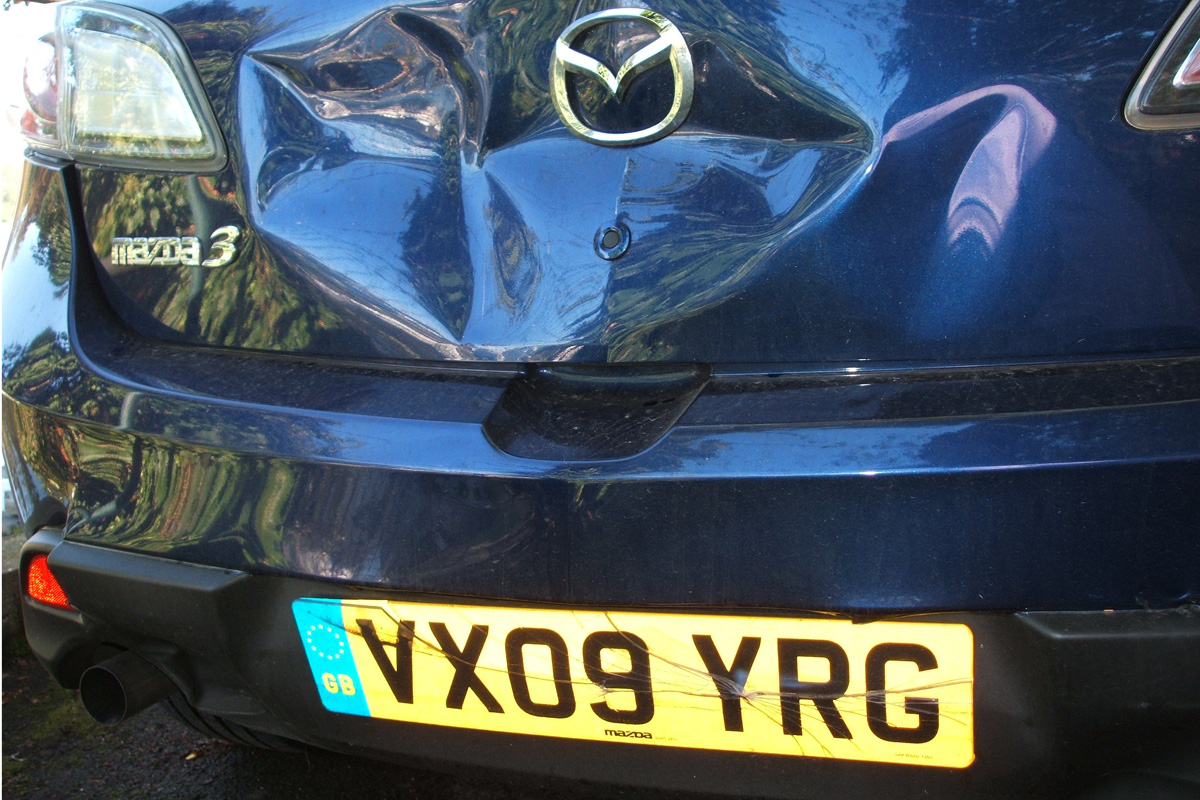 Car insurance explained
Note that you can't legally drive a car home unless you've paid the VED (road tax) first. In order to do that, the car needs to have a valid MoT and you need the registration document or new keeper supplement. You'll also need to arrange insurance cover.
Should I buy a car sight unseen?
Not too long ago, the thought of buying a car without seeing it beforehand would seem strange but the rapidly growing number of online car purchasing options has made click-and-collect and home delivery more commonplace than ever before. If buying privately or from an independent garage, however, it's still strongly recommended that you inspect the car to your own satisfaction before agreeing a deal, as you may only get one chance to check that the car is up to scratch before driving away in it.
With virtually every approved used car retailer listing its stock on national websites as well as those belonging to the same franchise group, a buyer in Penzance could well find their dream car online, advertised by a dealer in Inverness. In this case, it would be mutually agreeable for both parties that a deal is reached without the buyer or seller having to travel hundreds of miles. This is where third-party online car suppliers come in.
The increase in online brokers and car search services has made people more comfortable with making a purchase online. However, there are still several issues that can crop up and a well-appointed website or glitzy advert alone shouldn't sway your decision.
Treat the purchase as any other and before making a final commitment check that the company has a way of supporting you should anything go wrong with your purchase. This could be something as simple as a missing set of car mats, to you finding a reason to reject the car. Knowing that you will be able to contact a dedicated support team or a local centre for further assistance will help make a resolution much smoother.
A car listed on an online supplier's website will have been described in full by the seller – the supplier is essentially listing the car on the seller's behalf. If you buy a car from an online supplier, they'll become your sole contact point for all aspects of the transaction – there should be no need at all to ever contact the dealer from which the car was sourced.
If you've bought a car through an online supplier and it turns out to have a defect when it arrives, you should contact them immediately. As they are the ones who have supplied the car to you, it's their responsibility to ensure that it matches the description you were issued. Any faults, whether mechanical or cosmetic, should have been stated up front to them by the supplying dealer. It's up to your supplier to make sure that you, the customer, are aware of – and happy with – the condition of the car.
On reporting a fault, it's reasonable to insist the supplier makes any arrangements necessary to resolve the situation. They should then make arrangements for diagnosis or repair to be carried out nearby to your location; but in many cases they'll need you to take the car to the dealer yourself. In fact, this is no bad thing, allowing you to get to know the team at your local dealer.
If you arrive at the dealer to find that your supplier hasn't made contact with them, we strongly recommend that you speak to your supplier directly and with urgency.
Does the car have unpaid finance?
We strongly recommend paying for a vehicle history check on any car you're planning to buy. These tests are often referred to as HPI checks, as HPI is one of the biggest organisations that offer the service, but others are available.
These checks will tell you whether the car has ever been declared as an insurance write-off or recorded as stolen and whether there's any unpaid finance outstanding against it.
Unpaid finance means the car isn't wholly owned by the seller. If the finance isn't fully settled before you take ownership, it means that the seller wasn't legally entitled to sell it. There's a possibility the car could later be seized from you by debt collectors operating on behalf of the debtee (usually a bank or finance company).
Dealers are responsible for ensuring this settlement is made before the car is transferred to a new keeper. A private seller is also committing an offence if they knowingly sell a car with outstanding finance.
Has the car been written off?
Sometimes, if a car has sustained damage due to a crash, flood or vandalism, the insurer can decide to write it off if it's not financially viable to repair.
If the car is considered to have been so badly damaged that it should never be returned to the road, it'll have been recorded as a Category A or Category B 'total loss'. Category A cars have to be crushed in their entirety, while Category B cars may be stripped for usable parts.
If a car has been recorded as a Category S or Category N write-off, it can legally be repaired and put back on the road, providing its previous status as a write-off is declared to the buyer - any cars declared prior to 1st October 2017 will instead carry a Category D or Category C label. These cars can be quite attractively priced and can therefore be good value if the repairs have been done properly – but it can be hard to tell just how well the work has been carried out, and if it isn't up to scratch, safety could be compromised.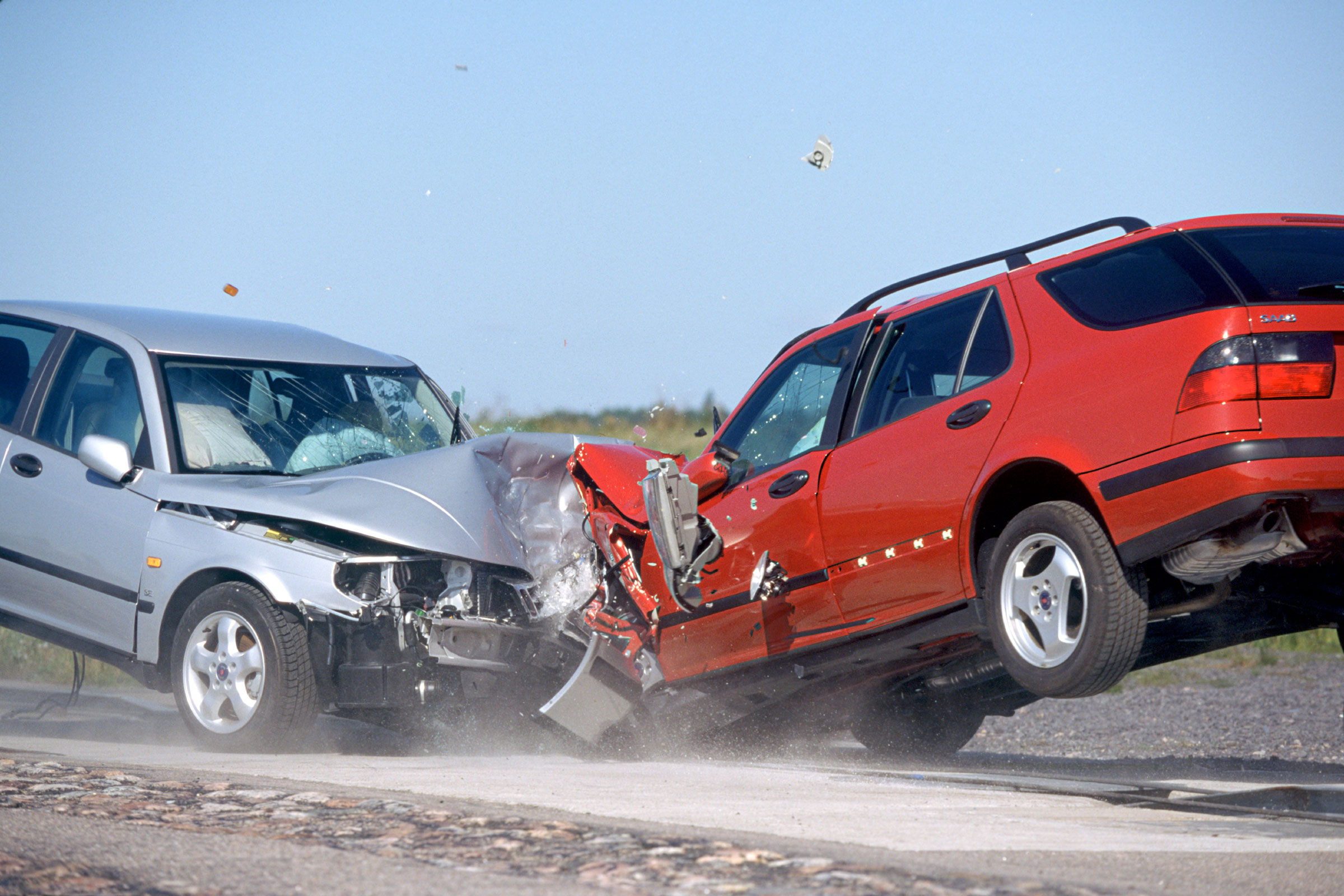 Should I buy an insurance write-off? Cat C, Cat D, Cat S and Cat N cars explained
The previous owner of a Cat S or Cat N car should have sent off for a replacement vehicle registration document (V5C), which will be updated to display a record of the car having been written off and what category it's in. All documentation concerning the repair work should ideally be made available to you too.
Remember, though, that however attractively priced a written-off car may seem, its value will remain lower than an equivalent car with a clean record when you come to sell it on. In some instances Category S and N cars can also be more expensive to insure.
Has the car ever been in a crash?
Whether this is anything to worry about depends on the severity of the incident. Minor bumps and collisions happen all the time and – assuming the car has been repaired to a good standard – there's no reason that it should present a problem, as long as the seller is honest and provides documentation to confirm the repairs.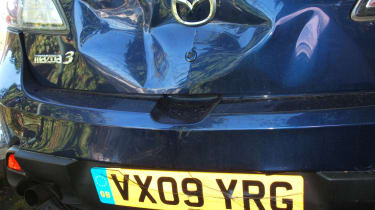 What should I look for when buying a used car?
There are a number of visual giveaways that can show a car has had bodywork repair, including – but not limited to – the following:
Does the car sit squarely on the road or does it appear higher at one end or on one side?
Are there any body panels that appear a slightly different colour to the others?
Do the gaps around the doors and between body panels appear even?
Do the bonnet and bootlid close squarely and easily?
Do the front and rear bumpers sit with the bodywork squarely at both sides?
Are there any decorative trims that are cleaner or newer on one side of the car than the other?
A well trained eye will be able to detect whether a panel has been repainted by comparing the paint finish with that of panels elsewhere on the car. If you aren't sure then ask the seller so you are both aware.
Although evidence of a previous repair doesn't necessarily mean a car is unsafe, it could affect the value of the car when you come to sell it on. It may also help you if you are looking to strike a deal on price, but don't let a small discount sway your decision if you are uncomfortable with the quality of the work. A small saving now could come back to bite you with a more expensive repair in the future..
We always recommend getting an independent inspection carried out prior to buying a car. If you're a member of a breakdown service such as the AA or RAC, they may be able to offer this service.
Does the car have service history?
Depending on a car's age and value, the value of a stamped manufacturer (main dealer) service history can vary but a full service history on any car will show how well it has been maintained in the past. It may also indicate the likelihood of potential problems in the future.
If you're buying a used car that's still within the manufacturer's warranty period, we advise that you confirm it's been serviced at the correct intervals by a main dealer's official workshop. Also, if a car has been regularly visiting an official workshop, any updates, recalls and service measures due should have been performed.
Older cars may not have a full workshop service history but it's always reassuring to see a maintenance record of some description. Any history is worth having, even if it amounts to a collection of receipts for oil and spare parts. 
Does the car have a current MOT?
If you're looking at a used car and it doesn't have a current MOT, ask yourself why. The official maximum fee for an MOT is not a lot of money, so there's no real reason for a seller to not MOT a car if it's roadworthy.
If the car is advertised as roadworthy yet doesn't have a current MOT (or has a very short one) ask the seller to 'put their money where their mouth is' and have the car tested as a condition of sale. If the seller doesn't agree to this, we'd advise you to find another car.
Is the car what I'm told it is?
With the seller obliged to sell the car 'as described', it's worth checking that the specification of the car matches its description.
Make a note of any specific features advertised and confirm their presence in the car when you look at it. If the car is advertised with metallic paint, check carefully that this is true. Does the car have air-conditioning if it's described as doing so? And does it work properly?
It's worth asking the seller to substantiate all the features they've indicated, as well as confirming whether they were factory fitted or added at a later date – the latter can often be the case with stereo systems. Also, be cautious with sellers that claim their car is 'fully loaded' or 'has every option box ticked'. You need to know exactly what you are buying and such a broad statement won't help you confirm that the car is as well equipped as claimed.
If a listing is rather vague when describing a car's features, ask the seller for more information before arranging a viewing.
Am I happy with the car's condition?
It's the responsibility of the buyer to accept the condition of a used car. Any used car will have been subject to a degree of wear and tear. Before you agree to buy, be careful to inspect the car as thoroughly as you can.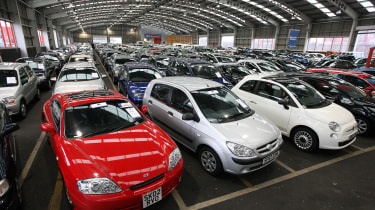 Once the buyer has signed their acceptance, there's very little obligation (apart from discretionary good will) for a dealer to repair cosmetic faults that are discovered later on.
There's virtually no comeback in a private sale in this regard, as cars are essentially 'sold as seen'.
Does the car have a warranty?
If the car's age means it's still under the manufacturer's original warranty, this should transfer to the new keeper automatically. Private sellers have no obligation to provide a warranty but the car must be 'as described'.
Dealers are also under no obligation to provide a warranty but several may offer a third-party used-car warranty. We strongly recommend checking exactly what's covered, as these plans can vary. If an independent garage offers an 'in-house' warranty, ensure that you have the paperwork to confirm your coverage. If the dealer is unwilling to offer a warranty, ask them why.
For more information on warranties, read our guide.
Electric MG 4 to arrive in September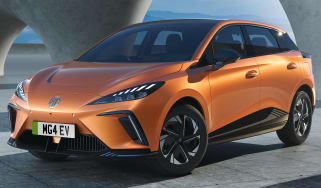 Electric MG 4 to arrive in September
Engine management light: top 5 causes of amber engine warning light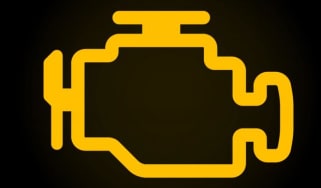 Engine management light: top 5 causes of amber engine warning light
Best new car deals 2022: this week's top car offers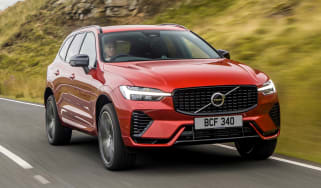 Best new car deals 2022: this week's top car offers