What is a V5C? Here's everything you need to know about the log book
The V5C is an important piece of documentation about your car. Our guide explains what it is and when you might need it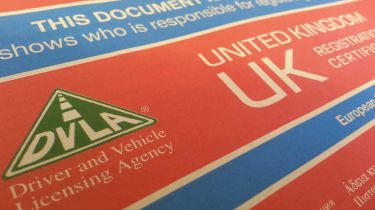 The V5C, also known as a 'log book' is a paper document issued by the DVLA to the registered keeper of a vehicle. Your V5C contains specific details about the car and needs to be updated to reflect major changes, such as a switch in ownership.
You'll need the V5C to change the name or address associated with your car or sell your vehicle to a new keeper, and it contains a reference number used to pay your Vehicle Excise Duty (VED), also known as road tax. It's also used if a car is modified, written-off or scrapped.
Contrary to popular belief, a V5C isn't actually proof of ownership. According to the DVLA, having your name on the document merely indicates you are the one 'who is responsible for registering and taxing the vehicle', not necessarily the one who owns it – an important distinction for the millions of Brits leasing a vehicle.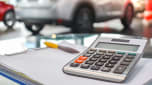 UK road tax 2023/2024: VED tax rates and bands explained
Although insurance certificates have gone digital and paper counterpart driving licences have been abolished completely in recent years, the V5C is still sent to registered keepers in paper form.
It's likely to remain a physical paper document for the foreseeable future as a special physical watermark helps prevent fraud. You can still register a change of ownership and change the address on the V5C document via the DVLA website, however. This is now the quickest way to update any relevant details compared to filling in the physical V5C, tearing it off and sending it by post to the DVLA.
Our guide will take you through how to register a change of vehicle keeper both online and the old-fashioned physical paper method. We'll also tell you what other uses there are for your V5C, such as to tell the DVLA when you've moved house or scrapped your vehicle, and what to do if your V5C is lost or damaged.
How to fill out V5C when selling a car (online method)
If you're selling a car, it's good practice to ensure you have the V5C for the vehicle and that it's intact and undamaged. If you leave digging out the V5C until a potential buyer is ready to do a deal, only to find it's buried somewhere in the loft or garage, you could miss out on a sale.
Once you've agreed on a deal to sell your car, it's time to inform the DVLA that the owner of the vehicle has changed. If you plan to do this online, you'll need to take down the new owner's e-mail address as you'll have to provide this contact information at www.gov.uk/sold-bought-vehicle, a service that is available between 7am and 7pm every day. You'll still need to complete section V5C/2 - the 'Selling or transferring my vehicle to a new keeper (not a trader)' - on the paper V5C document, so you can tear it off and give it to the new owner as proof of the transfer of ownership.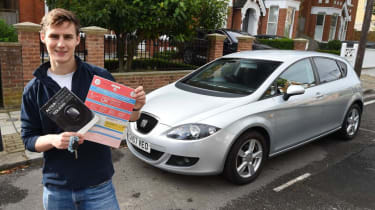 When you've completed the simple online form, you'll receive an instant e-mail from the DVLA to confirm the ownership change, followed by a letter in the post. The same also applies if you sell your vehicle to a garage, trader or dealership.
Partnership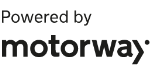 Need to sell your car?
Find your best offer from over 5,000+ dealers. It's that easy.
This process will also prompt the Government to refund any road tax overpayment on the vehicle, or alternatively, cancel any Direct Debit if you pay monthly. This is because under the latest Vehicle Excise Duty (VED) system, road tax cannot be transferred between owners.
What to do when buying a car
If you're buying a car privately, it can be worth checking beforehand with the owner that they have the V5C, as it could save a wasted trip if the owner needs to get a replacement. Once you decide to purchase the vehicle, you should always inspect the V5C to ensure it's genuine. Does the owner's name and address appear correctly and do the details of the vehicle (chassis number, make, colour, engine size, etc.) match the one you're buying? Also ensure the paper is intact and undamaged, and that any details are filled out in block capitals with a black ballpoint pen.
Check if the owner plans to register the change of ownership online and, if so, supply them with your email address. Ensure you're given the tear-off V5C/2 'new keeper's details' to temporarily prove your ownership of the vehicle you've bought. You'll receive an email from the DVLA when the change of ownership is registered and a new V5C will be posted to you.
It's also important to note that you'll need to tax or make a Statutory Off Road Notification (SORN) on the new vehicle straight away, as you don't take ownership of any remaining road tax when you purchase a car.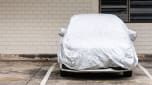 What is SORN? Statutory Off Road Notifications explained
To tax a vehicle as soon as you take ownership, use the website www.gov.uk/vehicle-tax or call 0300 123 4321. Both are available 24/7 and the process should take no more than a few minutes. You'll need to provide the 12-digit reference number in section six of your V5C 'new keeper' supplement.
Filling out the V5C (paper method)
From 15 April 2019, the V5C registration certificate was revised. If you have a new V5C, your name and address will be at the top of the front cover and there will be a multicoloured guidance section located at the bottom of the form. Regardless of which version of the V5C you have, you should always fill it out in block capitals with a black ballpoint pen.
If you are unable to complete a change of ownership online, you can still fill out the V5C by hand and send it to the DVLA by post.
V5C issued after 15 April 2019:
Seller: complete section two, called 'selling or transferring my vehicle to a new keeper'
Seller: fill in the date of sale in section six, called the 'new keeper slip', and give it to the buyer
Seller: send the V5C to 'DVLA, Swansea, SA99 1BA'.
V5C issued before 15 April 2019:
Seller: complete section six, called 'new keeper details'
Both: sign the declaration in section eight
Seller: fill in section 10 (also called V5C/2), called the 'new keeper supplement', and give it to the buyer
Seller: send the V5C to 'DVLA, Swansea, SA99 1BA'.
The buyer should receive their new V5C within two to four weeks. If the new V5C fails to arrive, you can download a V62 'application for a vehicle registration certificate' form or pick one up from a Post Office. Send this to the DVLA along with the 'new keeper slip' (section six) provided by the seller or you'll be charged a fee. You should receive a V5C within six weeks.
How to order a replacement when you've lost your V5C log book
If you realise you've lost your V5C or it has been stolen or become badly torn or stained, you can apply for a new one by calling the DVLA on 0300 790 6802, as long as you're the registered keeper. There's a £25 fee and it can take up to five days to arrive in the post.
How to change your details using the V5C
You have to update your V5C if you change your name or address and this is usually free to do. Failure to notify the DVLA of changes can result in a fine of up to £1,000. Vehicle tax reminder letters from the DVLA and VED road-tax refunds will also be sent to the wrong address if you don't. Another reason to keep your address updated is because it could be used to contact you if your vehicle is the subject of a manufacturer recall.
How to change the address on your V5C online
In mid-2020, the DVLA announced that V5C address changes can be completed online. You can also view your V5C online, which is handy if you don't want to have to dig out all your car's documents.
The service is free and only takes a few minutes to use on the DVLA website. It also speeds up the process, with any address change completed instantly and a new log book arriving within five days.
To use this service, you'll need to have your V5C along with the 11-digit log book reference number, the registration of the vehicle, and a UK address and postcode. Once the change of address is completed, the DVLA will issue you with an email confirmation.
You must also update the address on your driver's licence and VED (road tax) payment details whenever you change your address.
How to change the address in your V5C by post
You can still change the address on your log book by post, which takes up to six weeks. If you have the new style V5C, write your new home address in section three. If you have the old V5C, you should complete section six and sign it. Regardless of which version of the V5C you have, you should ensure that you leave the 'new keeper' box unticked.
Once completed, you should send the V5C to the DVLA. It's also worth remembering that you should update your driving licence and VED (road tax) payment details whenever you change your address.
Change of name using V5C
A change of name on a log book can only be completed by post. You need to enter your new details on section three of a new V5C or section six of the older V5C. Again, you need to leave the 'new keeper' box unticked, and include proof that you've legally changed your name, such as marriage or deed poll certificate. If the registered keeper is a business, include proof of its name change (such as a certificate of incorporation from Companies House).
Change of name and address using V5C
Changing your name and address at the same time must be done by post. You must include proof that your name has changed.
Telling the DVLA your vehicle has been written-off or scrapped
If your car is written-off and scrapped by your insurance company, you can use an online form to tell the DVLA, available from 7am to 7pm at www.gov.uk/written-off-vehicle.
You'll be asked to provide your insurance company's name and postcode in the 'provide trader details' sections, along with your vehicle registration number and the 11-digit document reference number that's printed on the front page of the log book.
Ensure the name and address on the V5C are correct and tell the DVLA by post instead if they need to be updated.
It's important to inform the DVLA promptly, as you can be fined £1,000 for not reporting that your car has been written-off or scrapped. Your insurance company can ask you for the whole V5C – if this happens (and you haven't told the DVLA online), write a letter to the DVLA with the details of your insurance company and the date it received the vehicle.
When do I need to update my V5C log book?
There are several occasions that you may need to update your car's V5C document – as previously mentioned, you're required to do so whenever you or the registered keeper's name and/or address changes. Any major modifications – including to the colour, engine, engine cylinder capacity, fuel type, chassis or body shell (replaced or modified), seating capacity or the weight of a van or campervan – must also all be logged via the V5C and submitted to the DVLA. If you spot any inaccuracies, these should be amended and reported to the DVLA, too.
Other useful things to know about the V5C
The V5C contains important information about your vehicle, such as the date it was first registered, its make, colour and engine size. When buying a car it is important to check the chassis number on the V5C matches the one on the car – if it doesn't it may be a 'ringer', a term given to a stolen car that has been given the identity of another car.
The V5C also contains information about your vehicle's emissions which may be important if you live in an area – such as the London Ultra Low Emissions Zone (ULEZ) – that charges a fee for using a vehicle that doesn't meet certain emissions standards. You will find this information on page two of the V5C in the section titled 'Vehicle details'. In subsection D2 under 'Type' it will say whether the car is EURO4 (or EURO5, EURO6 etc.).
A car's tax status is also recorded on the V5C so if you are buying a classic car and want to make sure it qualifies for the zero rate road tax, you need to check it is listed as a 'Historic Vehicle' in the taxation class section.
The V5C confirms who the 'registered keeper' of a vehicle is, but this is not always the same as ownership and instead means you're responsible for taxing and registering the vehicle. When leasing a car, the person leasing and driving it is declared as the registered keeper, but the car is legally owned by the company supplying it. The address to send your V5C to is: DVLA, Swansea, SA99 1BA.
Can I find a copy of my V5C online?
Unfortunately not. The V5C is only intended to be a physical document, and there are no plans currently in place for this to change. However, you can use the DVLA's V62 online form to order a new V5C should you lose yours, or if you need to make any necessary changes to the information currently displayed on your V5C.
What does a V5C look like?
A car should be supplied with one of the following two types of V5Cs:
Green and blue document – This is generally known as the 'old' variation of the V5C log book and was first introduced by the DVLA in 2004. It has 12 sections comprising various details, with number six being the all-important 'New keeper details' section. In section 10, you'll find the green slip that will be used to transfer the vehicle over to the future owner should you wish to sell your car. This is called the 'New keeper supplement' section, or the V5C/2.
Pink and red document – Otherwise known as the 'new' variation of the V5C, the pink/red document came into force in 2012. The information and section orders are slightly different in these log books, with the most notable changes being that the 'Selling or transferring my vehicle to a new keeper' segment is found in section two, and the green 'new keeper' slip has moved to section six. 
If your car's log book is still in the older format, it's worth noting that, while the DVLA has suggested owners to update to the new V5C log books, it's not a legal requirement. 
Car buying made simple: