Best dash cams 2020
As the popularity of dash cams continues to increase, we put some of the main contenders on the market in 2020 to the test
Dash cams have soared in popularity here in the UK in recent years, with more than two million estimated to be in use today. There are a number of reasons for their increasing popularity, from insurance discounts to catching illegal drivers in the act, as well as reporting bad behaviour on the road to police. But not all cameras are created equal, so we tested various models to see which ones are worth the money.
Higher dash cam video quality is in high demand so we looked at incorporated 4K recording, which makes picking up small details much more likely, and almost all have associated mobile apps that make accessing and storing content easy.
When testing the dash cams, we concentrated on the clarity of footage first and foremost. This is, after all, the primary goal of the camera - to record details such as number plates, pedestrians and street signs clearly. Then there's how they perform in different and changing light conditions. User-friendliness was the next criteria and then, finally, the price.
Verdict
We crowned the Nextbase 612GW the winner due to its all-round brilliance and affordable price tag. The BlackVue DR900S-1CH is much more expensive but has superior video quality, giving it second place, followed by the great-value Philips ADR820 in third.
1. Nextbase 612GW
Price: £174Rating: 5/5
Nextbase's first 4K dash cam, the 612GW model produces clear video, offers an intuitive user interface, and includes a user-friendly app. Among the biggest selling points are its ability to adjust to different conditions such as light and distance, capturing an extraordinary amount of detail. These features mean that things such as number plates, street signs and otherwise small items are easy to make out, and this applies at any time of day, as the camera's night vision is fantastic. Considering the relatively low price, the Nextbase 612GW is a veritable steal.
2. BlackVue DR900S-1CH
Price: £400Rating: 4.5/5
If high-quality footage is your goal, then you can't go wrong with the BlackVue DR900S-1CH. During testing the camera picked up number plates from further away than the Nextbase 612GW but its high price stopped it from winning the test. Nevertheless, if you have the cash to spend then the DR900S-1CH's 162-degree lens works great in low light conditions and you can even upload the captured video to a remote cloud server for safe keeping. It also comes with a BlackVue app, so you can play around with the settings.
3. Thinkware Q800 Pro
Price: £369Rating: 4.5/5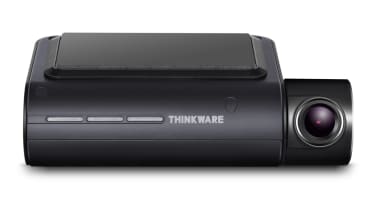 The small and sleek Thinkware Q800 Pro came close to the top in our test, and that's down to its excellent performance in low light conditions, as well as its versatility. Though the cam comes with a hardwire lead, you can also power it using the 12V unit and access settings and recorded footage through the dedicated app. But though we were impressed by the Sony Exmor R Starvis sensor's ability to capture 1440p Quad HD footage at 30fps, it didn't quite measure up to either the Nextbase 612GW or the BlackVue DR900S-1CH, and the over-sensitive driver assistant was more of a hindrance than a help.
Partnership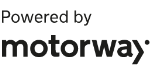 Need to sell your car?
Find your best offer from over 5,000+ dealers. It's that easy.
4. Philips ADR820
Price: £133Rating: 4/5
At a fraction of the price of some of its closest rivals, the Philips ADR820 still manages to hold its own. Though the 140-degree lens captures footage at 1296p, lower than some of the other dash cams on our list, the Super HD video works well in low light conditions and a CMOS sensor ensures differing levels of exposure can be adjusted quickly. Downsides include cheap materials and a slightly less user-friendly interface than some of its rivals. For less than £100, however, it's hard to beat.
5. Garmin 55 dash cam
Price: £129Rating: 3.5/5
Before you even get to the specs, you notice the sleek design of the Garmin dash cam. The camera also delivers the goods when it comes to video quality, with the 1440p recording capturing a lot of detail that allows it to better judge things like distance and nearby pedestrians. However, when we tested it with the built-in driving assistance turned on, the device would dish out alerts for things like small bumps, which knocked down the overall rating.
6. Thinkware X700
Price: £159Rating: 3/5
Another new dash cam from Thinkware, the X700 features updates on everything from the lens to the footage quality. The dash cam impressed us most with its screen for viewing footage, rather than having to switch to an app on another device but, despite the 142.7-degree lens and 1080p HD quality footage, the end result didn't quite measure up to our top picks, and things such as number plates and street names were harder to make out. That, and the annoying safety warnings triggered by potholes and bumps, pushed the rating down.
7. Halfords HDC400 GPS Dash Cam
Price: £103Rating: 3/5
Coming from Halfords, the HDC400 is an impressive mid-tier dash cam that offers what you need but without quite reaching the heights of devices higher on this list. On the one hand, the 180-degree lens is the widest in the test but, on the other, the footage captured did not come out as clear as it did on some of its rivals. Important elements such as number plates, street signs and people became blurry at long distances, and it didn't adjust to low light conditions as well as other cameras.
8. Mio J60
Price: £117Rating: 3/5
With 1080p footage captured at 30 fps, the Mio J60 records brilliant, clear video that makes things such as number plates on parked cars and road signs easy to read. Sadly it doesn't quite have the ability to capture moving targets like number plates on passing vehicles. That said, the same is true in lowlight conditions, where the results we saw during our tests remained consistent. On the plus side, the dash cam is small and easy to set up, and there is a decent dedicated MiVue app where footage and settings can be accessed.
Best dual dash cams 2019
1. Thinkware F200
Price: £179Rating: 4/5
Going one better than the Thinkware F70 listed above, the F200 features two separate cameras - one for the front and one for the rear. While the front camera offers what you would expect, with 1080p footage captured at 30fps resulting in a good level of detail and decent reaction to changing light levels and exposure, the rear unit is not as slick, with a lower 720p creating blurrier images. That said, if you view the rear camera as an extra then this is one of the best choices.
2. Thinkware F800 Pro
Price: £329Rating: 4/5
Another step up, though a pricey one, from the Thinkware F200, the F800 dual dash cam provides clear 1080p HD footage with a 140-degree wide angle view and Super Night Vision that ensures recording is not affected in lower light. The clarity of the video was impressive during tests, rivalling some rival 1440p cameras, and the rear-view camera is also great and easy to wire in. Of course, there's no way of getting around the price, which is the highest on our list.
3. Nextbase DUO HD
Price: £190Rating: 3.5/5
The Nextbase Duo didn't score as highly as some rivals but that doesn't mean it's not impressive in its own right. The camera comes in the form of two lenses, one of which faces forward and records 1080p at 30fps. The second can be rotated backwards and captures footage using a 50m zoom. This is really the selling point of the device, as it avoids you having to connect up a second camera positioned at the back of the car. However, although the sharpness from the second lens beats Thinkware, it has a smaller field of vision that poses problems when there are passengers in the backseat.
Looking for other ways to keep your car secure? Read our guide on the best keyless go signal blocking faraday bags to stop theives in their tracks.
Tesla Cybertruck finally delivered: specs, prices and UK availability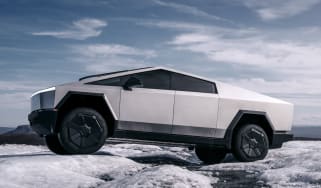 Tesla Cybertruck finally delivered: specs, prices and UK availability
Best new car deals 2023: this week's top car offers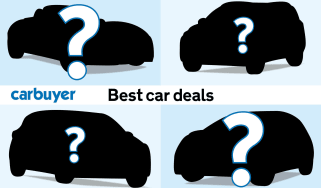 Best new car deals 2023: this week's top car offers
New 2024 Dacia Duster arrives – popular budget SUV enters its third generation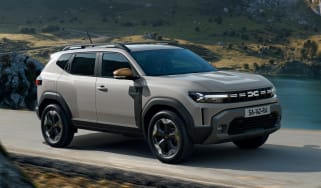 New 2024 Dacia Duster arrives – popular budget SUV enters its third generation