Driver Power 2019: we reveal the best car insurance companies
We reveal the best and worst car insurance providers in our 2019 Driver Power survey
It's important to consider the cost of insuring a new car before you buy it, as it's likely to be one of the most expensive elements of ownership. As a legal requirement, insurance is not something you can go without, and it pays to choose your car insurance provider carefully.
Value-for-money is the first thing that most drivers seek when shopping for insurance, but there's more to consider. Some insurers have better reputations for how they process claims, and customer service and the terms of your deal will become very important if you ever find yourself needing to make a claim.
Choosing the right car insurance policy for you
If you are involved in an accident, and left without the use of your car, a good insurance policy will keep you mobile and inconvenience you as little as possible. It's wise to bear things like this in mind when choosing car insurance. Will you be provided with a courtesy car? Is your onwards travel covered? Some of the most basic insurance policies provide nothing but the legal minimum of cover, and some can make it tricky to place an insurance claim.
We recommend paying a little more for a trusted car insurance provider with a reputable name. Our Driver Power survey results enabled us to derive ratings of some big players in the UK's car insurance industry, thanks to thousands of readers assessing them across seven important categories. The factors included quality of communication to the ease of making a claim. Our respondents were asked how courteous and helpful staff were found to be, and knowledge and expertise were also assessed – it's very reassuring when your call is taken by somebody who knows what they're talking about.
Finally, companies were judged on how quickly a claim was settled, and how well informed customers were kept during the process. Almost half of respondents that made a claim got their money within a month, and a third were paid in under three months - although we found that 12% had to wait up to six months before receiving a payout.
Our list of the top 10 UK car insurance providers will help you to choose a policy that offers more than just a competitive price. As well as this, we've also listed the three worst-rated insurance companies, so you're aware which ones didn't perform so well.
The UK's best car insurance companies 2019
1. NFU Mutual - 91.74%
Percentage of customers that would renew their policy: 93%
NFU Mutual is no stranger to our top spot for car insurance, and with first place in all the major categories in our survey, it's hard to spot how it can improve. Considering 93% of customers told us they intended to renew their policy, it seems most policyholders don't really want NFU to change much, either. The online quote system could be more intuitive and streamlined, particularly when compared to some of the internet specialists, but most NFU Mutual customers prefer to stick with the phone.
Considering there are also 300 local offices to visit, people particularly love dealing with NFU Mutual's helpful and knowledgeable staff face-to-face. This is especially the case when a claim is progressing, when communication and customer satisfaction is first-rate.
2. RIAS - 88.62%
Percentage of customers that would renew their policy: 65%
The sister company of insurance provider Ageas, RIAS allows customers to buy insurance directly from its website or over the phone. The former is clearly well sorted, with navigation, speed of ordering and the provided information all ranked highly. There are few issues with making a claim via the phone or helpfulness during the process, and RIAS scored well in nearly all of our categories. Should you wish, you can even contact the company boss with feedback - good or bad. However, a fly in the ointment is the surprisingly high number of customers that wouldn't renew their policy for another year.
3. Privilege - 88.54%
Percentage of customers that would renew their policy: 70%
According to our readers, the best bit about Privilege is how easy it is to take out a policy, be it over the phone or online. Things don't go drastically downhill when it's time to make a claim, with communication, ease and speed all ranked in the top 10. Considering these are the company's worst results in our 2019 survey, Privilege seems to have plenty of happy customers. While it's an off-shoot of Direct Line, most of Privilege's customers come from comparison sites, so we expect that to be the reason why 30% didn't stick around.
4. LV - 87.31%
Percentage of customers that would renew their policy: 84%
Liverpool Victoria put in a solid performance, with its online process, value for money and communication all within the top 10. This was echoed across telephone customers, where product knowledge and friendliness were scored similarly well by respondents. However, claim handling slipped further down the table, as slightly fewer customers were happy with the amount of time taken to settle a claim. There are no areas that LV needs to dramatically improve, though.
5. Quote Me Happy - 86.92%
Percentage of customers that would renew their policy: 76%
Quote Me Happy performed very strongly in some key areas. It posted good results for taking out cover, and the helpfulness and approachability of staff was among the best of all the companies in our Driver Power survey (for the second year in a row). Elsewhere, most aspects of making a claim - communication, speed and the overall experience - didn't impress the majority of customers. Given that it's Aviva's budget brand, and it has the name Quote Me Happy, 22nd place for value for money is also slightly disappointing.
6. Sheila's Wheels - 86.8% Percentage of customers that would renew their policy: 67%
7. Zenith - 86.66% Percentage of customers that would renew their policy: 57%
8. Post Office - 86.62% Percentage of customers that would renew their policy: 63%
9. Dial Direct - 86.55% Percentage of customers that would renew their policy: 60%
10. Direct Line - 87.19% Percentage of customers that would renew their policy: 83%
UK's worst-rated insurance companies 2019
3. Bell - 85.54%
Percentage of customers that would renew their policy: 74%
Bell is part of the Admiral group and it provides telematics insurance policies. Considering these telematics policies require a black box to be fitted to measure driving and (hopefully) lower your premiums, it's strange that value for money was not one of the company's strong points. You say it could be easier to take out cover with Bell but at least it scores better on its telephone experience if you need to make a claim. Customers report that the communication throughout the claims process is good but that's not enough to drag the company further up the rankings.
2. Aviva - 85.24%
Percentage of customers that would renew their policy: 73%
Aviva, the largest and oldest company on this list, drops nine places from 2018 to second-bottom this year. Getting cover in the first place is the hardest part of the process, and most other aspects are rated as only average. Our respondents say that the claims experience can't match other companies, and it can take quite a while to get your payout. Helpfulness of staff was just outside the top 10, which might at least put you at ease if you need to make a claim.
1. AXA - 85.12%
Percentage of customers that would renew their policy: 66%
In 2018, French insurer AXA was ranked fifth-best in our survey but it seems that it has gone downhill as it's now bottom. It's still difficult to get a policy, while it now takes longer to settle a claim. The firm's communication needs improvement, you say, and its 66% approval rating is one of the lowest in our list, despite being 2% higher than last year.
Do you want to know more about car insurance? Why not read our guides to car insurance groups, short-term car insurance or black box insurance.
Cupra Formentor SUV review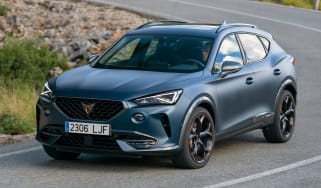 Cupra Formentor SUV review
2020 Volkswagen ID.3 hatchback: base model starts at under £30k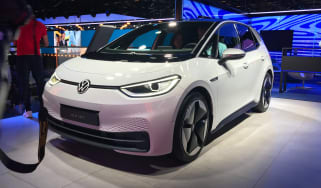 2020 Volkswagen ID.3 hatchback: base model starts at under £30k
Audi Q8 gains plug-in hybrid versions with 28-mile electric range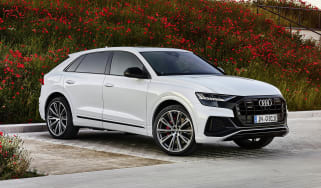 Audi Q8 gains plug-in hybrid versions with 28-mile electric range