UK car insurance groups explained
Car insurance groups from one to 50 are set by the ABI in the UK - here's everything you need to know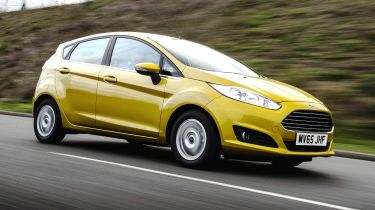 Few motorists relish the day their car insurance renewal arrives with a quote for another year's cover. Insurance is one of the highest single expenses many motorists  are required to pay, and for young and inexperienced drivers an insurance quote can look more like a telephone number than the price of cover for a year. For this reason it is important to understand not only what an insurance group means, but how it will influence your insurance premium.
When buyers look for their next car, it's important to check which insurance group it sits in, however it should be noted that this isn't the only factor insurers take into account when quoting its cost. Insurers use a complicated formula that includes the risk level of the car itself, along with your age, occupation, location, and how many miles you drive as well as where you park overnight. This, along with your motoring and insurance claims history, paints a picture of how much risk they are taking on by offering you cover. 
It is important to be honest when representing yourself for an insurance quote. It may be tempting to say you drive less miles than you actually do, or claim to park your vehicle in the garage all the time when it spends most of its time on the driveway. These can seem like minor discrepancies, but can ultimately result in your insurance being invalidated when it comes to making a claim.
The car insurance group that a car gets put in depends on a number of factors. These include how likely a car is to be stolen or crashed and how much it will cost to repair; this is all based on research and previous experience by experts. You can read more about this below.
The Association of British Insurers (ABI) worked to simplify the car insurance process and in the 1970s it grouped every car from 1 to 9. In 1992, this was increased to 20; then the current 50-group system was introduced in 2006. The number of different models on sale necessitated this change.
Most cars are included in the grouping system, though some older cars aren't because the groups simply weren't around when they were released. This means for many classic cars, insurers use their own data and calculations to work out the cost of your premium.
For newer cars, insurance groups can apply to different specs and trims within model ranges based on whether they are sporty, luxury or entry-level models. This means it's usually more expensive to insure a high-spec car than a low-spec one.
For example, for the Ford Fiesta, an old Trend model fitted with the 1.1-litre engine is way down in group 5, but the sporty Fiesta ST, with its more powerful engine and expensive alloys is in group 28.
The ratings are set using a lot of research. The ABI works in conjunction with vehicle security and repair expert Thatcham to compile the insurance classifications for every car sold in the UK. The two main areas of research are how much damage a car sustains in a collision and how cheap and easy it is to repair after an incident.
Partnership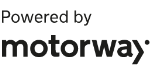 Need to sell your car?
Find your best offer from over 5,000+ dealers. It's that easy.
New technology has narrowed some of these bandings as more safety specification becomes mandatory, and higher-spec cars are fitted with more advanced driver assistance packages. Although it is still the case that the sportiest and fastest cars are more likely to be stolen and recklessly driven before they are found and recovered, costing the insurer more to repair and so demanding a higher premium.
The factors used to set an insurance group include:
Parts availability and price: For repair purposes, Thatcham uses a list of 23 commonly damaged parts for pricing. Availability is taken into account, as a driver may demand an expensive hire car while theirs is repaired, and delays in sourcing parts will cost more in rental fees.
Performance: The manufacturer-quoted 0-62mph acceleration figure and top speed of a specific car are used as benchmarks, as faster cars are more likely to be involved in accidents or stolen.
Price when new: The vehicle list price is used to calculate the cost of a settlement if the car is written off.
Repair costs: Thatcham performs its own low-speed crash tests (chiefly a 15km/h impact) and engineers determine the cost of parts and fitting to return a car to its pre-accident condition. Some manufacturers actually discount these easily damaged parts to keep the grouping lower.
Another way for a car to improve its insurance group rating is by offering a high standard of safety kit, which will either prevent accidents in the first place or reduce injuries (and therefore compensation claims) if a crash happens.
As an example, many new cars now feature autonomous emergency braking, which will automatically stop the car if it's about to hit the car in front. If this tech is fitted as standard, a vehicle can drop one group once it's been tested by Thatcham. Other advanced active safety aids can also have a positive effect on the insurance grouping of a car, as long as they are standard-fit equipment.
High parts prices or labour rates at dealerships are taken into account when deciding a car's grouping. So, if one manufacturer's dealers are more expensive, its cars could creep up the scale - even in cases where cars are mechanically similar. For example, the Audi A3 and Skoda Octavia have similar running gear but the Audi has higher insurance group ratings.
When Thatcham classifies a car's grouping, it also adds a separate security rating. This splits the likely risk a car presents from how secure it is, which can be important considering theft is still one of the highest claim amounts an insurer can face. Even a car that is classified in the highest insurance group 50 can still score top marks for vehicle security, which could even move it down to a lower overall grouping, and poor security cars that score well otherwise may move up the insurance groupings.
Thatcham breaks down cars with the following suffixes after a car's insurance group number:
E: Exceeds the security requirements for the type of car, so the insurance group rating has been lowered.
A: Acceptable level of security for the type of car.
D: Doesn't meet security requirements for the type of car, so the insurance group rating has been raised.
U: Unacceptable standard of security. An insurer may insist on upgraded aftermarket security before they agree insurance cover.
P: Provisional. Not enough data is available at the time of launch to classify the car. This will likely be amended once a new car has become available for Thatcham to evaluate.
G: Grey import. Thatcham only tests cars that are officially sold in the UK, so unofficial imports (which are not brought to this country by an official importer or manufacturer) are only evaluated at a price that the insurer sets.
So, a group 8 car with an excellent security rating will be moved down to group 7, and rated as 7E. Conversely, a group 8 car with a poor security score will be moved up to group 9, and rated as 9D.
To further complicate matters, insurers aren't actually forced to follow the ABI guidelines that Thatcham sets. They can use their own judgement and experience to decide how much to charge customers. This could work in your favour, such as for enthusiast's cars like a Mazda MX-5. But it can also add a premium loading for a model which is popular with irresponsible drivers - even though the two vehicles might be in the same insurance group. This is why some vehicles that sell poorly or have a limited number produced can be favourable to insure as they may have a very low incidence of theft and collisions.
This can hit young drivers especially hard; the few cars that a 17-year-old can afford to buy and run will have their insurance costs pushed up even further if an insurer has past experience of their chosen car being involved in collisions.
Therefore, it's important that insurance groups aren't the only factor when choosing a new car. With price comparison sites it is now easy and free to obtain actual insurance quotes rather than simply comparing on insurance group alone, and you might be surprised how much two similar cars can differ in terms of insurance costs. It's also possible to find that you can afford the insurance on a car you may have thought was over your budget.
Your research should also look at the bigger picture, especially if you are a more experienced driver and insurance is a relatively small cost. It could be worth paying a few pounds more for your premium for a car that will save money elsewhere - with excellent fuel economy or lower maintenance, for example.
Want to know more about insuring your car? Why not read our complete guide to car insurance.
Engine management light: top 5 causes of amber engine warning light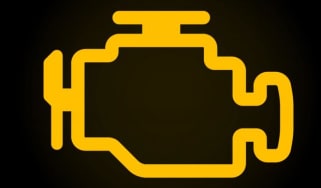 Engine management light: top 5 causes of amber engine warning light
Best new car deals 2023: this week's top car offers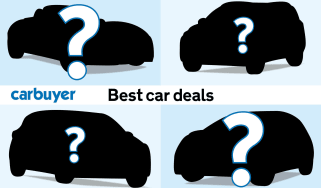 Best new car deals 2023: this week's top car offers
Top 10 best cars under £200 per month 2023/2024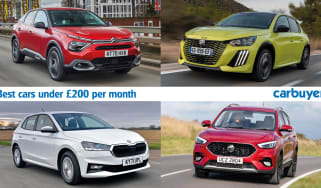 Top 10 best cars under £200 per month 2023/2024