What is Mercedes Artico leather?
Many Mercedes interiors are upholstered in Artico leather, which is a man-made substitute for animal hides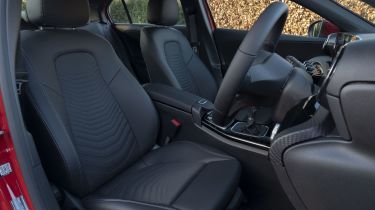 If you're browsing our Mercedes reviews, looking at the company's brochures or visiting one of their dealerships, you've probably come across the term 'Artico leather', so what is it? Put simply, it's a man-made substitute for real leather that was introduced by Mercedes to sit between cloth and real leather upholstery in its trim ranges.
In essence, it's a form of vinyl material, but Mercedes has continued to refine and improve Artico's feel and look to the point many owners would struggle to tell their car's interior apart from one swathed in real leather.
The biggest advantage of Artico leather is its reduced cost, both for the manufacturer and buyer. For example, while Artico leather seats are standard in a Mercedes C-Class in S and SE trims, leather upholstery is only fitted from Sport Edition trim, which costs around £1,600 more.
There are a few potential advantages to man-made leather replacements like Artico too. A growing number of buyers don't want to drive a car that has animal hides but may still prefer the look and feel of an artificial leather replacement to cloth seats. It's worth noting that even car's upholstered in Artico leather may still contain some real leather in other areas, such as on the steering wheel and gearlever.
Artico can also prove practical for families, as it's resilient and doesn't require the specialist cleaning and products that real leather does.
How should you clean Artico man-made leather?
Artico is quite tough and resilient to stains, so shouldn't need cleaning very often. For light dirt and spills we'd recommend simply using a microfibre towel and a small amount of warm water, rubbing away any grime. Once clean, it can also be handy to pat the area with a dry cloth to soak up some of the moisture, and then leave the area to dry with a window open for ventilation.
For tougher stains, a general purpose car upholstery cleaner should suffice, but always check the back of the bottle for advice on what materials it can and cannot be applied to, and test the product on a hidden area first.