New pure-electric Toyota BZ SUV previewed
Toyota RAV4-sized SUV will be developed in partnership with Subaru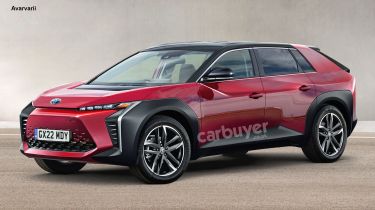 Exclusive images preview styling
'BZ' stands for 'Beyond Zero'
New car forms part of a wider range of 'BZ' models
Toyota is developing its first fully electric car, and our exclusive images show how it might look. The new car, which could be called the Toyota BZ, will be a similar size to the hybrid Toyota RAV4, making it a direct EV rival to the Skoda Enyaq and Nissan Ariya.
The BZ is being jointly developed in conjunction with Subaru. Both the Toyota and Subaru versions will use the same platform, along with similar exterior styling. Teasers of both cars showed bold creases in roughly the same places, and we think Toyota's upcoming electric models will get distinctive styling in the same vein that Toyota Prius models stand out from the rest of the range.
This BZ model will have a longer wheelbase (the distance between the front and rear wheels) than the RAV4, so we expect it will be very spacious inside. No technical details are available yet, but the battery pack is likely to be mounted in the floor aid handling with minimal impact on interior space.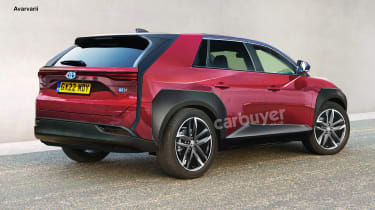 Toyota has trademarked a range of 'BZ' nameplates, so we foresee a whole series of electric models. The brand teased renders of a small crossover, family hatchback and a larger SUV earlier in the year. This new platform will accommodate a whole range of different-sized models, and will allow either two- or four-wheel drive.
Toyota Europe's executive vice president, Matt Harrison, told our sister site Auto Express that the electric SUV would be a bit costlier than the RAV4. "The size is similar to RAV4, so between RAV4 and this product as a zero-emissions option, we've pretty much got this covered. Customers would choose between these two vehicles in our portfolio.
"We'll have to see when we get closer to the start of production what the incentive situation is, because this can have an impact on where the model transacts. But we're trying to make sure that with any of the EVs, we don't count on incentive to secure the business equation."
Read our guides to the best electric cars and the best cars coming out in 2021 and beyond.