Electric Nissan Ariya SUV: prices, release date and prototype drive
The Nissan Ariya is now available to order; it's an electric SUV that's a similar size to the Qashqai and X-Trail, and promises up to 310 miles of range
Performance model hits 0-62mph in just 5.1 seconds
Two- and four-wheel drive options
Prices start from £41,845
You can now order the Nissan Ariya electric SUV for a starting price of £41,845. Four versions are available to UK buyers and first deliveries of the car will begin in summer 2022.
We've also driven a late-stage prototype just before it reaches the market, and you can read our verdict lower down the page.
The Ariya is a five-seat electric SUV that's similar in size to the Nissan Qashqai and Nissan X-Trail but has a much bolder look. When it reaches showrooms, the Ariya will rival the Skoda Enyaq, Volkswagen ID.4, Hyundai Ioniq 5 and Kia EV6 but it costs more than all those cars.
2022 Nissan Ariya SUV: UK prices, specs and PCP deals
Opening the lineup is the Ariya Advance with a 63kWh (usable) battery and a 223-mile range. Standard equipment includes automatic LED headlights, 19-inch wheels, heated front seats, a powered tailgate, two 12.3-inch screens, wireless phone charging, front and rear parking sensors, and a heat pump, which helps the battery to be more efficient (thus giving more range) in winter.
The next trim, Evolve, has a bigger 87kWh battery and an impressive 310-mile range but the starting price rises to £51,090. It has heated rear seats, a digital rear-view mirror, a panoramic sunroof and an intelligent key that remembers the preferred settings of whoever it's coded to. Adding four-wheel-drive costs £2,700 and brings a faster 0-62mph time but a small reduction in range.
Top-spec e-4orce Performance versions are expensive at £58,440. Besides the extra acceleration, they offer 20-inch wheels and blue nappa leather upholstery.
Options include a Sky Pack, including the sunroof, for £1,250, plus a Tech pack with the equipment listed above for £1,750. A Sport pack bundles 20-inch alloy wheels and blue Nappa leather upholstery for £1,995, while paint colours cost between £575 and £1,395.
Nissan expects the two-wheel-drive Evolve model to be the most popular. It costs £629 per month on a 37-month PCP finance deal after a deposit of £6,616. APR stands at 5.81% and the annual mileage limit is 10,000.
Styling
Nissan first revealed the Ariya concept at the 2019 Tokyo Motor Show and it appears that many of the striking styling touches will make it to production. At the front, a large closed-off grille will be flanked by sharp LED daytime running lights, while the headlights also incorporate LED technology. The car gets a subtle front spoiler and plastic body cladding, with the latter designed to make the car look more rugged.
The swooping roofline leads to a full-width LED light bar at the rear of the car. As it's electric, the Ariya doesn't have any exhaust pipes, giving the rear bumper a clean look. You get 19-inch alloy wheels as standard and 20-inch versions will be offered on high-spec trim levels.
Interior and practicality
Inside, the Ariya has a striking minimalist design with two large 12.3-inch screens; one showing driving information and one controlling the infotainment and sat nav functions. It's a similar setup to the Mercedes A-Class and the new Volkswagen Golf. Nissan has even kept the concept's integrated touch panels that replace physical buttons, while the Ariya has copper-coloured detailing (to resemble a dawn sky) rather than the eco-signalling blue details on the Nissan Leaf.
You get a large colour head-up display, keyless entry with saved driver profiles and a voice assistant that can perform functions like selecting a playlist and changing the air con temperature. An accompanying phone app can be used to preset the climate control before getting in the car, check the battery status and be notified of the best time to start your journey.
The Ariya is a similar size to the Nissan X-Trail, which comes with the option of seven seats, but has a much longer wheelbase than the X-Trail. Combined with the lack of engine and exhaust system, this means the Ariya has huge amounts of interior space. There's a flat floor in the rear, while the boot offers 466 litres (408 for four-wheel drive models). Not many EVs are suitable for towing but the Ariya manages up to 750kg and 1,500kg for two-wheel-drive and four-wheel-drive models respectively.
Performance
Ariya buyers will get the choice of 63kWh and 87kWh and a decision between two- and "e-4orce" four-wheel drive. With two-wheel drive, the models come with 214 or 239bhp respectively, and both hit 0-62mph in around 7.5 seconds.
Both four-wheel-drive models (87kWh and a 87kWh Performance version) offer plenty of power and quick acceleration; 87kWh models boast 302bhp and a 5.7-second 0-62mph time, and Performance models get 388bhp and a rapid 0-62mph time of 5.1 seconds. Two-wheel-drive models manage 99mph, and four-wheel-drive ones can reach 124mph.
Four-wheel-drive versions add a 'snow' driving mode to the eco, sport and normal selection, and Nissan says the system offers ultra-precise motor and brake control in slippery conditions.
Range and charging
The entry-level model manages up to 223 miles of range (we expected slightly more given the high starting price) but the long-distance champion is the 87kWh battery with two-wheel drive. In this specification, you can expect 310 miles on a full charge. This drops to 285 miles with four-wheel drive, and 248 miles for the Performance variant.
Versions with the smaller battery can charge at 7.4kW home or public chargers, while 87kWh models also get a 22kW three-phase home charger. Fast charging at up to 130kW is available at motorway service stations and other locations.
Nissan has been enhancing its ProPilot driver assistance systems in recent years, and the Ariya features this semi-autonomous technology that can keep you in your lane and follow the car in front at a safe distance. Other safety features include front and rear automatic braking and a surround-view monitor.
The Ariya will sit on a new platform designed by the Renault-Nissan-Mitsubishi alliance, and this may also underpin an electric Renault SUV thought to be in development.
What does it mean for car buyers?
With the Nissan Qashqai SUV still among the UK's best-selling cars, an electric SUV of a similar size could prove to be a hit. However, the Ariya is noticeably more expensive; the cheapest version is over £6,500 more than the top-spec Qashqai, so even with fuel savings factored in, it'll still take a long time for the car to work out cheaper overall.
Nissan Ariya prototype drive by Steve Fowler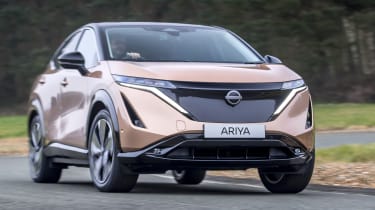 It feels like a long time since we first got a glimpse of Nissan's electric SUV, the Ariya, and you'll only need to wait a little longer before it takes up floor space at Nissan dealerships. While the Qashqai and Juke are getting hybrid engines, the Ariya is the brand's first fully electric SUV, launching it into one of the fastest growing segments in the new car market .
We've driven a pre-production model, which such was its high standard of finish was arguably only a prototype in name. Build quality, both outside and inside, looked top-notch, with even panel gaps and flush-fitting buttons and touchpoints. It's the first time in recent memory that Nissan has so heavily pushed its Japanese character rather than honed a car to European tastes, suggesting that the Ariya is a car it's immensely proud of.
That extends to the 'Kumiko' interlocking pattern (included to pay tribute to the art of joining wooden beams without nails) that features on the front grille, door cards and speaker grilles. The ambient interior lighting is designed to look like the glow from paper lanterns.
What is more obvious when you first climb aboard the Ariya is how spacious it feels, helped no doubt by the lack of a lower centre console between the driver and passenger. There is a powered unit that sits between the seat, with armrests and controls, but without this there would be enough room for a third seat.
The dashboard houses two 12.3-inch screens, joined together in one continuous panel. A suite of connected services keep you online, and Amazon Alexa compatibility can be synced with any devices you have at home. Nissan's navigation system uses Google Street View and is very slick.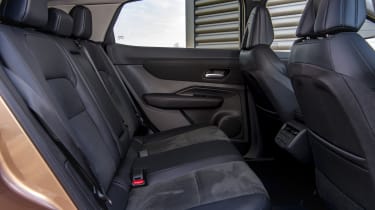 You'll find the climate controls integrated within a wooden trim panel, but they're touch-sensitive areas rather than physical buttons. It's not particularly easy to use and certainly seems to be a case of form over function - strange considering everything else is so easy to use and feels so premium.
It's also easy to find your perfect driving position, with plenty of seat and wheel adjustment. Visibility is great, too; the windows are large and long, and even seeing out the back is fine. Higher-spec models get a panoramic sunroof that allows light to flood into the cabin. In all, the Ariya is very practical, with plenty of space for four six-footers and a sizeable boot.
Acceleration in the Standard driving mode isn't particularly rapid, but select Sport mode and the Ariya is much more eager to pick up speed. The four-wheel drive versions, especially the Performance model, will no doubt feel even more rapid. A direct steering ratio makes light work of quick direction changes, and the car seemed comfortable - although we'll reserve judgement until we drive one on UK roads. Wind noise was kept to a minimum.
The brakes are a little disappointing, mind. Nissan's e-Pedal system will no longer stop you entirely, instead only slowing you down to a crawl. Our car's brakes were also short of feel and a little too abrupt, although this is likely to be an area that will be fine-tuned before the first customers take delivery.
Read our Nissan reviews here, or see where the Qashqai features on our list of the best economical SUVs.