New 2010 BMW 5 Series Officially Unveiled
The all-new BMW 5 Series has been officially unveiled and we have the full details.
[See the latest iMOTOR magazine here]
The BMW 5 Series is set to be the best yet, boasting more advanced tech and more space than any of its predecessors. It goes on sale 20th March 2010 priced from £27,555.
OutsideWe've seen a UK car in the metal at a special preview, and it didn't blow us away like the MK 5 did when we first saw that. But while it lacks that "Wow!" factor it's less likely to have people going "WTF!" either. So, the styling may be less adventurous, but it's also less polarising. And anyway, BMW designs have always been growers.
InteriorThe new 5 Series has the most stylish cabin in its class. We've sat in it and can confirm that it feels almost as upmarket as the 7 Series.
Also, it feels more spacious than its predecessor, especially in the back. In fact there is 13mm more legroom.
Just like its bigger brother, the new BMW 5 Series features an asymmetrically designed centre console, canted seven degrees towards the driver, so all the controls are in easy reach.
The dash also uses Black Panel technology – this men's that while systems like the air con are switched off, it looks like there is merely gloss trim down the centre console. Not so – turn them on and you'll see all the information you need, seemingly floating behind your shiny trim. It's all very swish and very modern.
The steering wheel will is more driver focussed than before – offering function keys in one hand, and 'infotainment' in the other.
GreenIf you're one of the many people BMW think will buy the base 520d model, you'll get BMW's Efficient Dynamics stop/start system as standard. All 5 Series with manual gearboxes will get a gearshift light, to keep emissions down and MPG up.
Along a similar vein, BMW's new Active Aero Dynamics system will also be available. The system closes the air-cooling flaps behind the signature kidney grille on cold starts for improved aerodynamics and performance.
Regenerative breaking is a standard feature, too. This tops the battery up with juice using kinetic energy gleaned from breaking.Low-rolling resistance tyres are also an option on some models.
High TechBMW will be offering some interesting gadgets on the new 5 Series. First up there's Park Assist. This scans the roadside for a suitably proportioned parking space, then all the driver needs to do is use the brake and accelerator pedals to slip it into the slot.
BMW are also offering the 7 Series' 360 degree cameras, which give an all round view for parking convenience and better views around blind junctions.
Four-wheel steering is available too, which lowers the new BMW's turning circle by 0.5metres.
Generous Standard EquipmentBMW has been generous with the standard goodies this time round. All models now come with leather, BMW Professional Radio, Bluetooth and air conditioning.
Six-cylinder models will also get a USB audio interface and ambientAll 5 Series Saloons will come with a six-speed manual 'box. It's been redesigned since its last outing in the E60. It's now smoother, sportier and more efficient – according to the completely unbiased BMW Press Office. The 550i gets and eight-speed automatic gearbox. ChassisBMW is offering a host of electronic driver aids on the new 5 Series. You can have electronic Damper Controls (EDC) or Drive Dynamic Control (DDC). DDC offers various chassis settings: Normal, Comfort, Sport, Sport+. Each mode adjusts things like steering response, throttle response, gear change speed (in auto cars, we imagine), traction control level and the ride and handling settings.
EnginesBasically there's plenty of diesel and petrol options ranging from a 2.0-litre diesel which can do 56.5mpg and a 4.4-litre twin turbo V8 petrol which can't. But on the plus side, it's more powerful and faster than the E39 BMW M5 Mk 4. You can find out about all the different engines below if you have nothing better to do….DieselsBMW is expecting the £27,555 520d to be its biggest seller. It produces a relatively small 184hp, but a large 380Nm of twist (from just 1,900rpm – wow). It'll get you from 0-62 in 8.1 seconds and onto a top speed of 141mph. It's expected to give an average mpg of 56.5 and only emit just 132g/km CO2
The 520d is joined by the 525d, 530d and the 535d. The £32,380 525d only churns out 161g/km (with an auto 'box) CO2 and 46.3mpg. 0-62mph takes 7.2seconds and on to 147mph (eat that, MINI Cooper S). Not bad for an exec saloon with 'only' 204hp.
The next rung on the 5 Series ladder is the £36,300 530d, which has 245hp. So it'll get you to 62mph nearly a second faster than the 525d (6.3seconds) and hit a limited 155mph. CO2 fans will like its 166g/km rating and cheap people will adore it's 45.6mpg figure.
The final diesel is the well-known 535d. It uses two turbos to get it to 62mph in six seconds dead, and it keeps using them to get to its limited top speed of 155mph. Yet it still remains relatively eco-friendly, only farting out 199g/km and achieving 33.2mpg on the combined cycle.
PetrolsThe entry-level £30,560 523i comes with a respectable 204hp, as well as 270Nm. These figures allow it to hit 62mph in 7.9 seconds and go on to 148mph. Ultimately this ends up with emissions of 177g/km and a combined of 37.2mpg.
Next up is the £32,205 528i with a slightly better 258hp. That means 62mph is broken in 6.6seconds, and its 310Nm means it'll go all the way to 155mph. The swift performance doesn't harm Mother Nature and the 528i records a combined consumption figure of 36.2mpg and CO2 emissions of 182g/km.
The £36,390 twin-turbo 535i is carried over from the previous car – so it'll hit 62mph in the same 6.0seconds and get to the same 155mph limit. Its eco-figures reflect the huge amount of money and tech poured into its development with 33.2mpg on the combined cycle and CO2 emissions of 199g/km.
Finally BMW is offering a top of the range £49,440 550i twin turbo 4.4-litre V8. It's packing an E39 M5 beating 407hp and 600Nm, and it'll get to 62mph quicker than the Mk4 M5, too – in 5.0seconds. It has the same 155mph speed muzzle on it though. Funnily enough it's not that kind to the environment – boasting only 27.2mpg and CO2 emissions of 243g/km.
Best new car deals 2022: this week's top car offers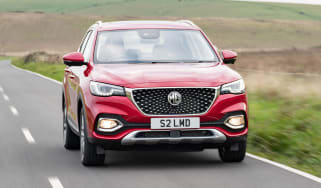 Best new car deals 2022: this week's top car offers
Nissan Ariya vs Volvo XC40 vs Volkswagen ID.4 - which is best?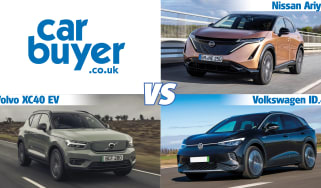 Nissan Ariya vs Volvo XC40 vs Volkswagen ID.4 - which is best?
2023 Hyundai Ioniq 5 N spotted testing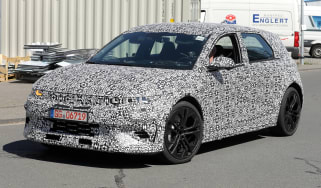 2023 Hyundai Ioniq 5 N spotted testing