Porsche Panamera test drive review
We review the Porsche Panamera - Porsche's first four-door sports saloon.
"A Jack-of-all-trades but master of none"
What is it?Porsche claims the Panamera is a cross between a sports car, a limousine and an estate. Basically it's for anyone who wants a thrilling driver's machine but with all the practicality and luxury of a Mercedes S-Class.
There are three models to choose from. The Panamera S has rear-wheel drive while the 4S has, yes you guessed it, four-wheel drive. Both are powered by a 4.8-litre V8 with 400hp. The Panamera Turbo has a 4.8-litre twin turbo V8 with 500hp – and this is the car we tested. What does it look like?Erm. Well you wouldn't say it was pretty in the same way a Maserati Quattroporte is. Basically the Panamera looks like someone has Photoshopped some rear doors onto a 911. Badly. The front works, but from side-on the Panamera looks a tad ungainly.
It's the back which is the worst bit though. A 911-esq rump is designed to make it easily recognisable as a Porsche. But this doesn't blend well with the high roofline and just makes the tail look bulbous, almost as if the car has a hunch back. Still you wouldn't mistake it for anything else.What's it like inside?Much, much better. In fact the Panamera's interior is among the best in the business. It's as stylish as a Habbitat showroom yet sturdier than a nuclear bunker. Of course, there are gadgets galore. But refreshingly Porsche allows you to operate them using good-old-fashioned buttons rather than via some unfathomable menu-based system like BMW's i-Drive.
The Panamera is available with loads of trim choices. Ours had pale wood. And never have we seen wood look so good in a car. What's more amazing, though, is just how comfy the Panamera's cabin is given its sporty looks. The seats are firm yet cosseting and there's plenty of room in the front and rear. It's not quite as relaxing or spacious as a Mercedes S-Class but it aint far off.
You really could drive or be driven across a continent in the Panamera. And the wife will be able to take her collection of Jimmy Choos as there's 445 litres of space in the boot. With the back seats folded this increases to 1250 litres. Stupidly though you can't lower the rear armrest if you opt for the option large rear centre console. And that makes it impossible to transport large items in the Panamera – unless you saw them in half.
What's it like to drive?Good. Very good. But what did you expect – it's a Porsche! Performance from the 4.8-litre V8 twin turbo is immense. Floor the throttle and you almost swallow your tongue. And there's no let up in thrust even when the speedo is in double figures. In fact we managed 175mph in the Panamera Turbo on an unrestricted stretch of German Autobahn with little fuss. And you can make the most of that power thanks to the slick fast-shifting PDK dual clutch transmission - which comes standard on the Turbo.
Thankfully the chassis is just as capable as the engine. Well, almost. With the standard fit adjustable suspension on its sportiest setting the Panamera handles very well, especially when you consider it weighs almost two tonnes. The steering is direct and fast, and this plus the grip from the four-wheel-drive system means you really can hammer the Panamera through bends at quite alarming speeds. Trouble is, while the car is very capable it never actually feels that much fun.
The Panamera is a great cruiser though. The ride doesn't feel quite as smooth as in a Mercedes S-Class but it's still pretty impressive considering how sporty the car is. The adjustable suspension has a comfort mode although this just makes the car feel floaty (most likely due to the Turbo's standard air suspension) without any real noticeable improvement in ride. Well at least it did on our test model which was fitted with quite high profile tyres.
Verdict Make no mistake the Panamera is very good. What Porsche have achieved is truly impressive. But while it may well be a cross between a sports car, a limousine and an estate it's ever so slightly compromised in all areas. It isn't as much fun as a 911, it isn't quite as a comfy as a Mercedes S-Class and it isn't as capable as an Audi RS6 Avant. Really the Porsche Panamera is a bit of a Jack-of-all-trades but master of none.
Car Specs - Porsche Panamera Turbo
| | |
| --- | --- |
| Engine: | 4.8-litre V8 twin turbo, 500hp |
| 0-62mph: | 4.2 seconds |
| Top speed: | 188mph |
| Economy/emissions: | 23.2mpg/ 286g/km CO2 |
| Price/On sale | £95,298/ September |
We rate:Fabulous cabinImpressive performance
We slate:Not that involvingPretty ugly
Rating:
By Mat Watson
Nissan Ariya vs Volvo XC40 vs Volkswagen ID.4 - which is best?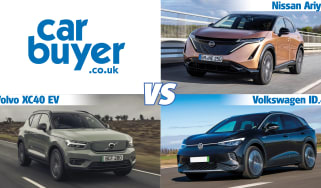 Nissan Ariya vs Volvo XC40 vs Volkswagen ID.4 - which is best?
2023 Hyundai Ioniq 5 N spotted testing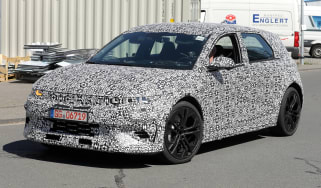 2023 Hyundai Ioniq 5 N spotted testing
Best new car deals 2022: this week's top car offers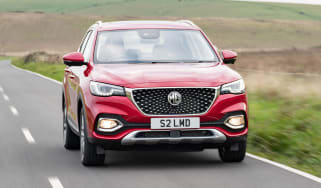 Best new car deals 2022: this week's top car offers