New Apple CarPlay update goes beyond the infotainment screen
Upcoming Apple CarPlay update will bring a significant refresh in 2023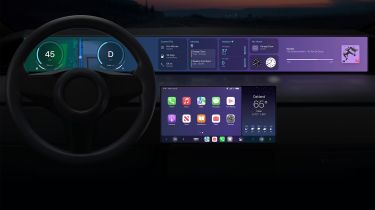 Apple has announced a significant update to its Apple CarPlay in-car media software that will bring big changes in 2023.
One of the biggest added features will mean the CarPlay software will extend past the infotainment screen and into the digital gauge cluster and instrument panels of compatible cars (the list of which is yet to be announced). This means the cars' dashboards will have a uniform Apple-style interface.
These features are not merely aesthetic – drivers will be able to operate their climate control, radio and view fuel battery level and temperature read-outs, trip, navigation and weather information from a series of Apple-designed widgets. Essentially, there will be much more Apple integration than before.
You'll reportedly be able to customise and set up your dashboard how you want it with a variety of colour and widget options. Drivers should still be able to switch to the car's standard in-car software should they wish to do so, but we'll have to wait to see if car makers ditch their own software altogether.
Apple is set to announce further details related to Apple CarPlay later next year. There's no word on whether Android is considering a similar update for Android Auto.
For more information about the latest software, read our guide to Apple CarPlay, and if you have an Android phone here's our guide to Android Auto…