Citroën C3 hatchback - Engines, drive & performance
If you value comfort more than sharp turn-in, the Citroen C3 is the supermini to choose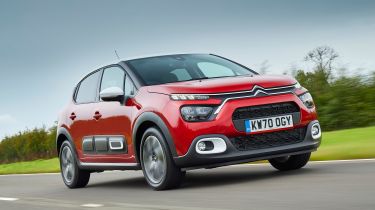 In contrast to rivals like the Ford Fiesta, at no point was the new Citroen C3 designed to offer a sporty drive. Instead, comfort was the watchword and, according to the company, this didn't just mean giving it a very soft suspension setup. No, the new Citroen C3 has benefited from a system called Citroen Advanced Comfort. This includes making the car easy to use, easy to see out of, giving it heavily padded, comfortable seats and yes, still giving it pretty soft suspension. This copes well with bumps around town, but on faster roads of questionable quality things do still get somewhat bumpy when pressing on.
It's not completely anodyne in corners, though. Granted, it's not as sharp as rivals like the Fiesta or Ibiza, but it's rewarding enough and more comfortable than any of those at the same time.
Citroen C3 petrol engines
Performance from the less powerful 82bhp engine is unlikely to set your heart racing, and you're likely to get traffic racing past you, with 0-62mph being taken care of in 15.2 seconds. You'll need to rev it quite hard to get up to speed – on a motorway sliproad, for example, but while it makes some noise under acceleration, it's reasonably quiet the rest of the time.
By contrast, the 109bhp petrol engine is the sportiest in the range. The claimed 0-62mph time of 10.5 seconds is entirely believable and the engine feels pretty strong right the way across the rev-range. It tops out at 123mph, too, which is impressive for a car of this size.
Diesel engines
While the headline economy and CO2 figures for the diesel may make it seem very tempting, it's only really worth it if you do loads of miles every year, as it costs significantly more to buy than the petrols.
That being said, if you do have a high annual mileage, the 99bhp engine is punchy enough to prevent the car from struggling at speed. This engine can get the C3 from 0-62mph in 11.3 seconds exactly, which is enough to keep up with traffic. It's the economy champion of the range.