Genesis GV60 SUV - Electric motor, drive & performance
The Genesis GV60 is powerful and fast but also smooth, comfy and easy to drive
The Genesis GV60 uses the same electric car tech as the Kia EV6 and Hyundai Ioniq 5. Since these models have already impressed us with the way they drive, it's not too much of a surprise to learn that the GV60 is also good to drive.
On our test route in Germany the GV60 was enjoyable to drive and comfortable. The entry-level Premium model was the best in this respect, because its smaller wheels meant it was better at dealing with bumps in the road.
The is very quiet inside, especially with optional noise-cancelling tech fitted. We found it was only at high speed that wind and road noise really made themselves known in the cabin, and around town it was really quiet and relaxing to drive.
Genesis GV60 electric motor 
There are three different versions of the Genesis GV60, and they all have a slightly different layout in terms of their electric motors - but all have the same 77.4kWh battery pack. You can click back to the previous page to find out more about how much range each version has, but the maximum claimed range is 321 miles.
The Premium is the entry-level car and it has a single electric motor with 226bhp. This version is all you really need, because performance is great – it goes from 0-62mph in a brisk 7.8 seconds and feels very powerful from low speeds (like almost all electric cars do).
This model is rear-wheel drive only, but the higher-spec models are four-wheel drive because they have an additional motor at the front. Sport has a total of 314bhp, and Sport Plus has two 215bhp motors with a total of 483bhp.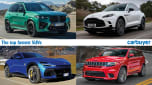 The top 8 fastest SUVs 2023
The GV60 Sport Plus has a button on the dash that sets it to 'Boost' mode, which brings performance to the forefront and allows the maximum output from the two powerful motors. This version is very quick and accelerates from 0-62mph in around four seconds, which is faster than most sports cars. 
The Sport model sits somewhere between those two, taking 5.5 seconds to get to 62mph - more than fast enough for anyone. All versions have lots of performance and are quiet and smooth when driving around town.