Genesis GV60 SUV review
"The Genesis GV60 is the new brand's only dedicated electric car, but it's also one of its most impressive models"
Pros
Excellent driving range and fast charging
Luxurious interior with lots of tech
Good to drive and comfortable
Cons
Expensive to buy
Boot isn't very big
Limited headroom in models with a sunroof
Is the Genesis GV60 a good car?
The interior is very smart and well-made, and the technology feels modern while also being easy to use with loads of features. The GV60 isn't the roomiest EV around, but there's a good amount of space in the back seats, so the GV60 will work as a family car. It boasts a five-star safety rating, too. We found that the GV60 was comfortable, enjoyable and smooth to drive, plus of course, since it's an electric car it's quiet and relaxing in traffic.
Genesis GV60 range
The Genesis GV60 is a new model that uses electricity only. Other cars in the Genesis range include petrol and diesel-powered SUVs and saloon cars; this model is the first to use plug-in power.
The GV60 is often seen in an eye-catching colour to grab your attention, but it's available in more subtle shades and is well worth considering if you are looking for an electric family car. It's closely related to the Kia EV6 and Hyundai Ioniq 5, two new electric cars that are amongst the best on sale right now.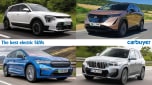 Top 10 best electric SUVs 2023
Other rivals to be aware of include the Audi Q4 e-tron, BMW iX1, Volkswagen ID.4 and ID.5, Ford Mustang Mach-E and Tesla Model Y. The GV60 has a range of up to 321 miles (depending on which version you choose), plus it can charge faster than many other electric cars.
The range is quite simple, with just three versions to choose from. Premium is the entry-level model, then there's Sport and the top-spec Sport Plus. Premium comes with one electric motor driving the rear wheels, while Sport and Sport Plus use two electric motors and are four-wheel drive as a result.
The Premium model has 226bhp, Sport has a similar figure plus an extra 99bhp from the added front motor (totalling 314bhp), and Sport Plus has two 215bhp motors (for a maximum of 483bhp in the car's 'Boost' mode).
All versions use clever high-speed charging tech for a 10-80% charge in just 18 minutes, but their driving ranges differ. Premium has the longest, with 321 miles on a single charge, Sport can drive for 292 miles and Sport Plus manages 289 miles. It means the GV60 isn't as efficient as the Kia EV6, for example, which has up to 328 miles of range; even the four-wheel-drive EV6 can travel for 314 miles between charges.
The GV60 is well equipped whichever version you choose, with twin 12.3-inch infotainment screens as standard plus LED headlights, front and rear heated seats, 19-inch alloys and a reversing camera. The equipment on higher-spec models is mostly cosmetic, so you're paying for the added performance rather than more toys to play with. There's plenty of innovation too; 2023 cars feature face recognition so you don't need to carry a key.