New Mercedes Concept CLA Class reveals upmarket Tesla Model 3 rival
With a sleek design and predicted 466-mile range, this is Mercedes' new Model 3 rival
Predicted range of up to 466 miles
Aerodynamic design
Fast 800-volt charging
The Mercedes Concept CLA Class has been unwrapped, giving us our first glimpse of the luxury brand's future Tesla Model 3, Polestar 2 and BMW i4 rival. Mercedes is expected to launch a new swathe of electric models that ditch 'EQ' branding as battery electric models become the norm.
Its MMA platform will underpin four new cars alone, including a shooting brake (estate) version of the Concept CLA Class and two SUVs. The Concept CLA is expected to deliver a range of up to 466 miles and feature 800-volt charging, for top-up speeds of around 250kW using compatible DC public chargers.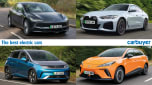 Top 10 best electric cars 2023
Likely to replace the combustion-engined Mercedes CLA, the Concept CLA Class retains that car's svelte shape that delivers a very low drag figure. The current CLA is already one of the most slippery cars on sale, so an even better performance here will only serve to help the electric model hit its all-important range figure without needing a vast battery pack.
Mercedes is also cashing in on its brand status, with different interpretations of its famous 'three-pointed star' badge seen in the LED headlights and rear light clusters, along with its illuminated front badge. There are also dozens of stars etched into the panoramic glass roof. The concept even sees chrome details in the grille replaced with hundreds of LEDs, while illuminated strips also flank the sides of the car to emphasise its shape.
The light show continues inside, where its interior is bathed in ambient lighting and even the centre of the steering wheel resembles a glowing orb. Mercedes' circular front air vents have been updated to show the temperature on a central screen, and the dashboard itself is made up of three widescreen displays covered in a single sheet of glass. These displays are said to be running the latest evolution of the forthcoming MB.OS infotainment software, with artificial intelligence that aims to personalise the car's features to make life easier for its owner.  
While its semi-translucent interior surfaces might not make it to production, we've already seen a production version of the Concept CLA Class undergoing testing, so a 2024 debut looks likely. When it does arrive, a price tag of around £45,000 will be necessary to ensure it can compete with a growing class of rivals.
Read our in-depth review of the current Mercedes CLA, or take a look at our round-up of the best executive cars