Vauxhall Mokka 1.4T now with two-wheel drive
The turbocharged Vauxhall Mokka is now available in front and four-wheel drive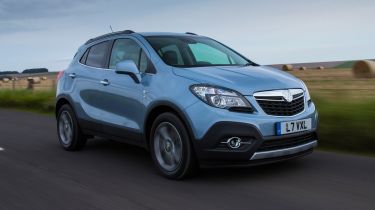 The Vauxhall Mokka compact-SUV is now available to order with the 1.4-litre turbocharged petrol engine and front-wheel drive.
Though only initially available as a four-wheel drive manual, the 1.4-litre petrol engine is equipped with a six-speed manual transmission and a stop-start as standard. There's an automatic alternative available too – an option previously only offered on the front-wheel drive 1.7-litre CDTI diesel version.
As a result, the 1.4-litre turbo with manual gearbox emits 139g/km of CO2 with an average economy of 47.1mpg – 3mpg better off than its four-wheel drive equivalent. As for the automatic, fuel consumption is down to 41.5mpg with CO2 emissions rising to 158g/km.
The front-wheel drive 1.4-litre turbo is now the quickest model offered within the Mokka range, sprinting from 0-60mph in 9.3 seconds with a top speed of 120mph.
Inside, Exclusiv and SE trim levels now benefit from the option of an improved CD 600 player, 7-inch colour display screen and Vauxhall's Intellilink software for just £240 more. Alternatively, a Bose sound system and easy-to-use Navi 950 navigation system can also be added for £1055.
That said, both the Bose sound system and sat-nav are standard on the cheapest Tech Line model. A reversing camera can be fitted as an optional extra.
In addition to the 1.4-litre engine and front-wheel drive, the Vauxhall Mokka can now be specified in an eye-catching Orange Rock metallic paint scheme, alongside optional 19-inch five-spoke alloy wheels.
Prices for the front-wheel drive 1.4-litre turbo version of the Mokka start at £16,719 on the road.
For the full Vauxhall range, visit the CarBuyer Vauxhall reviews page.