New SEAT Leon Cupra R planned
A new SEAT Leon Cupra R performance hatchback could be on the way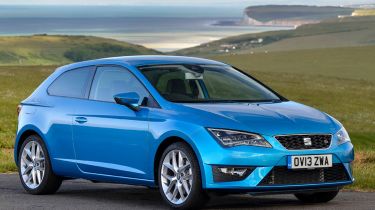 A new SEAT Leon Cupra R is likely to go into production, and it could be the fastest car SEAT has ever made. The car hasn't been confirmed yet, but should look like a sportier version of the pictured SEAT Leon SC three-door.
The SEAT Leon Cupra R hot hatchback will rival the Audi S3, Mercedes A45 AMG and BMW M135i, meaning it will be much faster and more powerful than the standard SEAT Leon Cupra, which rivals the Ford Focus ST and Volkswagen Golf GTI.
SEAT Leon Cupra R 2014 price and release date
The SEAT Leon Cupra R is not confirmed yet, so there's no word on when it will be released or what it will cost. However we are expecting the new Leon Cupra to come out in early 2014, so the R model will likely be announced after that. The price for the standard Cupra will be around £26,000, but as the R model will compete with more expensive models like the BMW M135i we expect it will cost around £30,000.
New SEAT Leon Cupra R specs
The new SEAT Leon Cupra R could get up to 300bhp from a 2.0-litre petrol engine, which is 39bhp more than the old Cupra R, which had 261bhp. The car could have four-wheel drive to improve grip over the standard front-wheel drive Seat Leon Cupra.
The extra power and grip could mean a 0-62mph time of around five seconds. Other driver-focused additions could include tuned suspension, better steering, a racy automatic gearbox and a louder exhaust note.
The standard SEAT Leon Cupra, which is already confirmed, uses a turbocharged 2.0-litre engine that produces 261bhp. That car is planned to be available as a three-door, five-door and estate, but we don't know yet what body styles the Cupra R will be available in.
SEAT says that the new Cupra will not compromise comfort for handling, and it will not look over-the-top either – so while the new Cupra R will be a very fast car, it seem likely that it will work well as an everyday car as well.
For the full SEAT range visit the CarBuyer SEAT reviews page.