Skoda Fabia deal: over £3,000 off hatchback and estate
You can now get 25 per cent off a new Skoda Fabia, saving over £3,000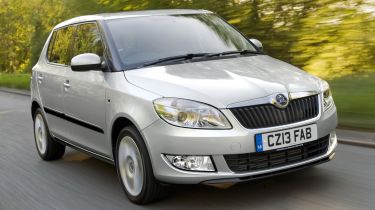 The Skoda Fabia is now available with a 25 per cent discount, cutting the cost of buying a new Fabia hatchback or estate by over £3,000.
The new car deal is available on the Skoda Fabia SE with a 1.2-litre petrol engine producing 68bhp. This model would usually cost £12,140 in hatchback form but with the 25 per cent off deal it is now £8,995 – a saving of £3,145.
The Skoda Fabia estate also benefits from this new car deal, going from £13,560 to £9,995 – that's a reduction of £3,565. The Skoda deal also applies when you buy through a finance package, with 7.9 per cent APR and free servicing for three years or 30,000 miles.
The Skoda Fabia SE is available in either Blue or Silver metallic paint, and comes with 15-inch alloy wheels, air-conditioning, tinted windows, extra rear speakers, electric mirrors and remote central locking as standard. Our Skoda Fabia hatchback review recommends the SE spec as being the best value in the range.
The 1.2-litre petrol engine in the Skoda Fabia on offer gets 68bhp, which won't be enough for some, but the cheap asking price and 51.4mpg fuel economy will have a wide appeal to prospective buyers. The 128g/km emissions figure means tax is only £105 a year, too.
The Skoda Fabia hatchback gets a decent 315-litre boot, which beats its rival the Volkswagen Polo. However if you need a lot of luggage space then the estate version, which is also on offer, has a huge 505-litre boot. You can also fold the rear seats down flat to increase the space in the back to 1,480 litres.
The 25 per cent off deal on the Skoda Fabia is available now and will run until 31 December 2013.
For the full Skoda range visit the CarBuyer Skoda reviews page.