Peugeot 308 R concept revealed
New Peugeot 308 R Concept has been revealed ahead of Frankfurt show debut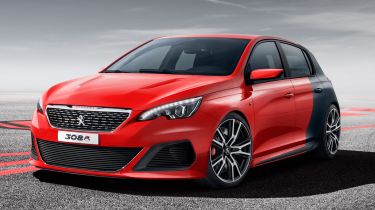 The Peugeot 308 R Concept has been announced ahead of going on show at the Frankfurt Motor Show in September. This new hot hatch concept will take on rivals like the Volkswagen Golf GTI if it becomes a production model.
Peugeot's new 308 R Concept uses the same engine as the RCZ R coupe, a 1.6-litre turbo petrol engine with 266bhp. The RCZ R can go from 0-62mph in 5.9 seconds, which is a bit faster than a Golf GTI – and this new 308 R Concept could be just about as quick.
The car uses a six-speed manual gearbox and uses a Torsen limited-slip differential to improve grip out of corners in slippery conditions – making the car safer and more fun to drive. A spoiler has been added as well, and the larger and more powerful brakes will further improve the handling over the normal 308.
As this is a concept car the styling is ambitious – carbon fibre is used to reduce weight in the bodywork and doors, while the car has been widened and a large front grille has been added to give it a more aggressive look than the standard 308 hatchback. The large 19-inch alloy wheels and R branding also add to the sporty look.
Although the Peugeot 308 R Concept is undoubtedly a fast car, the company claims that emissions are as low as 145g/km CO2, which is the same as the RCZ R. That means fuel economy should be around 45mpg, which is better than a Ford Focus ST but not quite as good as the 47.1mpg claimed for the Volkswagen Golf GTI.
The Peugeot 308 R Concept uses the same dashboard as the normal 308, including the small steering wheel and dials, but there is also a large 9.7-inch touchscreen display.
Peugeot has not conformed that the 308 R Concept will go into production, but if it does it could shed the R branding and use Peugeot's traditional GTi badge instead.
For the full Peugeot range visit the CarBuyer Peugeot reviews page.