New Ford S-MAX 2015 price & release date
Improved efficiency and plenty of new technology for all-new model, which is available to order now
The new Ford S-MAX MPV is on sale now and is available to buy from £24,545. First deliveries will be made this summer.
The all-new model made its public debut at last year's Paris Motor Show. It gets the same front-end design as the current Ford Fiesta and Ford B-MAX MPV, with the distinctive wide chrome grille that many liken to an Aston Martin sports car. The new S-MAX also has large, sleek headlights and a huge panoramic windscreen.
Mechanical changes include new petrol and diesel engines, which improve fuel economy and CO2 emissions across the range. Ford has also introduced a host of new technologies on the car, including Intelligent Speed Limiter and Ford Adaptive Steering.
Keep reading for all the latest on Ford's fun-to-drive and family-friendly MPV.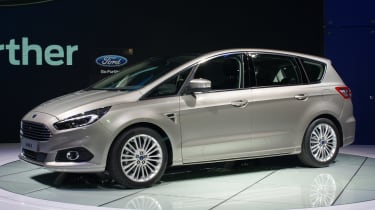 New Ford S-MAX release date & price
The new Ford S-MAX is based on the latest Ford Mondeo and both cars are being built at Ford's factory in Valencia, Spain. The new S-MAX is available to order now, with first deliveries scheduled for summer.
The new model is around £2,000 more expensive than the old one, meaning the S-MAX now starts at £24,545.
New Ford S-MAX equipment & interior
The new Ford S-MAX gets a versatile and practical interior, just like the current model, with room for seven people. The middle seat in the back folds down on its own, so if there are six of you, each person can have their own seat, rather than sitting on a bench. The third row of seats is lighter than before, too, making it easier to fold away.
With lots of leather, metal and glossy plastics used inside, the new S-MAX feels more luxurious than before, at least in higher-spec form. Ford has added more sound-deadening material for increased cabin refinement and the sleeker shape of the new car has reduced the amount of wind noise. The new S-MAX has a more minimalist dashboard, too, with most of the car's functions (such as air-con and sat nav) controlled by a single central touchscreen.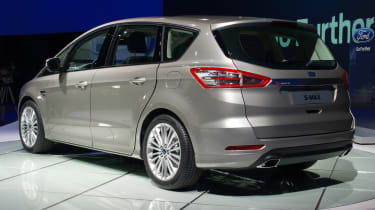 The 2015 Ford S-MAX equipment list includes Ford's latest SYNC 2 system, which allows the driver to control some of the car's functions using voice recognition. A driver-facing 10-inch digital screen is available as an option in place of the traditional instrument cluster, and an eight-inch touchscreen acts as the control panel for the car's infotainment system.
The new version of Ford's Adaptive Steering is fitted to the S-MAX. It changes the sensitivity of the steering depending on the scenario, making it lighter and quicker around town and when parking, but less sensitive on the motorway, for smoother, more relaxed driving.
Other available features include Intelligent Speed Limiter, which combines an adjustable speed limiter and traffic sign recognition technology to help drivers keep within speed limits, and Glare-Free Highbeam, which adjusts the angle and intensity of the car's LED headlights to provide maximum headlight intensity without dazzling other road users.
Safety and driver assistance technology available includes a Front Split View Camera for help when pulling out of junctions, Pre-Collision Assist with Pedestrian Detection for help in braking to avoid hitting a person or vehicle in the road, and several systems that make parking the car easier.
New Ford S-MAX engines
The new Ford S-MAX gets a range of turbocharged EcoBoost petrol and TDCi diesel engines, offering good performance and impressive fuel economy. There is a total of six variants to choose from, including four diesels and two petrols. A turbocharged 2.0-litre diesel engine provides buyers with the choice of 118bhp, 148bhp and 177bhp, and all three versions claim economy figures of 56.5mpg and CO2 emissions of 129g/km for an annual tax bill of £110. A new 207bhp bi-turbo 2.0-litre diesel is the most powerful diesel in the line-up.
Those in the market for a petrol-powered S-MAX have the choice of two Ecoboost engines - a 1.5-litre producing 158bhp and a 2.0-litre offering 237bhp.
For the first time, the S-MAX is available with Ford's 'Intelligent All-Wheel Drive', a four-wheel drive system that can shift power between all four wheels for maximum grip.
For the full Ford range, visit the CarBuyer Ford reviews page.