Audi S3 Sportback gets 4G Internet support
The new Audi S3 Sportback is the first car available with 4G Internet connectivity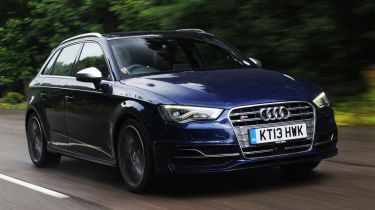 The new Audi S3 Sportback is to be the first car on sale in the UK with 4G mobile Internet connectivity, and is available to order now. This 4G integration will become available in the full A3 range from November.
The 4G high-speed Internet is being rolled out in London today, giving customers who adopt it on their mobile phones much faster download speeds on their mobile web connections. The technology in the Audi S3 Sportback requires a SIM card to be inserted into a slot in the glovebox, creating a wireless hotspot within the car.
From there, passengers can connect their individual devices to the Internet and make use of the fast 4G connection speeds. The car's own systems can also benefit from the technology, speeding up the delivery of services on the display screen including Google Street View, music streaming, traffic information and social media access.
These features are part of the 'Audi connect' system available in the A3 and S3 range, which also offers a petrol station locator and a parking space finder that can also provide fuel costs before you park up. Google Earth is also available on the system, which will be made faster by 4G technology.
The Audi S3 Sportback is the fastest version of the five-door A3, with a 2.0-litre turbocharged engine producing 296bhp. That means it can go from 0-62mph in 4.9 seconds and on to a top speed of 155mph.
Equipment on the Audi S3 Sportback includes climate control, keyless go and sat-nav – but you'll have to pay extra as these features are not standard. The 4G connectivity won't come as standard either, being part of the optional Technology Package you can order when buying the car new.
For the full Audi range visit the CarBuyer Audi reviews page.