SsangYong Rexton W facelift revealed
The UK's cheapest seven-seat 4x4 gets a range of updates without a price hike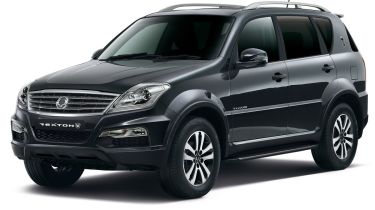 The updated SsangYong Rexton will go on sale later this year, with a fresh new look and a number of changes to the interior. But with prices starting from £21,995 for the entry-level SX model, it's still the cheapest seven-seat 4x4 available in the UK.
The SsangYong Rexton W (as it is now known) looks a lot more modern on the outside thanks to new headlights, plus a new grille and front bumper. It looks a little more up-market on the inside, too, thanks to aluminium-effect and chrome highlights, and the use of more soft-touch materials.
However, the Rexton W is still based on the first-generation Mercedes M-Class, and continues to use the same 153bhp 2.0-litre turbocharged diesel engine that was in the previous model. It's got plenty of power, and has a three-tonne towing capability as a result. It comes with a choice of a six-speed manual gearbox or a Mercedes-built five-speed automatic.
All models come with seven seats as standard, plus cruise control, air-conditioning, electrically operated and heated mirrors, leather steering wheel, iPod compatibility and Bluetooth connectivity. Higher specification EX models cost from £24,495 and add privacy glass, a sunroof, rear parking sensors and leather upholstery. All models also come with a five-year unlimited mileage warranty.
In terms of size, the SsangYong Rexton W could be considered a rival to the likes of the Kia Sorento and Land Rover Discovery 4. But it has nowhere near the same badge appeal, number of dealers or reputation.
Still, the Rexton W's price is so low that it could be an attractive choice for people who usually buy a second-hand 4x4 but would like the assurance of spending their money on a new car with a five-year warranty.
For the full SsangYong rznge, visit the CarBuyer SsangYong reviews page.