Ultra economical SEAT Leon goes on sale
SEAT Leon Ecomotive is the company's most efficient model ever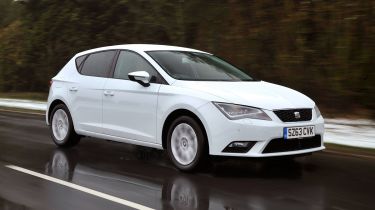 The SEAT Leon Ecomotive, which will do 85.6mpg and emit just 87g/km CO2, is available to order now. Prices start from £19,360 and the first deliveries will be in January 2014.
The Ecomotive model is powered by a 1.6-litre TDI diesel engine with a six-speed manual gearbox. It's available in all three body styles: the standard five-door hatchback, the three-door SC model, and the ST estate. The diesel engine is the same one that powers the Volkswagen Golf BlueMotion, which shares many of its parts thanks to the fact that both are made by SEAT's parent company Volkswagen. The Golf BlueMotion will do 88.3mpg and emit just 85g/km CO2, but costs around £1,000 more.
The Leon is already available with the 1.6-litre TDI engine, but the Ecomotive version gets a number of updates that help to cut its emission figure by 12g/km from the standard model's 99g/km CO2. One update is the gearbox, which has been specially designed to increase fuel economy and reduce emissions. The power of the engine has also been increased from 104bhp to 109bhp, and it has low rolling resistance tyres, too.
In addition to the engine and gearbox changes, the Leon Ecomotive is also 15mm lower than the standard car and gets a number of design tweaks to make it more aerodynamic.
It comes packed with equipment, including stop-start and an Energy Recovery System. The former automatically switches the engine off when the car comes to a stop at traffic lights or in jams to preserve fuel (and switches it back on as soon as the clutch pedal is pressed), while the latter stores energy created when braking and uses it to power electrical systems such as the air-con or sat-nav.
The Leon Ecomotive also gets 16-inch alloy wheels, front fog lights, cruise control, a leather steering wheel, air-con, Bluetooth connectivity and a multimedia system – all as standard equipment. What's more, until the end of 2013, it is also available with a free Technology Pack, which adds full LED headlights with LED daytime running lights, sat-nav and DAB radio.
For the full SEAT range, visit the CarBuyer SEAT reviews page.