Ford Edge Concept launched in LA
Ford releases details of the Ford Edge that's set to go on sale in 2015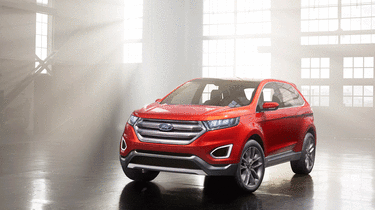 The Ford Edge Concept has been revealed at the LA Motor Show and gives us a good idea of what to expect from the company's production-ready Ford Edge when it goes on sale in the UK in 2015, at a price of around £35,000.
The Edge will sit at the top of Ford's SUV range ahead of cars such as the EcoSport, which shares many parts with the Ford Fiesta, and the Ford Focus-based Kuga. As it's a bigger car, the Edge shares many of its components with the Ford Mondeo – the company's large family hatchback.
The Edge will form part of Ford's new global strategy – called OneFord. It aims to cut costs by producing a range of cars that shares parts and is sold worldwide, largely unchanged. The same strategy will be employed with the new Ford Ka, which we revealed last week.
New technology will form the heart of the Edge, and it is expected to come equipped with kit such as obstacle avoidance, which brakes and steers the car when it senses a potential accident, and a self-parking system that can park the car with no driver input. Ford also tells us the concept SUV could be capable of driving itself, although this won't be a feature on production cars.
Fuel economy is a high priority for Ford and, although there's no mention of which engines the car will use, it does get new technology that improves the big SUV's aerodynamics, making it more efficient.
The Ford Mondeo Vignale has already signalled Ford's intention to offer a range of upmarket extras with luxurious fixtures and fittings, and the Edge looks set to do the same. Options will include a hand-stitched leather dashboard, 10-inch touchscreen and high quality leather for the interior.
View the full Ford range on our review pages.