Dacia Duster: Winter Car of the Week
The bargain Dacia Duster is CarBuyer's Winter Car of the Week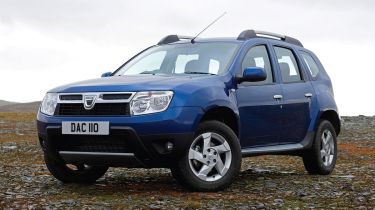 The Dacia Duster is CarBuyer's second Winter Car of the Week thanks to its cheap price and capable off-road ability. It mixes affordable motoring with decent practicality and optional four-wheel drive – making it the perfect winter companion to see you through the colder months ahead.
Buying a four-wheel-drive car used to mean spending a lot more than you would on a normal family hatchback, but the Dacia Duster has changed all that. The cheapest four-wheel-drive Dacia Duster starts at around £11,000 or about the same price as a mid-range Ford Fiesta. For that, you get a car that looks good, is extremely capable off-road and has tried-and-tested parts that it shares with many Renault models.
Its off-road ability doesn't harm its on-road handling too much, though, and the Duster is surprisingly comfortable on long motorway journeys. The suspension is nicely cushioned, although the Duster's tall body does mean there is quite a lot of roll in corners.
The back seat can comfortably accommodate six-footers and the 475-litre boot should carry a surprising amount of luggage. Put the back seats down and there is a massive 1,636 litres of space. That's more than you would get in a Nissan Qashqai.
The Dacia can be had with a choice of two engines – a 1.6-litre petrol or a 1.5-litre diesel. And, while the petrol is quieter and cheaper to buy, it is the diesel that makes the better choice. It can manage economy of 56.5 mpg and emissions of 130g/km (for road tax of £105), but also manages to feel reasonably quick.
The entry-level Dacia Duster Access model is pretty basic and does without much of the equipment you'd expect to find on any new car. But spend a bit more and Laureate trim and you can add kit such as alloy wheels, air-conditioning and stability control – for added confidence when cornering.
For the full Dacia range, visit the CarBuyer Dacia reviews page.