Future car tech on show at CES 2014
Innovative new technology showcased at the Consumer Electronics Show in Las Vegas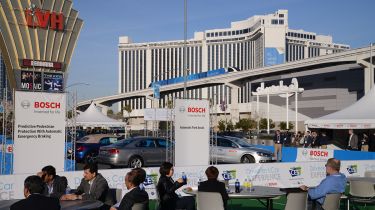 The Consumer Electronics Show (CES) is an annual showcase of the latest innovative electronic technology from some of the world's biggest brands like Apple, Sony and Microsoft. Among the TVs, computers, mobile phones and other gadgetry is a range of new technology exhibited by car manufacturers that could very well end up in our cars in the near future.
The 2014 CES show in Las Vegas saw new technology on display from car makers including BMW, Audi, Ford and Kia.
Kia brought its new User-Centered Driver concept (UCD) to the show, a system that projects a display on to the base of the windscreen in front of the driver, with information on speed, directions and traffic. Kia combines this with a 12.3-inch screen in place of conventional dials and a feature that allows you to wirelessly charge mobile devices through the use of magnetic induction.
As well as Kia, Ford unveiled a solar-powered Ford C-MAX Solar Energi concept, which has a bespoke solar panel in its roof. The car uses an electric motor and petrol engine – like other plug-in hybrids – but can harness the sun's rays to charge the battery for the electric motor rather than requiring charge from a plug socket. Research into the feasibility of a production version is due to start soon, but we can expect to see plenty of this technology on the road in the next few years if it gets the green light. It goes without saying that the reduction in emissions and savings on fuel would be significant.
The Audi Sport Quattro Laserlight concept was at CES 2014 and showcased how lasers could be used in headlights to give stronger and more far-reaching light. The German manufacturer has combined matrix LEDs and lasers to create a headlight that it claims can reach up to 500 metres on high beam, much more than is currently possible with LED lights. The motorsport arm of Audi will use the technology initially, but it's extremely likely that headlights using lasers will eventually be fitted to Audi's road cars.
Not to be outdone, autonomous versions of the BMW 2 Series and BMW 6 Series were on show in prototype form at CES 2014. Driver assistance technologies, like self-parking, driver drowsiness detection and lane drift warnings are increasingly prevalent on new cars and BMW's prototypes, which can tackle motorways, city streets and even race circuits at full speed, are an indication of just how far the technology can go. It's possible that road cars will soon have technology allowing them to switch between driver and driverless modes, potentially useful for long motorway journeys where driver fatigue is a safety risk. This will, however, also depend on changes to UK law, which doesn't currently allow driverless vehicles on the road.
Check back next week for more on the Consumer Electronics Show, and everything you need to know about the impending Detroit Motor Show 2014.