Audi Q3 range updated
New petrol engine and top-spec S line Plus trim level for Q3 crossover model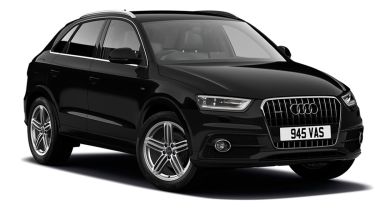 The Audi Q3 is now available with a 1.4-litre TFSI petrol engine and a top-of-the-range S line Plus trim level.
In a refresh of the Q3 line-up for 2014, front wheel drive models are now available with the 1.4-litre petrol engine or the 2.0-litre diesel engine already on offer.
The entry-level Q3 SE 1.4-litre petrol model starts at £23,870, making it the cheapest Q3 in the range by almost £3,000 and bringing it into competition with the new Nissan Qashqai.
Although diesel models are usually the most economical, the 1.4-litre petrol engine in the Q3 range does manage to match the CO2 emissions figure of 137g/km for the diesel alternative thanks to its smaller size. Audi says the petrol engine combined with a six-speed manual gearbox will do 47.9mpg in the Q3, though models fitted with Audi's S Tronic seven-speed automatic gearbox are slightly faster and slightly less economical.
For buyers looking at the high-end Q3 models equipped with Audi's quattro four-wheel drive system, there is now the optional S line Plus trim level to consider. For an extra £2,350 on top of the standard S line version, customers get the most luxurious options pack, which adds 19-inch alloy wheels, upgraded leather upholstery, upgraded sat nav, cruise control, and front and rear parking sensors to the standard S line equipment list. S line Plus models also get tinted rear windows and a choice of seven metallic paint colours.
There are seven top-spec Q3 quattro models, starting at £31,835 for the 2.0-litre petrol version with a six-speed manual gearbox, rising up to £34,755 for the most powerful automatic petrol version.
The S line Plus models and new 1.4-litre TFSI petrol versions of the Q3 are available to order now, with first examples to be delivered in spring.
For reviews of the Q3 and other cars in the Audi range, visit Carbuyer's Audi page.