Mercedes S-Class S300 BlueTEC on sale
New Mercedes S300 BlueTEC is most economical S-Class on sale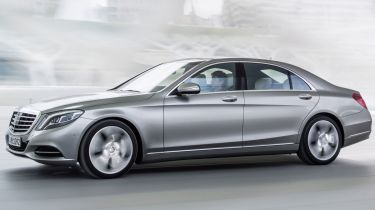 Mercedes has bolstered its luxurious Mercedes S-Class saloon range with the launch of the Mercedes S300 BlueTec HYBRID, which can manage a scarcely believable 64mpg and emissions of 115g/km for road tax of just £30 annually. The luxurious Mercedes S600 and the Mercedes S65, performance variant, have also joined the line-up.
The S-Class is currently outselling the competition worldwide – including cars such as the Audi A8, Jaguar XJ, and BMW 7 Series – and the new models are set to keep that trend going.
The most popular model will doubtless be the Mercedes S300 BlueTEC HYBRID, which costs from £72,260 and boasts a 64mpg economy figure that beats even small city cars like the Volkswagen up! (it gets 63mpg). The impressive numbers come thanks to the use of a 2.2-litre diesel engine supported by a small electric motor, which means it can move on electric power alone, or use its electric motor in tandem with the conventional engine for better acceleration. When not powering the car, the electric motor can also regenerate energy under braking. Despite its impressive frugality, the S300 BlueTec still has a combined output of 228bhp.
The new Mercedes S-Class S600 (£139,960) will become the luxury flagship of the range thanks to a whisper-quiet, 385bhp engine, as well as clever equipment such as LED headlights, Mercedes' Magic Body Control, which makes the suspension extremely comfortable, and the Driving Assistance Package that include a raft of safety features. The Mercedes S65 AMG (£179,960), meanwhile, will be the fastest S-Class, with a 6.0-litre engine that produces 621bhp and gets the saloon from 0-62mph in just 4.3 seconds.
All the new models come in long-wheelbase, AMG-Line specifications only and are available to order now, with the first cars expected for delivery in April. For all the latest reviews on the S-Class, and the rest of the Mercedes range, head to the Carbuyer Mercedes reviews page.