Mazda MX-5 celebrates 25th anniversary
Unveiled to the world in 1989, the Mazda MX-5 is now 25 years old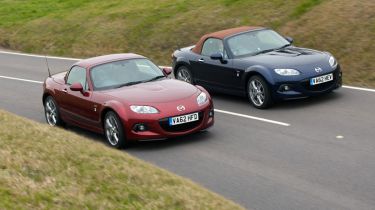 The Mazda MX-5 celebrates its 25th anniversary today, having been shown to the world for the first time at the Chicago Motor Show in 1989.
Mazda developed the MX-5 as a lightweight, fun and affordable convertible sports car and it has proved to be a winning formula. The roadster has been a huge success and is currently the Guinness World Record holder for best-selling two-seater sports car. Since it first went on sale in the late 1980s over 920,000 examples have been sold.
Mazda has created a special website to mark the anniversary, allowing users a chance to scroll through a timeline of previous MX-5 versions to track the car's design evolution since the first model.
The site also looks set to give clues about the future of the MX-5, as it features a 'coming soon' tab. The tab is not currently available to click but it seems likely Mazda will use the site as a way of updating MX-5 fans on a new model in the coming months.
The first version of the Mazda MX-5 was offered with a 1.6-litre petrol engine and Mazda has added a bigger engine to the range with each of the two subsequent new generations.
The current, third-generation MX-5 uses either a 124bhp 1.8-litre or 158bhp 2.0-litre petrol engine and is reasonably economical for a sports car. The 1.8-litre engine is capable of 40mpg in combined fuel economy while emitting 167g/km of CO2, with the larger engine returning figures of 36mpg and 181g/km of CO2.
Cars like the Toyota GT 86, Audi TT Roadster and Nissan 370Z Roadster all offer their own versions of pure driving thrills but none of them combine the soft-top style and low price of the MX-5, helping to explain the car's enduring popularity despite being on the market for a quarter of a century.
Make sure you visit the Mazda MX-5 anniversary site, and to read our reviews of the full Mazda range, take a look at the Carbuyer Mazda reviews page.