Dacia Duster finance deals announced
The Dacia Duster is now available on special monthly repayment finance offer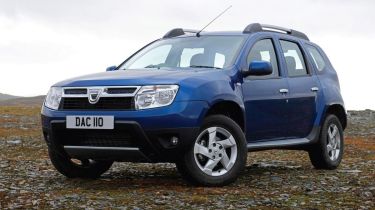 The Dacia Duster is set to become even more affordable thanks to monthly repayment finance deals being launched in time for Valentine's Day.
One of the most eye-catching deals available as part of the offers announced by Dacia is on selected mid-range Ambiance models, which can be had for a £199 deposit and 48 monthly payments of £199. Buyers interested in the top-of-the-range Dacia Duster Laureate version can get the same finance plan by paying £10 more per month.
Andy Heiron, Dacia UK brand manager, said: "After a record-breaking year, it seemed only right to show our appreciation to the public. Dacia came to the UK with one mission: to shake up the long stagnant new and used markets by offering 'shockingly affordable' vehicles with high levels of quality and unrivalled space and equipment for the money.
"We've been asking customers to 'Do The Maths', but even I'm struggling to get my head around this latest price – what you are getting for your money is scary!"
Dacia was the fastest-growing car brand in the UK last year and of the 17,000 cars the company sold here, 7,830 were Dusters. The car has long been a Carbuyer favourite thanks to its unrivalled value – winning Carbuyer Car of the Year in 2013 and our Best Small SUV award in 2014. The entry-level Dacia Duster starts at £9,495, getting buyers SUV practicality and space for the price of a small city car.
The low price of the basic Dacia Duster Access model does mean it lacks some fairly basic features like a radio or electronic stability control, and there's no diesel option. Upgrading to the Ambiance gets you body-coloured bumpers, tinted windows and front fog lamps, a CD radio and the option of the 1.5-litre diesel engine, which is of course more efficient. Customers after higher equipment levels or four-wheel drive will need to go for the flagship Laureate version.
Dacia has confirmed that the monthly repayment offer will run until the 31st of March 2014.
For reviews of the full Dacia range, head over to Carbuyer's Dacia page.