Fiat Punto Jet Black 2 launched
Special edition Punto gets lots of kit, but model's showing its age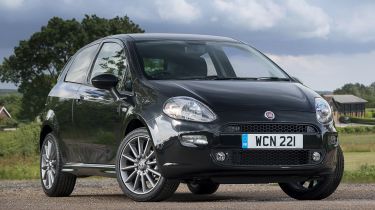 The Fiat Punto has been looking dated for a long time now, but that hasn't stopped Fiat having another roll of the dice with this – the Fiat Punto Jet Black 2. Jet by name, but certainly not by nature, the special edition Punto gets numerous styling features, an economical engine, plenty of kit, and is yours for just £12,000.
It comes as a youthful three-door only and is finished with Crossover Black metallic paint, gets moody tinted windows, 12-spoke 17-inch alloy wheels, body-coloured side skirts, a matching spoiler, unique badging, blue side stripes, and sports suspension.
Don't let the sports suspension fool you, though, because prising open the Jet Black 2's bonnet reveals a rather apologetic 1.4-litre engine that eases out just 76bhp. With 0-60mph taking 13.2 seconds, powerful it is not, but the Punto should be cheap to run – with economy of 49.6mpg possible. A figure that's helped by the car's standard-fit, stop-start technology, which turns the engine off when the vehicle is at a standstill.
Jump inside and you'll be greeted by an impressive amount of kit including sporty bits in the form of a leather-trimmed steering wheel and gearknob, as well as useful equipment such as climate control, cruise control, rear-parking sensors, five airbags and Fiat's Blue&Me Bluetooth phone connection. You also get adaptive foglights, which follow the direction of the steering wheel – to light up corners – and are a rarity on this size of car.
To lure you into the driver's seat, the Punto Jet Black 2 is available with a variety of finance packages, including a PCP deal that means you pay no interest, make 37 payments of £99, and have the option to buy the car for £4,499. Or, you could opt to pay a deposit of £187 and 48 instalments of the same sum.
If lots of equipment for comparatively little outlay interests you than the Punto makes a compelling case for itself. But, in reality, cars such as the Ford Fiesta and Kia Rio are far better, can be had for the same money, and make much more tempting long-term propositions.
To read a review of the Punto – and the rest of the Fiat range – visit the Carbuyer Fiat reviews page.