Over 7,000 Kia models recalled
Kia Sportage and Kia Soul recalled to check faulty seatbelt pre-tensioners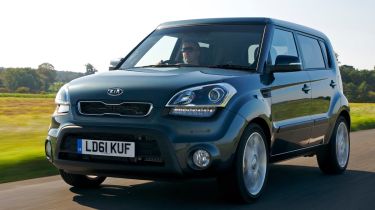 Kia is recalling over 7,000 Kia Sportage and Kia Soul models in order to fix faulty seatbelt pre-tensioners. The fault, which affects 5,787 Kia Sportage and 1,432 Kia Soul cars, can be traced back to a faulty piston that could prevent the cars' seatbelt pre-tensioner from working properly.
Seatbelt pre-tensioners are vital safety features in cars. In the event a crash, seatbelt pre-tensioners can help keep a car's occupants in a position that can reduce the risk of serious injury. According to Kia, no injuries resulting from the fault have been reported. The carmaker discovered the fault through on-going monitoring of its customer vehicles.
UK vehicles affected are Sportage models built at the company's Slovakia factory between October 2011 and November 2012, and Soul cars built at Kia's Korea factory between August 2011 and March 2012.
Kia is contacting all those affected by post. Owners with the faulty vehicles can take their cars to a local dealer for testing and any faulty parts will be replaced free of charge – with the fix taking between one and two hours. Concerned owners can also contact the Kia customer service centre on 0800 015 8757.
Despite this fault, both the Kia Soul and Kia Sportage are very safe cars, receiving a full five-star safety rating when they were tested by Euro NCAP in its stringent crash tests.
Kia isn't the only manufacturer to recall cars in recent months. Peugeot and Citroen recently recalled over 400 vehicles because of a potential fire risk, while Toyota also recalled over 35,000 cars because of a steering wheel fault.
You shouldn't panic if you ever find a car recall notice posted through your letterbox. We've got some very helpful tips should you ever find yourself in that position, so give these a read before contacting your nearest dealer.
For the full Kia range, visit the Carbuyer Kia reviews page.