Super-frugal Vauxhall Meriva launched
The Vauxhall Meriva can now be fitted with a diesel engine capable of 74.3mpg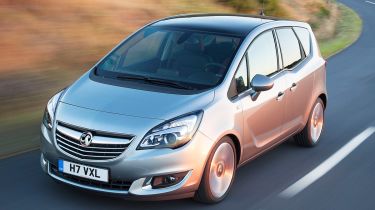 Vauxhall has fitted the Vauxhall Meriva with a frugal diesel engine that means that the baby MPV now has the economy to beat rivals from Ford and Hyundai. The 1.6-litre diesel can return up to 74.3mpg, while CO2 emissions of 99g/km mean that road tax is free.
The impressive figures come thanks to standard-fit technology such as a start/stop system, which turns the engine off when the car's at a standstill, and a six-speed manual gearbox that's designed for maximum economy.
The new engine replaces the old 95 1.3-litre diesel that could only manage 62.8mpg. Despite the useful hike in economy, the new diesel is also more powerful than the engine it replaces (109bhp vs 94bhp) and, Vauxhall tells us, much quieter too. That power hike means the car gets from 0-62mpg in 12.5 seconds compared to the old car's 13.8 second 0-60mph time.
The news means that the Vauxhall Meriva can now beat rivals such as the 1.6-litre Ford B-MAX (70.6mpg) and the 1.4-litre diesel Hyundai ix20 (66.8mpg), when it comes to frugality. If you're after ultimate economy all three are still bettered by the Nissan Note. It is capable of an impressive 78.5mpg, when fitted with Nissan's 1.5-litre diesel engine.
The Meriva makes an excellent choice for young families thanks to back doors that hinge from the rear to provide excellent access to the back seats. Boot space is also excellent at 397 litres, which is 17 litres more than you'll get in the bigger and more expensive Volkswagen Golf. Dropping the rear seats reveals a maximum load capacity of 1,496 litres.
The diesel engine is on sale now, with the first cars due to be delivered to their new new owners in October. For all the latest reviews of the Vauxhall range, visit the Carbuyer Vauxhall reviews page.