Jaguar Land Rover give glimpse of future tech
New engines, a 'Jaguar virtual windscreen' and self-driving cars in the pipeline at Jaguar Land Rover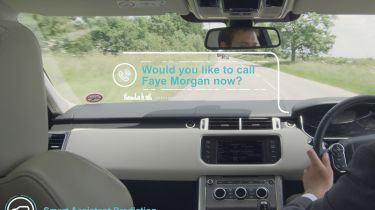 Jaguar and Land Rover have revealed their plans for the future technology that could be fitted to the brands' new models. Ideas include a 'virtual windscreen' a self-driving car, and hi-tech super-efficient new engines.
The new engines will be the first on the list to feature in a Jaguar or Land Rover you can buy. Known internally as 'Ingenium' they will weigh up to 80kg less than an old-fashioned engine producing the same power. A raft of clever technology means they will also be extremely efficient. We can expect exact figures to be revealed in the coming months.
An all-new Jaguar Land Rover Engine Manufacturing Centre near Wolverhampton will build the engines, and they will first feature in the new Jaguar XE and Land Rover Discovery Sport. Both are due to be unveiled at the Paris Motor Show in October.
They are future models that could well get the 'Jaguar Virtual Windscreen'. It appears to be a development of the 'invisible bonnet' fitted to the Discovery Sport.
Like a hi-tech Head Up Display, this latest piece of tech can project information such as hazards, speed, and navigation directly onto the windscreen. However, it can also create an augmented view so that you could, say, have the racing line of a circuit projected onto the screen to shave seconds of your lap time.
The same technology can create a rear view camera capable of creating a 3D display on the dashboard. All will be controlled via hand gestures made up to 15cms away from the screen.
In the future, though, much of a car's functions shall be controlled automatically by Jaguar Land Rover's self-learning intelligent car technology. It uses a new learning algorithm to recognise who is driving the car, then sets it up for their preferences. The car's 'smart assistant', meanwhile can review your online diary and pre-set the sat-nav depending on your appointments.
Dr Wolfgang Epple, director of research and technology for Jaguar Land Rover, explains exactly what the self-learning technology can do:
"The aim of our self-learning technology is to minimise driver distraction, which will help reduce the risk of accidents. Presenting the driver with information just at the right time whilst driving will reduce both cognitive distraction and the need for the driver to look away from the road to scroll through phone lists, or adjust mirrors, temperature or seat functions while on the road.
"By developing a learning function for Adaptive Cruise Control, it is technology concepts like the self-learning car that will ensure any future intelligent car remains fun and rewarding to drive as we move closer to more autonomous driving over the next 10 years."
Read our stories on the Jaguar XE and Land Rover Discovery Sport for all the latest on these exciting new models. For reviews of the current Land Rover and Jaguar range, visit the land Rover and Jaguar reviews pages.