Jaguar XE production now under way
Stirling Moss officially opens the Jaguar XE production line in Solihull, West Midlands
Grand Prix ace Sir Stirling Moss was among the iconic names from Jaguar's past present as Jaguar Land Rover's new £500m factory upgrade was completed. The factory has been brought up to date to produce a number of new models, starting with the new Jaguar XE.
Sir Stirling was joined by Norman Dewis OBE, who was chief test driver and a Jaguar engineer from 1952 to 1985 and is credited with major roles in the development of iconic models such as the XK 150, D-Type, E-Type and XJ-S. Moss and Dewis led a procession of some of the most iconic Jaguar and Land Rover models in history.
The opening marks a "transformation" of the facility, according to Jaguar. The site, which was formerly known as the "home of Land Rover", will also produce the new Jaguar F-Pace SUV and the entire Range Rover family. Jaguar hopes to sell around 100,000 Solihull-built XE saloons a year – a huge increase on the 32,000 cars that are built there today.
Jaguar is also investing heavily in green technologies, with a upgraded facility in Coventry working on new electric and hybrid systems, so it shouldn't be too long before the first electric Jaguar models hit the roads. Even Jaguar's engine factory in Wolverhampton has roof-mounted solar panels - the largest array of its type in the UK.
Jaguar XE running costs
The new Jaguar XE will cost less to own than its closest rivals, according to experts and the manufacturer itself.
Jaguar has announced details of the servicing plans it'll offer XE buyers, the most popular of which is likely to be five years or 50,000 miles' worth of cover for £475. As usual with plans like this, basic wear-and-tear items are excluded, but all other servicing costs during the plan are completely covered.
A High-Mileage Service Plan will also be available and is expected to be the first choice of corporate fleet customers. For a slightly higher price of £659, servicing costs will be covered for five years or 75,000 miles.
The plans are fully transferable and also cover customers for repairs or replacment parts required for the XE to pass its MOT in the third, fourth and fifth years of its life – up to the value of £750.
Over three years and 36,000 miles, the Jaguar XE is expected to retain 45% of its original value, according to the used-car pricing experts at CAP. The Jaguar XE 2.0D Prestige compares well against the Audi A4 2.0 TDI Ultra SE Technik (42.9%) and BMW 320d Business (37.8%).
Other pricing experts Kee Resources and CDL also rate the XE ahead of its rivals. Kee Resources predicts the XE will also offer the lowest total cost of ownership compared to the BMW 3 Series, Audi A4 and Mercedes C-Class. It says over three years and 36,000 miles, the Jaguar XE will cost owners at least £2,215 (excluding any additional savings for company-car drivers) thanks to a low Benefit-in-Kind rating.
Jaguar XE 2015: details at a glance
The new Jaguar XE was revealed at a glitzy launch event at Earls Court in London at the start of September. Now, we've had the chance to get up close and personal with the car, including sitting in it, at the Paris Motor Show. The XE certainly looks good in the metal and drivers will be treated to an excellent seating position. The car on the stand in the French capital featured light trim to give the interior an airy, spacious feel.
The cheapest version in the range will be the Jaguar XE 2.0 SE auto, which will cost £26,995. At the top of the range sits the £44,870 Jaguar XE 3.0 S.
The XE has been produced using plenty of lightweight aluminium, features rear-wheel drive and is the most aerodynamic Jaguar saloon ever. These qualities should enable the car to compete with the BMW 3 Series for driver enjoyment. The 3 Series is the XE's primary rival in the small executive saloon class, though Jaguar will of course be hoping to tempt buyers away from the Mercedes C-Class and Audi A4, too.
The XE will be launched with a new family of engines called Ingenium, which will include a 160bhp 2.0-litre diesel capable of 75mpg and CO2 emissions of 99g/km, meaning some XE models will cost nothing in road tax.
For all you need to know about the new baby Jag, read the full story below and click on our video from the Paris Motor Show.
New Jaguar XE 2015 design
Ian Callum, designer of the new XE, has clearly used existing Jaguar models as inspiration, with hints of XF, F-Type and even XJ in the car's body.
Callum said: "We decided to stick with the Jaguar design philosophy. People have started to get used to Jaguars and what they look like. The XE is a sports saloon with a long bonnet, great wheel-to-dash proportions, the cabin set backwards and a coupe profile. But we've still got great packaging inside. [The car is] longer than a 3 Series, shorter than an A4 and with an interior comparable with the C-Class."
At the front, the large grille and swept-back headlights will look familiar to XF and XJ owners, while the gaping air intakes are reminiscent of the top-of-the-range F-Type coupe. In profile, the car keeps the sloping roofline and swept-back windscreen of the XF, which makes it look almost like a five-door coupe rather than a boxy saloon car – something many rivals have failed to achieve. The rear end completes the look with a subtle bootlid spoiler, twin exhaust pipes and complex tail-light patterns.
New Jaguar XE 2015 construction
Over 75 per cent of the XE's body is made from aluminium, which is a much higher proportion than other cars in the same class. Jaguar says this makes the XE's structure lightweight, strong, stiff and safe. It should also mean the XE is one of the best cars to drive in its class, which is important given Jaguar is aiming to tempt buyers away from the BMW 3 Series.
The XE comes with a Formula One-style front suspension configuration to minimise body roll in corners, while at the rear a sophisticated Integral Link suspension also controls roll, while still providing a supple ride. The XE will be available with adaptive dampers, which allow the driver to set up the car's suspension to be either comfortable or sporty, depending on the situation.
Jaguar is also keen to highlight the sporty nature of the XE's electric power-steering, promising "immediate response and connected feel". The XE is the first Jaguar to benefit from electric rather than hydraulic power-steering, and the system will even be adjustable via the Jaguar Driver Control system, with Dynamic, Normal, Eco and Winter modes to choose from.
New Jaguar XE 2015 engines & gearboxes
A new engine family called Ingenium will be launched with the XE. It includes a 2.0-litre diesel engine available with either 160bhp or 178bhp. The 160bhp version in the XE returns 75mpg econony and CO2 emissions of 99g/km, making it free to tax and more economical than rival cars from BMW, Mercedes, or Audi. Despite this efficiency, the engine will still be capable of taking the car from 0-60mph in 7.9 seconds with a manual gearbox (or 7.7 with an automatic). The 178bhp version is quicker still, doing 0-60mph in 7.4 seconds, though economy does drop slightly to 67.3mpg, while CO2 emissions increase to 109g/km.
Jaguar will offer the XE with two petrol engines. The first is a 2.0-litre turbocharged petrol available with either 197bhp or 237bhp. The less powerful engine will get the XE from 0-60mph in 7.1 seconds and will be capable of 37.7mpg economy and CO2 emissions of 179g/km. Choosing the more powerful version brings the 0-60mph time down to 6.5 seconds, with economy and emissions figures unchanged.
Buyers wanting the quickest version of the new saloon should look at the Jaguar XE S model, which gets the 336bhp 3.0-litre supercharged V6 engine used in the Jaguar F-Type. This will be enough to get the saloon car from 0-60mph in 4.9 seconds.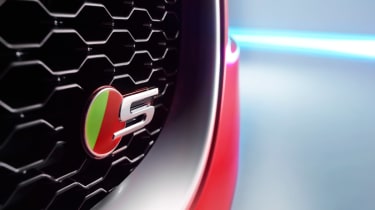 At launch, the XE will only be available with rear-wheel drive, but by 2016 the car will also be offered with four-wheel drive. It will use a development of Land Rover's Terrain Response system to ensure huge amounts of grip in all weather conditions, and this will enable the XE to rival Audi quattro and BMW xDrive models.
The XE will have a revised version of the eight-speed automatic gearbox used elsewhere in the Jaguar line-up, but will also be available with an all-new six-speed manual gearbox. This should suit the new car's sporty character and be slightly cheaper to buy than the automatic versions.
New Jaguar XE 2015 interior
The Jaguar's doors open wide to give easy access to the interior. As you slide into the driver's seat, it feels noticeably lower than its rivals from BMW, Mercedes and Audi.
Anyone who's spent time in a Jaguar XF, Jaguar XJ or even a modern Land Rover will recognise the gear selector that rises from the centre console. Despite the new centrally mounted eight-inch touchscreen, there are still plenty of buttons located in the middle of the dashboard and around the gear selector. All things considered, Jaguar has a fight on its hands if it wants to challenge the established contenders for the most upmarket interior in this class.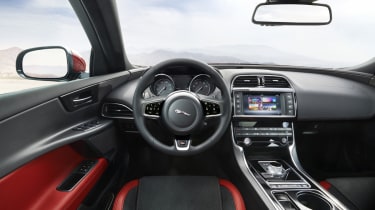 The XE will be offered in five different trim levels – SE, Prestige, Portfolio, R-Sport and S. SE is the most basic and includes cloth seats and a gloss-black finish for the door trim and instrument panel.
Prestige adds Taurus leather upholstery with contrasting stitching and ambient lighting. Brushed aluminium replaces some of the gloss black in the SE-spec cabin.
Portfolio will be the most luxurious trim, featuring Windsor leather upholstery with a herringbone pattern and embossed aluminium trim.
R-Sport trim will feel sportier than the Portfolio, and includes Taurus leather seats with mesh fabric sections. There's also etched aluminium and a sports steering wheel with R-Sport branding, while outside there's a rear spoiler and extra chrome.
Finally, the performance-oriented S trim gets a race-inspired interior featuring a mix of Taurus leather and suede paneling, a leather sports steering wheel and 'dark hex' aluminium door finishers. The car also gets more aggressive exterior styling, including 20-inch Propeller alloy wheels.
A new laser head-up display (HUD) is the first of its kind on the market. It projects information such as your speed, sat nav instructions and cruise control settings on to the windscreen, and the laser technology gives greater contrast for a more vivid display. The XE also has a stereo camera that provides a 3D view of the road ahead. The camera acts as a sensor for safety equipment such as the autonomous emergency braking system.
The interior is spacious, too, although rear head and legroom can feel a little restricted for taller adults. Fitting the panoramic glass roof doesn't harm headroom too much, although three people in the back may find elbow room a little tight.
Boot space is flexible, with rear seats that split 40:20:40 and a standard capacity of 485 litres – five litres more than a BMW 3 Series, Mercedes C-Class or Audi A4. An electrically operated bootlid is optional.
New Jaguar XE 2015 specs and safety
The XE comes packed with safety features including traffic-sign recognition, a lane-departure warning system, blind-spot monitoring and self-parking. Adaptive cruise control means the car can keep itself at a safe distance from the car in front, while the XE's fighter-jet-style head-up display (HUD) uses lasers to project a clear display of vital information such as speed and sat nav directions onto the car's windscreen.
Connectivity is key in this sector, so Jaguar's InControl infotainment system has apps that are compatible with Apple and Android smartphones for access to internet radio, traffic information, news and navigation.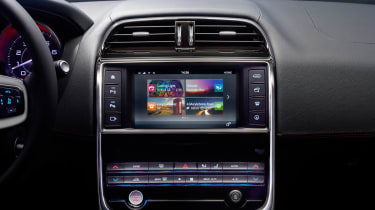 InControl can also be used to pre-heat or pre-cool the car's interior, and can alert the driver if the car is stolen. Optional WiFi connects to up to eight devices, while the XE gets a powerful 250w six-speaker stereo developed by Harman Kardon as standard. An even more powerful 380w, 11-speaker premium stereo from British specialist Meridian, is an optional extra.
Jaguar XE: future models
Although Jaguar is remaining tight-lipped on future models, it's highly likely a Jaguar XE estate will be launched in the future. The XE Sportbrake, as we expect it to be called, will feature the same sort of sleek styling as the Jaguar XF Sportbrake estate and could feature that model's self-levelling rear suspension to maintain stability even when the car is loaded with luggage.
We also expect a Jaguar XE 4x4 to be launched over the coming years to compete with Audi A4 quattro and BMW 3 Series xDrive models. And you shouldn't bet against an XE coupe or XE convertible going on sale to rival the BMW 4 Series and Audi A5.
Given Jaguar's recent investment in developing electric and hybrid technologies, it's highly likely some of these developments will be offered. A Jaguar XE hybrid would directly compete with the Lexus IS saloon
New Jaguar XE 2015 price, on-sale date
The new Jaguar XE will start from £26,995 for the 197bhp 2.0-litre petrol in SE trim. Prices for the entire range are listed below:
| | | |
| --- | --- | --- |
| Engine | Trim level | Price (on the road) |
| 2.0d (160bhp) | SE | £29,775.00 |
| | Prestige | £30,775.00 |
| | R-Sport | £32,325.00 |
| | Portfolio | £32,975.00 |
| | SE Auto | £31,525.00 |
| | Prestige Auto | £32,525.00 |
| | R-Sport Auto | £34,075.00 |
| | Portfolio Auto | £34,725.00 |
| 2.0d (178bhp) | SE | £30,275.00 |
| | Prestige | £31,275.00 |
| | R-Sport | £33,025.00 |
| | Portfolio | £33,675.00 |
| | SE Auto | £32,025.00 |
| | Prestige Auto | £33,025.00 |
| | R-Sport Auto | £34,775.00 |
| | Portfolio Auto | £35,425.00 |
| 2.0i (197bhp) | SE Auto | £26,995.00 |
| | Prestige Auto | £27,995.00 |
| | R-Sport Auto | £29,745.00 |
| 2.0i (237bhp) | R-Sport Auto | £33,095.00 |
| | Portfolio Auto | £33,745.00 |
| 3.0i (336bhp) | S | £44,870.00 |
The car will be available to test drive next year, with the first deliveries to be made in May. The Jaguar XE took pride of place on Jaguar's stand at the Paris Motor Show.
For more information on the current Jaguar range, visit the Carbuyer Jaguar reviews page.
Two new Jaguar F-Pace models added to the range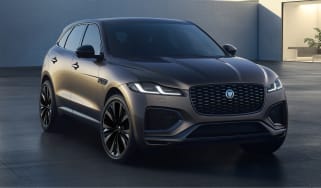 Two new Jaguar F-Pace models added to the range