Porsche 911 Turbo S GB Edition unveiled
Porsche celebrates 40 years of 911 Turbo with limited edition Turbo S model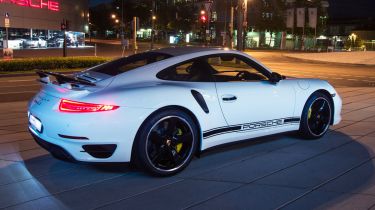 A special edition Porsche 911 Turbo has been launched. Just 40 Porsche 911 Turbo S Exclusive GB Edition models will be built - one for each year of the car's production.
The GB Edition features a black rear spoiler, black Sport Classic alloy wheels, black door handles and black 'Porsche' script along the sills as a tribute to the styling of the original 1974 version. The car features Porsche Dynamic Chassis Control, a system that enhances the car's handling by reducing body roll in corners, and powerful ceramic brakes.
The car is also a showcase for Porsche Exclusive, the German manufacturer's specialist department that tailors cars to the exact specification of its customers, and gets a number of unique design touches. A black leather interior features Guards Red stitching and seatbelts, with the steering wheel and floor mats continuing the black and red theme.
The storage compartment lid is embossed with the Union flag and carbon doorsill guards feature the car's name in illuminated lettering. The car is available in three colours - GT Silver metallic, white or Guards Red.
Buyers will receive a personal photo album documenting the production process, as well as an exclusive indoor car cover and design sketches.
While the original Porsche 911 Turbo featured a 3.0-litre engine producing around 260bhp, today's car has a 3.8-litre engine developing 560bhp. It can accelerate from 0-62mph in 3.1 seconds and acheive a top speed of 197mph.
At £150,237, the Exclusive GB Edition costs £8,117 more than the standard Porsche 911 Turbo S, and is available to order now.
For reviews of cars in the current Porsche line-up, head over to Carbuyer's Porsche page.